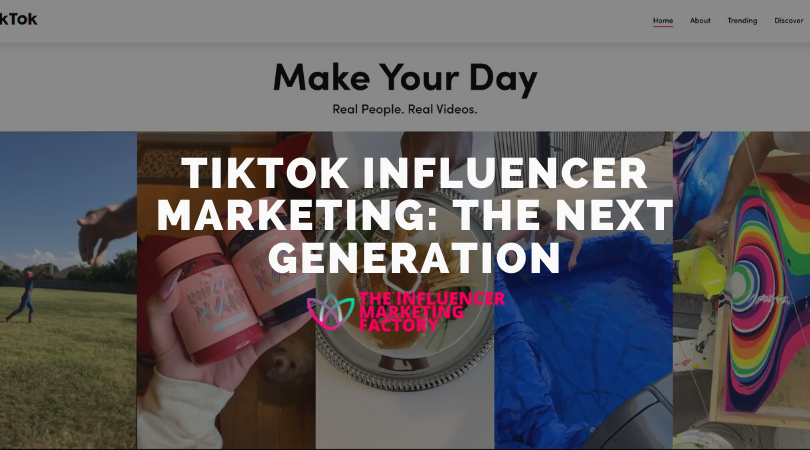 02 Dec

TikTok Influencer Marketing: The Next Generation

Times are changing, and so are career paths and the working-class economy. If you ask your average Millenial or Gen Zer you would probably be surprised to learn that more than half of their generation is an aspiring influencer. According to CNBC Make It report, 72% of Millennials and Gen Zers follow influencers to learn about new brands, new products, new trends, for entertainment purposes, or even to get their 'Monday motivation' and inspiration fulfillment. That being said, marketing directors across major brands and companies realized the importance of paying social media influencers to leverage their audience by posting sponsored content on their social media.

According to Statista, the influencer market is a $1.7 billion industry, and over ⅓ of marketing efforts across the planet are prioritizing influencer marketing versus other traditional marketing efforts. Influencer marketing is a booming industry without a doubt. However, Instagram is making it harder than ever to leverage their algorithm and increase your reach on organic posts making it harder for new aspiring influencers to join in on the fun.
---
Gen Z: A New Era Of Influencers
We are currently witnessing Gen Z start a new era of influencers: the TikTokers, and it's absolutely incredible. In Drake's words, "what a time to be alive." TikTok is the fastest growing social media app on the market that's helping regular people become 'overnight' viral sensations due to their algorithm and organic reach. For those who are not familiar with TikTok, many refer TikTok to having a lot of similarities to Vine. Regardless, it's the hottest 'must-have' social media app, especially if you are a Gen Zer.
In a recent study on influencer culture, Morning Consult, conducted a focus group of more than 2,000 people between the ages of 13 and 38.  They found that 12% are influencers, 27% known an influencer personally, and 60% will post a product without being paid on their social media platforms. Influencers being on the rise, 88% of Gen Zers and Millennials claim to learn about new products they are interested in via social media, and 56% actually buy the product(s) after seeing the people they follow posting about it too.
There's no denying the impact influencer marketing has on our society, with 25% of Gen Z women reporting that they most frequently learn about new products through the influencers they follow. More than half of millennials trust recommended products by influencers they follow, and stats are substantially higher when a product is endorsed by a celebrity or famous athlete. It's also important to note that 88% of Gen Zers and Millennials find it important that the influencer has integrity in terms of authenticity and actually cares about the products they are promoting too. These are all factors of what makes influencer marketing extremely powerful and why you should integrate influencer marketing into your marketing strategy.
---
How Much Millenials Influencers Get Paid
According to CNBC Make It, Instagram influencers could make anywhere from $457 – $3766 on average per post depending on their followers, engagement and insights. It's to no one's surprise why Millenials would be more inclined to want to become an influencer, if it means they get to create and post sponsored content to live comfortably and have a flexible work schedule.
Although most of these statistics were gathered based off influencer marketing on social media platforms like YouTube, Instagram, and even Facebook. These trends show the open market that TikTok's influencers can jump right in and cash out in, especially now with all the recent media buzz about them heading into the paid advertising space.
---
Why Integrate TikTok In Your Marketing Mix
Alternatively, if you are a business owner and you are advertising on other social media platforms, think of TikTok as the new best social media for your business to advertise on. Part of the formula for success behind a thriving business is the way their marketing strategies are carried out. If history is an indicator of how the future will be shaped, we all witnessed how Facebook and Instagram became driving forces for businesses to increase their revenues. Now, Facebook and Instagram are very saturated platforms, more expensive, yet still extremely effective. With over 800 million active users on TikTok, heading towards 1 billion, there is no better time than today to start advertising your business on Tiktok.
---
Start Your TikTok Influencer Marketing Campaign
---
Isabella Bedoya
Campaign Manager