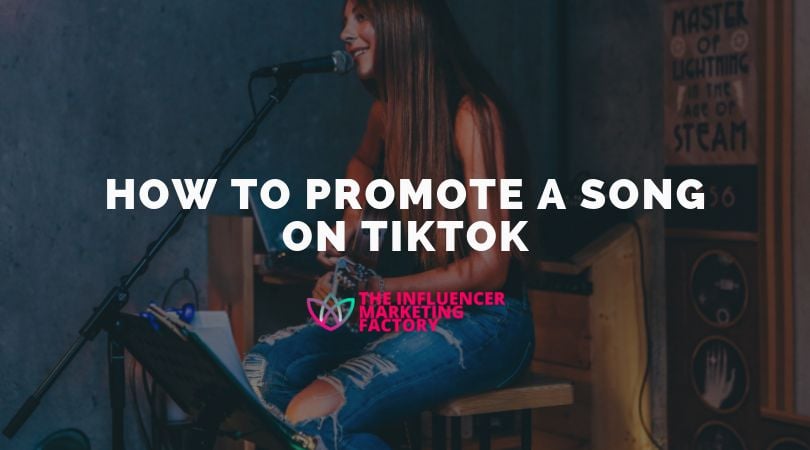 28 Aug

How To Promote A Song On TikTok

TikTok is one of the most popular social media apps that you can find out there in the world. More than 800 million people have downloaded TikTok as of now.

When you are using TikTok, you will be able to mime to a soundtrack and upload video clips. As of now, TikTok supports uploading video clips up to 1 minute. On the other hand, you will be able to find a large number of AR filters on TikTok. Hence, it has become extremely popular among people, especially among teenagers. TikTok has been able take lip syncing to a whole new level and the popularity of this network is growing along with time.

What can artists do on TikTok?

If you are musician or a music label, you can think about using TikTok as an excellent platform to boost your popularity. There are few methods, which you can use in order to leverage this platform and receive the prominent benefits that come along with it.

If you are interested in knowing more about TikTok Song Promotions you can take a look at our case studies, for example, the influencer marketing campaign we did for SONY and for Universal Music.

Here is a list of few of the most prominent methods, which an artist or a music label can follow to boost popularity on TikTok:
1. Organize a contest
Organizing a contest is one of the best methods available for you to boost your popularity on TikTok as an artist. This makes sense for both bands as well as solo artists. As you already know, TikTok provides all the features that you need to go ahead with making lip sync videos. You can upload a song of yours and ask others to lip sync for it.
However, just making the request will not deliver any positive results to you. Instead, you need to think about providing them with a prize for their effort as well. You can give a cash prize, concert ticket or even a shout out through your TikTok profile.
You can make this contest even more interesting by asking people to dance to your track while making some unique dance moves. Or else, you can ask them to dress up in a specific way. Then you can pick the winner and hand over the prize.
---
2. Leverage the power of hashtags


Hashtags are available in TikTok as well. You can also think about using them to increase your popularity as an artist. In here, you need to keep in mind that hashtags work perfectly well with contests. You can ask people to publish their videos with a unique hashtag that you specify. Then you will find it as an easy task to see all the submissions in one place.
This can also help you to promote your brand indirectly. In other words, you can get more people to see your hashtag and make it memorable.
---
3. Collaborate with Tik Tok influencers
You can also find some influential content creators on TikTok. By collaborating with these TikTok influencers, you will be able to get your work visible among their networks. All you have to do is to pick an influencer on TikTok, who is in a position to contribute positively towards your brand. Then you can go ahead with the influencer and promote a track. Or else, you can even ask the collaborator to promote your new releases. It can help you receive quick popularity on TikTok. And we can help you with this.
---
4. Organize localized contests
Running localized contests can also deliver positive results to artists who use the social media app to boost their popularity. You shouldn't think twice before you go ahead with this decision. You can select a specific location and then run the contest. Then you can think about using hashtags accordingly so that you will be able to get that video trending among locals. Then you will be able to expose yourself to a bigger audience along with time as well.
---
Final Words
Go ahead and try one or more of these tips and tricks on TikTok. It can contribute a lot to the success that you can achieve as an artist. The time and effort you spend on it will be a great investment done towards your future.
Are you a brand? Activate Your First TikTok Influencer Marketing Campaign