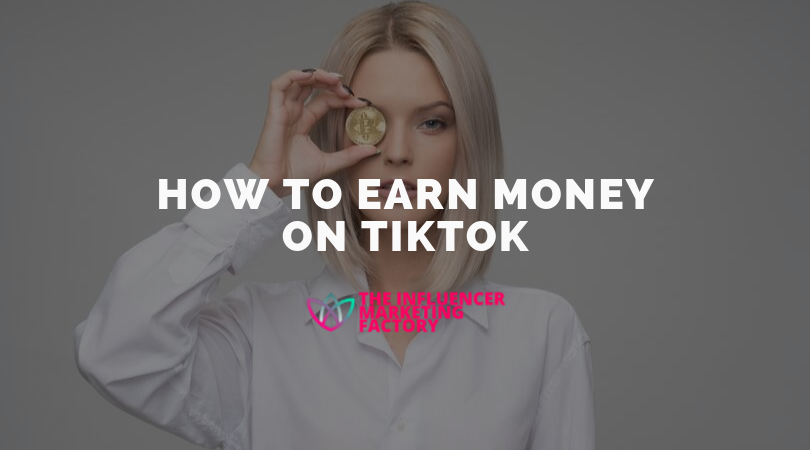 19 Sep

How To Earn Money On TikTok
What is TikTok?
Originated in China and firstly named as Douyin, TikTok is one of the most downloaded apps of 2018-2019.
It is still known as Douyin in China, with the international name of TikTok. This is an app that allows anyone to create short videos.
---
Who Is On Tiktok? And From Which Countries?
TikTok is primarily designed for youngsters of Gen Z and the majority of its users are under 25. 500M from China, 97M from India, 30M from US, 9.5M from JP, around 5M from UK and 4.5M from FR.
---
TikTok User Identikit
TikTok in US has 29M+ Monthly Active Users, 70% are 13-24 and the gender split is 63% female – 37% male. Users spend an average of 46+ minutes every day, opening the app 8+ times per day.
---
You can earn money on TikTok thanks to:
gifting
brand partnerships
influencer marketing activations
selling your own merchandise
---
Gifting
Now TikTokers can also receive gifts from viewers during lives (similar to Twitch). Gifts consist of coins that can be accumulated and then withdraw as dollars.
---
Brand Partnerships
You can earn money on TikTok thanks to brand partnerships and influencer marketing activations. In fact, if you have an interesting number of fans, a good average number or hearts + comments on total n. of fans (so a good engagement rate) and you have a particular style and storytelling, you can be approached by brands that will pay you to promote their products.
You can calculate the TikTok Engagement Rate in this way:
((𝑁.𝑜𝑓𝐻𝑒𝑎𝑟𝑡𝑠+𝑁.𝑜𝑓𝐶𝑜𝑚𝑚𝑒𝑛𝑡𝑠)/𝑁.𝑜𝑓𝑓𝑎𝑛𝑠)∗100=𝐸𝑅((N.ofHearts+N.ofComments)/N.offans)∗100=ER
I also created a graph after analyzing thousands of profiles to find the average engagement rate for different ranges of followers:
Source: How To Calculate TikTok Engagement Rate – Influencer Marketing Factory
---
Influencer Marketing Activations
Talking about successful influencer marketing campaign on TikTok, Calvin Klein just released one of the biggest influencer marketing campaigns on TikTok ever using the hashtags #mycalvin: In New Digital-First Strategy, Calvin Klein Tries TikTok
The new marketing strategy comes amid big upheaval at the brand, sparked by disappointing results. In November, the company said that while Calvin Klein sales for the third quarter rose 2% to $963 million, earnings fell to $121 million, primarily because of a $10 million hike in creative and marketing spending, as well as more promotional selling of its jeans.
Another way to earn money on TikTok is to be invited as a guest to music festivals or events such as Comicon or Beautycon where you will usually have to attend at the brand sponsored stand or perform – if you are a dancer or singer – on a stage.
---
Selling Your Own Merchandise
Lastly, you can even sell your own merchandise and sell them to your audience creating a Shopify eCommerce.
You can read more here: TikTok Marketing 101: What Is TikTok and How Can You Use It For Influencer Marketing – Influencer Marketing Factory
and also here: Four Ways Influencers Can Make Money On TikTok
Are you a TikToker? Get in touch