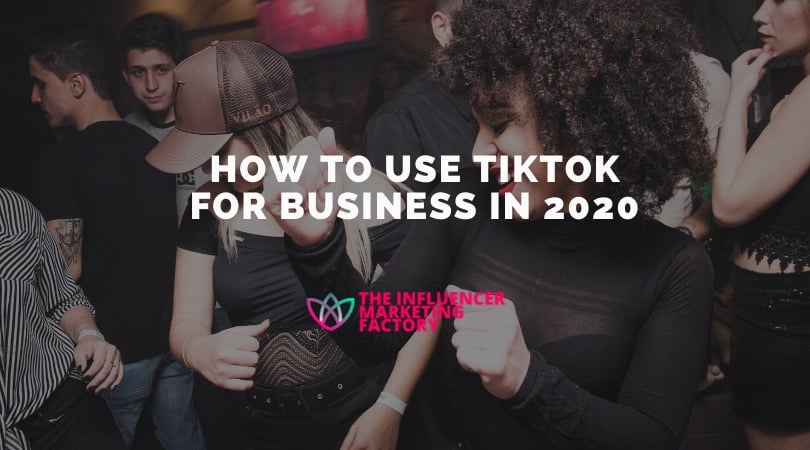 02 Apr

How To Use TikTok For Business In 2020 – Influencer Marketing Tips

TikTok has been creating a buzz in the last few years and continues to with it's whopping 500 million growing every day. Let's recap, Tiktok was launched in 2016 as a video platform where people could share and edit videos. Since then it has garnered an impressive following and is currently used in more than 150 countries.

The TikTok trend is predominantly leaning towards the younger generations. To get an insight as to why most promoters and influencers are taking to TikTok, it's important to understand that the consumer chart indicates most of the customers are from the younger generation. Here are some tips on how to include TikTok on your influencer marketing tools.

As the platform TikTok continues to surge in popularity, many brands are considering the ways that this platform is shaping culture and relevant conversations, and want to get in on the opportunity to increase their brand awareness. Many new updates are on the horizon for TikTok in 2020. TikTok is one of the fastest growing platforms and currently has 500 million active users worldwide, which even puts TikTok ahead of popular platforms such as LinkedIn, Snapchat, Pinterest, and Twitter. According to Oberlo, 150 million of these users are located in China and currently use the Chinese version of the app known as Douyin. By comparison, it took Instagram six years before it had the amount of active users that TikTok does. The TikTok platform has been downloaded over 1.5 billion times on the App store and on Google Play. The app reached 1 billion downloads by February 2019 and reached half a billion more downloads in just under eight months. With such a rapid growth rate occurring, there are truly endless opportunities for brands to enter into in uencer marketing partnerships on TikTok.
---
1. Understand how the Platform works
Generally, there are two main areas, the "For You Page", and the "Following" page. Once you launch the app, you are taken directly to the For You Page (FYP). Here you will see some of the trending videos and the top video creators. As you explore the app and start following other people you can see more content. Nonetheless, one of the unique aspects of the app that makes it an attractive tool for influencer marketing is that you don't need to follow anyone to get a piece of the experience.
The following tab, instead, will show you the latest video created by TikTokers you follow. If you are interested in checking out the latest trends and the most amazing hashtag challenges, you can do it on the Discover page.
---
2. Using Advertisements on TikTok
If you are interested in investing in digital marketing and paid media on TikTok, there are four primary forms of ad formats you can use to implement:
TikTok videos last for 9-15 seconds; the native infeed videos must be 9-15 second in length. The content will be displayed in full screen much like how Instagram stories are displayed and are skippable. They support multiple features such as website clicks or app downloads. The impact the video has is measured by the number of clicks, impressions, CTR, video views, play duration, and video interactions (like share and comments).
In this category, images, animated GIFs and videos can be used. The embedded links can be connected to websites landing pages or challenges and hashtags within the platform. The brand takeovers are exclusive to one brand every day. This category offers impressions, unique reach, and clicks.
This form of ads is used when brands choose to use promoted hashtags. In this category, the hashtag challenge will contain a link that directs the users to the main challenge page where they can see the details of the challenge and the featured instructions. Hashtag challenges can be measured by video interaction, clicks, banners views, and similar user-generated videos.
With the promising outcome this app has had in the last few years since its debut, TikTok is undertaking initiatives to make it more engaging. One of the prospective projects picked up by the company is the branded lenses. Much like the Snapchat 2D and 3D lenses for photos and faces, TikTok plans to make their platform could possibly infuse the feature to their application.
---
3. Promoting User Interaction
The most important aspect of using TikTok as a successful influencer marketing campaign is user participation and interaction with your content. One classic example of user interaction can be challenge other users to join a hashtag challenge (a dance, for example). Or, in the hospitality and food industry, a great example used in the right way is when a restaurant allowed its customers to send in their off the menu dishes. As the users yearned to get their off-menu dishes featured by the restaurant, they also promoted the brand name and shared the experience with other users.
Success on TikTok mainly lies within creating a unique perspective to allow the users to interact with your content without giving off a forced perspective.
---
4. Go for fun, unique and creative content
Part of TikTok as a unique tool for influencer marketing in 2019 is that you don't need high quality or highly polished content to make the required impact. Ultimately, originality should be the driving factor as opposed to quality. Users on TikTok seem to appreciate the corny and silly side content promotion. User reaction should guide you on how to best influence prospective buyers.
---
5. Using Hashtag Challenges for Influence marketing
Hashtag challenges are an essential part of the platform and the TikTok community. At any given moment, whether you are seasoned or testing the waters, you will realize there are a handful of challenges to participate in at any given moment. The challenges are all about recreation and iterating the video with some new ideas. With the right branded hashtag challenge and the TikTok app, the rest is left to the TikTok community. People interested in the challenge can participate in a few easy steps.
TikTok has proven to be an essential tool in influencer marketing for most brands. With the tips above, you don't have to miss out on the great movement. While you can opt to use the paid option to promote your brand, and working with certified influencers, the underlying platform features are enough to make your brand successful.
Interested in TikTok for Influencer Marketing?