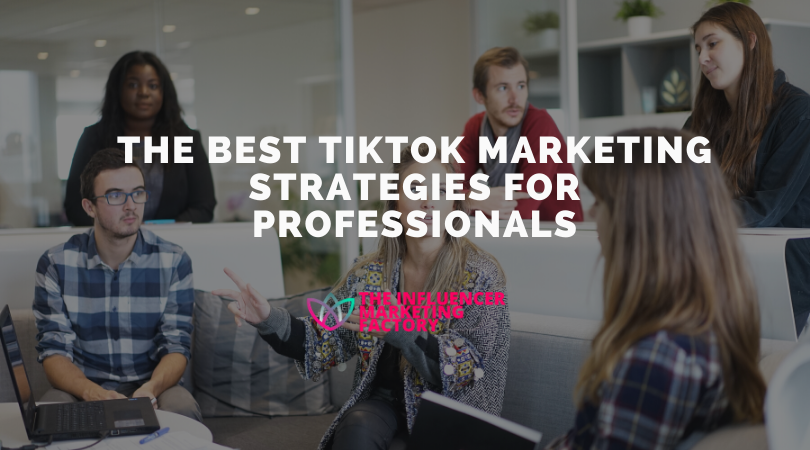 22 Jan

The Best TikTok Marketing Strategies for Professionals

Have you tried using influencer marketing to grow your business, but are not seeing the results you expected? It might be time for you to start focusing your campaigns on TikTok.

It's safe to say that professionals are making the right move by targeting social media users to increase their popularity. 

Each social media platform has learned a lesson or two from its predecessor regarding how to keep their users engaged. Next in line is the social media platform TikTok. Read on for more insights on how you can start using TikTok in a professional capacity.
---
What Is TikTok and How Are Professionals Using It?
TikTok has combined the lip-syncing trends of Musical.ly (acquired by ByteDance – the company behind TikTok) and the fun of Vine (an app with short funny clips, discontinued in 2016), in turn creating a place where one can enjoy the entertainment of viral video clips with catchy tunes.
Content creators connect with their followers on a daily basis by producing funny/entertaining videos and/or doing a live-stream broadcast. Live streaming gives influencers the ability to reach a broad audience of millions of users in a single broadcast all at once.
Creating original content that is relevant to your profession and having strong engagement with similar creators is very important. It's important to interact with other creators on TikTok and participate in trending challenges and hashtags. 
Because the TikTok platform is still very new to businesses, you have the opportunity to stand out as a professional on TikTok before the trend becomes more widespread.
---
Why Should I Consider Marketing My Business on TikTok?
Influencer marketing on TikTok is really gaining momentum. It is very effective considering the strategy used by the platform to reach users. Here are specifically why influencer marketing on TikTok is the next big thing. It is important to first consider the user demographics on TikTok. This platform is primarily being used by Gen Z, with users that create content and users that prefer to watch the content of others. If your business has an audience with Gen Z, TikTok is the ideal place to get your message across and even create entertaining content that goes viral.
There are so many unique features on TikTolk that are not available on any other platform and you can really create content that is unlike that of any other social platform. TikTok also has a host of privacy features that allow you to monitor your data and ensure that you are sharing content in a safe way, where you can oversee and manipulate the privacy settings. Therefore, you are in total control of what gets shared. 
Additionally, TikTok has billions of global users and there truly is no end to the growth you can experience as a business just by reaching a fraction of these views. TikTok was added to the list of top ten most downloaded apps in the past decade, and was named the number one downloaded app in the Apple app store with 33 million downloads in the first quarter of 2019.
The TikTok platform is extremely easy to use and create content on. Because the platform has so many unique tools available, the app easily makes you look like a professional content creator, despite not having a lot of experience. TikTok has also created an environment for authentic and raw content, which means that you do not have to spend the time to create the perfectly manicured content that other platforms cater to. 
Influencer marketing is one of the most effective strategies to attract potential customers to your products or services. Right now, only a few professionals use TikTok to promote their business or services. This implies you have a higher chance of getting your content known to millions of people without spending much at all. It is cheaper and can attract the biggest pool of customers.
---
Get Started on Your TikTok Marketing Now
Professionals are looking to TikTok to provide relevant content to their audiences. This is exactly one of the benefits TikTok brings. Through TikTok, professionals can easily market information and services to their target audience by creating unique videos to convey their messages to potential clients.
TikTok is very easy to sign up for. All you need to do is follow the signup link and provide all required information to start using your TikTok account. However, there are two basic sections you'll find on TikTok whenever you access it – The "For You Page" and "Following". For You Page is the section that shows all trending videos. Users can easily see your video in this section if it's ranked high on TikTok. The following section allows users to watch the latest videos of TikTok creators that a user is following.
Once your promotional videos are uploaded on TikTok with the right hashtags, you can rest assured that you will be able to effectively engage your target audience with your content. The great thing about TikTok is that people don't have to follow you before they can see your video. Numerous potential clients can easily see your marketing video on the feed page.
Launch Your Next TikTok Campaign