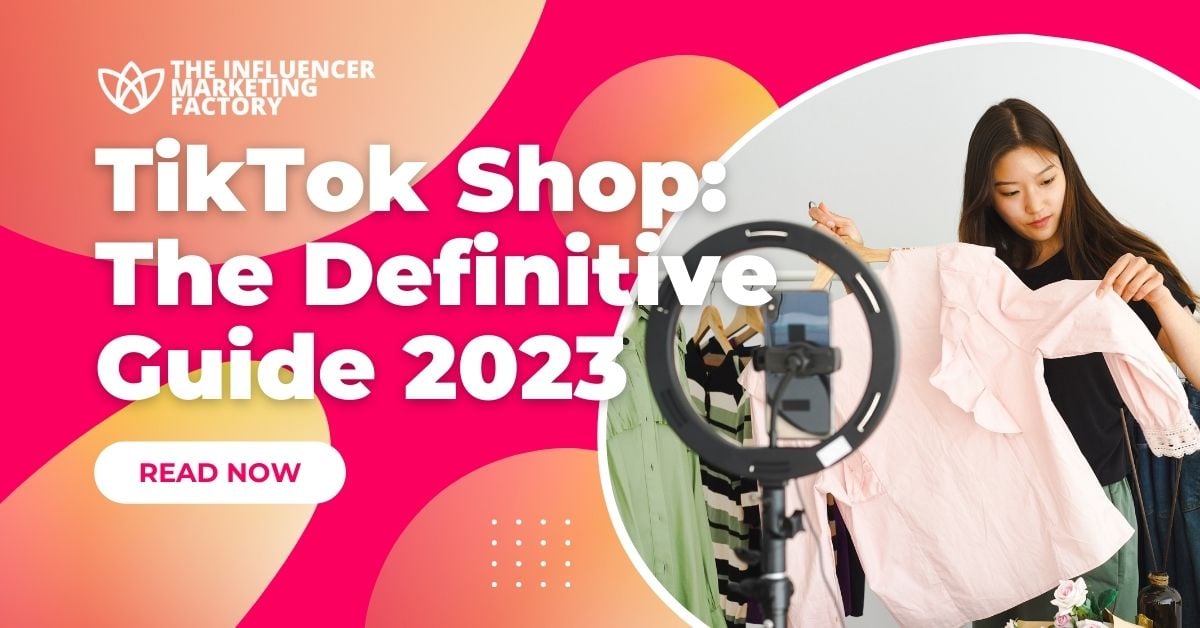 24 Jul

TikTok Shop: The Definitive Guide 2023

If you've been hearing some buzz around TikTok Shop, you're not alone. TikTok Shop gives brands and creators an immense opportunity to monetize and foster a positive shopping experience for their audiences. If your brand is already thriving on TikTok, it may be time to consider selling your products on the app with this innovative solution. On the other hand, if you're new to the world of TikTok and want to increase your sales, this could also be the perfect solution for you.

In this insightful blog post, we will cover everything you need to know about TikTok Shop. You'll learn the differences between TikTok Shop and other e-commerce solutions. We'll share some creative tips and guide you in the process of setting up your shop.
---
What Is TikTok Shop
TikTok Shop is an e-commerce solution integrated within TikTok. There are three native ways to use TikTok Shop. Live shopping, where you can give your audience a way to shop directly during a live. Shoppable video, where you can give shoppers the opportunity to purchase from in-feed videos by tagging your products, and a product showcase, where your audience can shop directly from your account.
TikTok Shop essentially allows creators to present and sell their products to TikTok audiences. It enables buyers to have an in-app shopping experience and to finalize purchases without leaving the platform.
If you've ever heard the term one-tab checkout, it refers to a seamless shopping experience where customers can complete a purchase without having to leave an app or by being able to complete the purchase on the same page they are viewing products or information.
Tools and platforms like Stan.Store offer one-tap checkout experiences, whereas TikTok Shop takes the cake since they offer in-app experiences, which is even more convenient for shoppers.
According to Statista, cart abandonment is most common among shoppers using mobile devices; this indicates that the easier we make it for our potential customers to buy, the more we can increase our conversions. Live shopping, shoppable feeds and product showcases can aid in eliminating any objections.
---
How to Get Started With TikTok Shop
In order to open a TikTok Shop, you do need to meet certain eligibility requirements. You will need to ensure that you have a TikTok business account and have complied with the platform's terms of use.
You will then need to register to use TikTok Shop by following these steps:
The first step is to create a seller account by following the steps outlined here.
Provide your contact information.
You will need to provide your business address and other relevant details.
There are no fees to get onboarded as a TikTok Shop, but your application will be reviewed. You may also need to provide additional documentation should they need further clarification on what you provided.
TikTok Shop provides brands with a variety of features and tools. Platform campaigns and a wide range of promotion tools to enable you to effectively reach and engage with the TikTok community.
In addition, TikTok Shop's affiliate network allows you to discover, engage with, and collaborate with thousands of creators, using their influence to increase the visibility of your business. Additionally, TikTok Shop's detailed analytics dashboards allow you to track performance, traffic, customer reviews, and transaction data. You'll be able to see detailed data such as Livestream analytics, creator analytics, and affiliate data. As we all know, the more data, the better the result.
If you're looking to get started with TikTok Shop, you can review the eligibility requirements here.
---
How to Effectively Use TikTok Shop
It goes without saying that to get the best outcome, you want to learn the features available of any commerce solution you choose to use, and TikTok Shop is no different. Below we've outlined some of the features that you should learn and some tips for using the platform.
Get to Know The Seller Center
TikTok has created a comprehensive video walkthrough of the seller center. Why is this important? You need to understand the ins and outs of any tool you use in order to have the best experience. Alternatively, you can work with an agency that is experienced with TikTok Shop to help you in the process. You wouldn't set up new Facebook Ads without getting to know Facebook Meta Business Suites and Facebook Ads Manager, would you? The same applies to the seller center.
Account Management
You'll want to ensure that you learn everything there is to know about delegation mode, rights and rules of TikTok Shop marketing account, commercial music usage, holiday mode, and so many other features.
The rights and rules of TikTok Shop section share a lot of guidance on the functions, the terms of use as well as useful information on how to link your accounts together. You'll also find information on how to personalize your seller profile and learn how to use the delegation mode so that you can give access to an account manager.
Affiliate Opportunities
Another benefit we love is the opportunity to easily create affiliate plans for creators. There are three different affiliate plans that you can create for affiliate opportunities. Affiliate marketing as a whole is a benefit to both brands and creators for monetization, and a platform like TikTok makes it a no-brainer, given that so many creators have amassed large audiences and communities that trust their advice.
Free Sample Function
Free product samples have long been a strong marketing tactic for introducing shoppers to products based on their purchase history or simply as a means to drive brand awareness.
Beyond the Features 
Using TikTok to help you increase your sales is an exciting opportunity, and no matter what features and functionalities a tool offers, you should always go back to the basics.
Beyond the features, in order to have success with TikTok Shop, you'll want to establish SMART marketing goals. If you are new to marketing, SMART goals stand for Specific, Measurable, Achievable, Relevant, and Time-Bound.
Here's an example of a SMART goal you could create for TikTok Shop. 
"I want to sell an additional 30 products per month by using the affiliates feature and creating three weekly shoppable in-feed videos. In addition to that, I will go LIVE every day."
This goal is specific because we have a specific number of product sales we want to achieve; it's measurable because we know the features we want to use in addition to our quantity KPI; it's achievable because we're planning on using various features and starting with a pretty modest goal, it's relevant to what we sell and time-bound by setting a goal of hitting this target on a monthly basis.
Here's an example of a goal that wouldn't be considered a smart goal. "I want to go viral on TikTok and make more sales." Although we do see "going viral" as a common goal, it's not always the best approach as it's not necessarily measurable. You can have big goals, but you should attribute specific KPIs to any goal that you set.
---
Creating a Positive Purchasing Experience on TikTop Shop
Creating a positive purchasing experience starts long before someone makes a purchase. Sounds pretty obvious, right? But it's not always that simple. You know the saying "Show, don't just tell"?
Now that you have a tool like TikTok Shop that allows for a seamless shopping experience, you still need to think about creating a positive experience before someone even considers making a purchase from you.
For your in-feed content and during your TikTok Lives, you'll want to incorporate the following types of content.
Address common product questions.
Address common objections received.
Share testimonials and transformation stories.
Showcase how to use your product.
Give incentives.
And beyond that, think about the different stages of the buyers' journey and create content to address each specific stage.
---
Creative Tips for TikTok Shop
If you want to increase your sales with the help of TikTok Shop, you need quality videos. When we hear the advice to create quality videos, people often get overwhelmed because they think that this means you need an entire production studio or that it's going to cost an arm and a leg. You'll be happy to hear that it doesn't have to be that way. All you need to do is follow some basic video creation and editing tips.
Here are some creative tips for your videos on TikTok Shop: 
Your videos need to tell a story. People often share videos without context because we overcomplicate their storytelling process. To help you create storytelling videos, share things such as what life was like before and what life is after purchasing your product. What is the transformation that your customer will experience? Are they more confident? Was your customer able to save a lot of time doing a specific task with your product? Share these journeys as they make great storytelling content.
You need good lighting. If you don't have professional equipment, you need to record your videos in front of a video. You should also make sure that you clean your lenses before any videos or any lives.
Your video should start with a hook. There is no need for an introduction such as "Hi, everyone." Or "Hey, Guys." You want to start your video with an attention-grabbing hook that will entice your audience to continue watching.
---
The Importance of Using Shoppable Videos
Utilizing shoppable videos on TikTok offers a powerful way to engage your audience and convert them into customers. By seamlessly integrating product information and a direct purchasing option within engaging videos, you can streamline the buying process and increase sales. The easier we make it for potential buyers, the better. With shoppable videos, we remove any objections and also cater to impulse buyers. According to Statista, during a recent study, TikTok shoppers were asked about their shopping habits. 71.2 percent said they shopped when they stumbled upon something in their feed or stories. This alone should entice businesses to explore in-feed shopping videos with TikTok Shop.
Imagine scrolling through your TikTok, and suddenly you come across a captivating video featuring a product you've always wanted. With in-feed stoppable videos, you can pause the video right there and then, and voila! The product details, price, and a direct link to buy it pop up. That's what we call a great user experience.
This feature is super important because it makes the whole shopping experience effortless and fun. Potential buyers don't need to go searching for the product separately or worry about missing out on a product that they love.
Tips for your shoppable videos: 
Ensure to show your products in action. A great example would be some user-generated content from a collaboration. For example, if you sell cosmetics, the creator you collaborate with could create a makeup tutorial and showcase your product in action. You would also want to ensure that your product is the focal point of the video.
Remember to use storytelling. This is where you create videos that showcase what life was like before using your products and what life is after. Everything and anything can become storytelling.
Leverage influencer marketing. This goes hand-in-hand with user-generated content. Contact an agency like ours to create a strong influencer marketing strategy for your shoppable videos. Yes, you can always do manual research to find influencers; however, when you work with a reputable influencer marketing agency, you work with talent that is pre-vetted, and this increases your chances of having a successful campaign.
Optimize your videos for mobile viewing by using vertical formats and eye-catching visuals. If you are using pre-recorded videos for your in-feed content, add captions or any other elements to improve the accessibility of your videos.
TikTok Shop opens up exciting opportunities for brands to connect with the TikTok community, showcase their products, and drive sales. By following the tips and strategies outlined in this guide, you can effectively leverage TikTok Shop to grow your business, increase brand awareness, and engage with your target audience.
Start exploring TikTok Shop today to witness the impact it can have on your business.
Start Selling With TikTok Shop