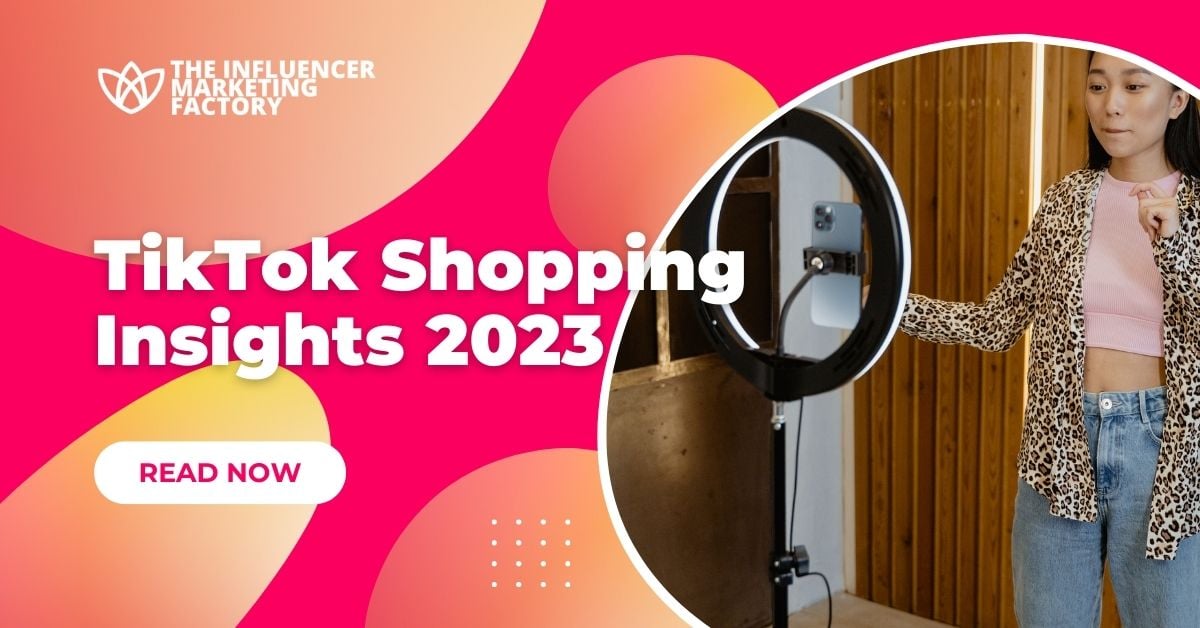 21 Sep

TikTok Shopping Insights 2023: The Trends You Need to Know for Your eCommerce Business

Are you a business owner who is looking to start selling your products on TikTok? Or are you already trying to sell your products on TikTok but not seeing the results you want? In this post, we'll be discussing the latest shopping trends on TikTok and how you can capitalize on them for your eCommerce business. So stay tuned for some valuable insights!
TikTok: Breaking Down The Stats
There's no denying that TikTok is one of the most popular social media platforms right now. In just a few short years, it has amassed over 1 billion monthly active users. And according to recent data, TikTok is on track to becoming the most downloaded app of 2022.
What's more, TikTok is popular with users of all ages. In fact, 43% of TikTok users are between the ages of 18 and 24. But that doesn't mean that the platform isn't popular with other age groups as well. Interestingly enough, 32% of TikTok users are between the ages of 25 and 34.
So, what does this mean for businesses? It means that there is a huge potential market on TikTok for selling products. And with the right strategy, you can reach a large audience of potential customers. Now that we've taken a look at some of the stats let's move on to the shopping trends on TikTok.
---
The Rise of TikTok Infinite Loop
In a linear or traditional marketing sales funnel, customers typically go through four stages, including:
Awareness: Awareness is the understanding or recognition of a problem or need.
Interest: Interest is when the customer becomes aware of a potential solution to their problem or need
Desire: Desire is when the customer begins to develop a preference for a particular solution
Action: Action is when the customer takes steps to purchase the product or service.
While this is still the model of marketing for many social media platforms, the traditional marketing sales funnel is no longer as effective in today's digital age. And that's because the way people shop has changed. Thanks to the internet, people now have access to a wealth of information and can easily compare prices and products before making a purchase.
As a result, businesses need to find new ways to reach potential customers and convert them into sales. And that's where TikTok comes in. TikTok offers businesses a unique way to reach their target audience through its infinite loop. So, how exactly does that work? Let's break it down further.
Unlike traditional purchasing journeys, TikTok is used at every stage of the customer journey. More than 61% of TikTok users are already engaging in e-commerce behaviors on the TikTok platform, with this number only increasing. So whether the users are looking to make purchases, want to discover new products, learn about a new brand, or watch content that encourages them to continue following a brand, TikTok has something to offer.
The infinite loop on TikTok is the result of the platform's algorithm that constantly shows users new content. And because of this, businesses have the opportunity to show their products and services to potential customers over and over again. This increases the chance that users will eventually make a purchase.
---
Why Are Users Likely To Buy From The TikTok Platform?
Compared to traditional eCommerce platforms, TikTok offers a number of advantages for businesses. Not only are companies able to show their products and services to potential customers on an infinite loop, but they're also able to reach a large audience of users. According to a study by TikTok Insights, there are a few key reasons why users are likely to buy from businesses on the TikTok platform:
Entertainment
More than 37% of users state that they're willing to buy from TikTok because of its entertainment factor. TikTok is a fun and easy way to kill time, and users are often more likely to make impulse purchases when they're entertained. In addition, since users can quickly scroll through an endless feed of content, businesses can easily stand out and make their products more attractive by creating entertaining videos.
Curated Products "For Them"
21% of users are willing to buy from TikTok because they feel that the products and content are for them or more aligned with their interests. TikTok offers a highly personalized user experience, and the platform's algorithm does a great job of curating content for each individual user. This makes it easier for businesses to target their audience with relevant products and content. For example, if a user is interested in fashion, they're more likely to see videos from fashion brands in their feed. Meanwhile, a user interested in cooking is more likely to see videos from food brands.
Increases Day To Day Happiness
Lastly, 20% of users buy from TikTok because the products and content simply improve their day or increase their daily happiness. This is an excellent opportunity for businesses to connect with their customers on an emotional level and create a brand that users can trust. For example, many times, a user may watch a video where a user explains how much they enjoy using a particular product. This positive association can lead to the user eventually purchasing the product themselves.
TikTok's e-Commerce Solutions
Now that we've gone over some of the reasons why users are likely to buy from businesses on TikTok let's take a look at some of the eCommerce solutions that the platform offers. Two of the most significant includes TikTok shopping ads and TikTok shop.
---
TikTok Shopping Ads
TikTok shopping ads are a new feature that helps companies meet users wherever they might be in the purchasing journey, whether they're just learning about a brand or if they're ready to make a purchase. This three-in-one solution features live shopping ads, catalog listing ads, and video shopping ads all in one to help businesses increase brand awareness, drive traffic to their website and ultimately increase sales.
With this feature, brands will find a ton of advantages, including:
The ability to manage all media buying through one application. Instead of using multiple programs to manage live shopping, video ads, and catalog ads, businesses can now do it all through TikTok Ads Manager.
Increased features to help maximize performance, including ad scheduling, optimization, and reporting tools. Better video editing tools to create high-quality live and video ads that stand out in users' feeds.TikTok ShopIn addition to TikTok shopping ads, businesses can also take advantage of TikTok shop, which is a new way for brands to sell their products directly on
Ability to scale your product by using various formats to help you reach more users. TikTok shopping ads offer creative freedom that allows businesses to really show off their products and services in an engaging way.
TikTok's shopping ads are available in three different formats, including:
Video Shopping Ads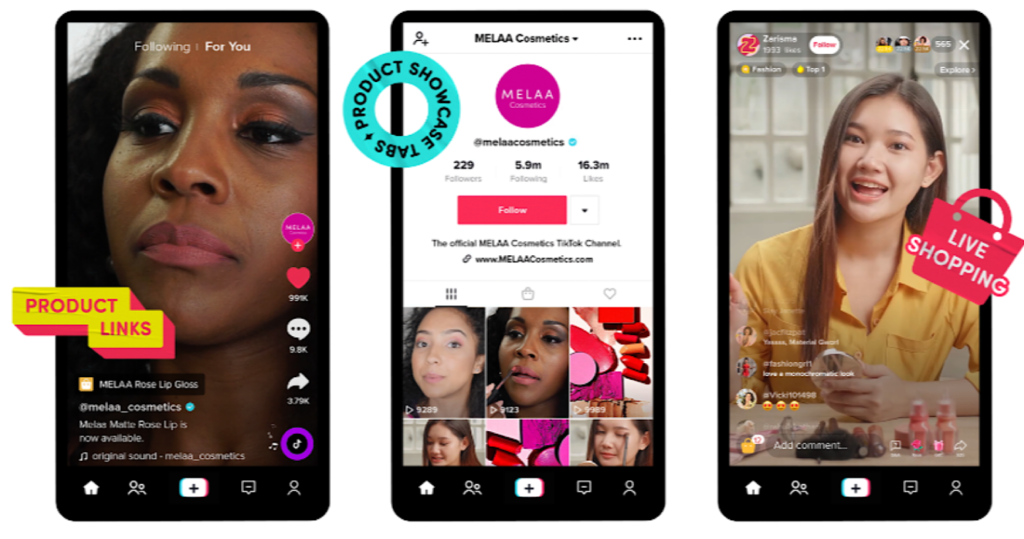 TikTok is introducing a new way for brands to reach shoppers: video shopping ads. These ads are relevant videos that will appear on the For You page, where users can discover new products and brands. Video shopping ads will allow brands to showcase their products in a more engaging and interactive way, and they will be able to target users based on their interests and demographics. In addition, TikTok users will be able to shop for products directly from the videos with a simple swipe, making it easier than ever before to discover and purchase new items.
Catalog Listing Ads
Catalog listing ads are a new ad type on TikTok that allows you to promote your product catalog at scale without needing video assets. You can choose to run these ads in either In-Feed or Explore, and they will appear as a scrollable carousel of images with your products' names, prices, and a link to purchase.
When users see your ad and swipe through the carousel, they will be able to get more information about each product and even click through to purchase if they're interested. These ads are an excellent way to increase brand awareness and drive sales, and they're also effortless to set up and manage.
Live Shopping Ads
Lastly, live shopping ads are a new way for brands to reach users who are interested in purchasing products in real time. With Livestream shopping, businesses can stream live videos of their products and services, allowing viewers to buy items directly from the video. Whether companies decide to discuss benefits, show product features, or host a Q&A session, these ads are perfect for businesses that want to create an interactive and engaging experience for their customers.
TikTok Shop
TikTok Shop allows creators to create a separate shop through their TikTok accounts. When used in combination with TikTok Shopping Ads, businesses will be able to increase their reach and sales significantly.
---
How Can e-Commerce Brands Thrive On TikTok?
With the above in mind, e-commerce brands need to consider the following TikTok marketing tips to ensure they are thriving on TikTok:
Creating A Strong Brand Presence
A strong brand presence is essential for any business on TikTok, but it's especially important for e-commerce brands. Since e-commerce brands are selling products and services online, they need to create a solid and recognizable brand identity that users will remember.
Therefore, creating a consistent look and feel for your brand across all your social media channels is crucial, and using TikTok's branding tools can help create a cohesive look for your brand. For example, using consistent genres of music, filters, and editing styles in your videos will help users associate your videos with your brand.
Create Content In The Right Category And Language
When creating content for TikTok, you must consider the category and language you're using. E-Commerce brands need to ensure they're creating content in categories relevant to their products and services, such as fashion, beauty, or lifestyle. In addition, e-Commerce brands should also create content using the right language or dialect for their target audience. For example, if your business's target demographic is Gen-Z, then using terms like "Cheugy" or "on fleek" in your videos will help you connect with them on a deeper level.
Partner With TikTok Influencers
TikTok influencers are some of the most influential people on the platform, and partnering with them can help e-commerce brands reach a wider audience. In fact, the average engagement rate for U.S. influencer content on TikTok is 17.99%. Therefore, when looking for TikTok influencers to partner with, e-commerce brands should consider those who have a large following and are active in categories that are relevant to their products or services. In addition, it's also essential to consider the engagement rate of TikTok influencers, as this will give you an indication of how engaged their followers are.
Engaging With Your Community
Your community is the group of people who follow you on TikTok and engaging with them is essential for any business on the platform. E-Commerce brands need to make sure they're responding to comments, liking and commenting on other user's videos, and following those who are interested in their products or services. In addition, e-commerce brands should also consider hosting live stream shopping events, as this is a great way to engage with your community and increase sales.
Staying On Top Of Trends
Lastly, e-commerce brands need to make sure they're staying on top of trends. TikTok is known for its ability to start and popularize trends, so e-commerce brands need to be aware of what's happening on the platform as well as in their industry. Staying on top of trends will not only help you create better content, but it will also help you stay ahead of your competitors.
For example, TikTok reported that longer videos over one minute had already received more than five billion views globally. This is an indication that users are becoming more interested in watching longer videos on the platform. As a result, e-commerce brands should consider creating longer videos that show off their products or services in greater detail.
---
Wrapping It Up
It's clear that TikTok is quickly becoming a powerful tool for e-commerce brands. By following the tips above, you can ensure that your e-commerce business is thriving on TikTok. Do you have any other suggestions for e-commerce brands on TikTok? Let us know in the comments below!
Activate Your TikTok Influencer Marketing Campaign Now!