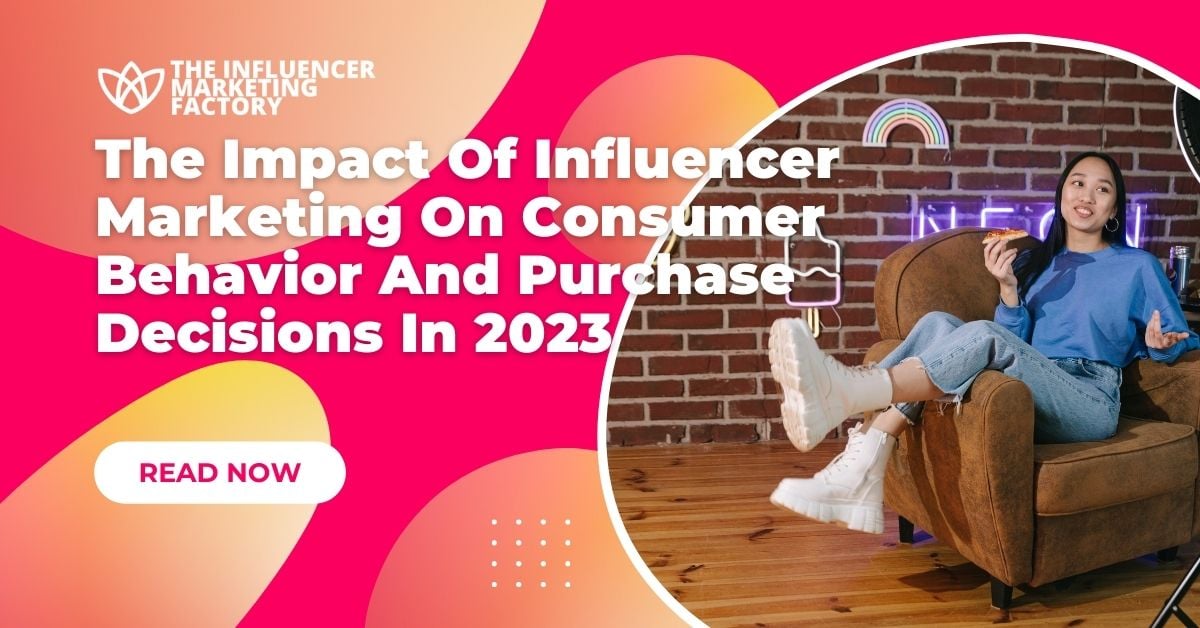 13 Jul

The Impact of Influencer Marketing on Consumer Behavior and Purchase Decisions in 2023

If you were to ask us which marketing method has the most influence on consumer behavior and purchasing decisions, we'd say without a doubt that it is influencer marketing. Influencers and content creators create and impact trends; they influence the purchases of their audience members and can contribute to brands' growth and sales.

Marketers and brands are increasingly turning to influencers to collaborate on product launches and to gain insights into various demographic segments, and more and more are forming long-term collaborations. From SEO marketing to video content and email marketing to livestream shopping, influencer marketing strategies have become integral parts of effective marketing strategies, and their effects on consumer behavior and purchases are significant.

In this article, we'll discuss the impact of Influencer Marketing on purchasing decisions in 2023 and beyond.
---
Overview of Impact on Consumer Behavior
It's clear that influencer marketing plays a significant role when it comes to impacting purchasing decisions. In 2023, and beyond, we'll continue to see a rise in influencers and popular content creators, and in turn, this will play a significant role in how consumers navigate their purchase journey.
Every day, people turn to content creators and influencers for inspiration, product review and other content in the hopes of inspiring their next purchases. As brands team up with influencers for longer collaborations, this can have a positive impact in terms of driving revenue growth since the more the audience of a specific influencer learns about a brand; the more opportunities influencers have to "influence."
Here are a few reasons why we believe influencers will continue to have a significant impact on consumer behavior and purchasing decisions:
Influencer marketing will continue to grow in popularity and become an even bigger part of many marketing strategies for many brands.
Influencer marketing is perceived as more authentic and trustworthy than other traditional marketing methods, since influencers typically have a strong connection with their audience and are seen as more relatable.
Some businesses have seen a return of up to $5.78 for every dollar spent on an influencer marketing campaign, and keep in mind that this is an average, meaning it could be much, much more. A clear indication that influencer marketing is contributing to purchasing decisions.
Micro-influencers (influencers with smaller followings) are becoming more popular among brands, as they often have a more engaged and loyal audience and can be more cost-effective for brands.
Video content, particularly on platforms like TikTok and Instagram Reels, is becoming a more popular format for influencer marketing, as it allows for more creative and engaging content that resonates with younger audiences.
Brands are increasingly focusing on long-term partnerships with influencers, as opposed to one-off collaborations, to build more authentic relationships with their audience. Brands and consumers both experience benefits from these long-term collaborations.
Influencer marketing campaigns are becoming more data-driven, with brands using analytics and insights to measure the effectiveness of their campaigns and make data-informed decisions.
---
Benefits to Businesses
Using influencer marketing can have a lot of benefits for brands when it comes to how people decide what to buy and how they buy. An obvious benefit is that influencers frequently have followers who are really interested in specific things, like beauty or sports, which can help brands reach people who are more likely to be interested in what they're selling. This can help brands make more sales and be more successful.
Brands that work with influencers also have access to more creative ideas. Many influencers and content creators have large portfolios of successful campaigns, and they know that type of content delivery tends to work best with their audience and in their niche.
Consumers rely on the power of influencers more than ever before. Did you know that 49% of consumers depend on influencer recommendations to make purchasing decisions?
With this clear impact, it's easy to see why influencer marketing is becoming an increasingly popular choice for businesses who want to increase their customer base and make their mark on the market.
---
Considerations for Purchasing Choices
When it comes to purchasing choices, influencer marketing can have a significant impact. Consumers are more likely to trust other people's opinions and experiences than an advertising campaign.
There are many factors that will influence consideration for purchasing choices with influencer marketing. Let's explore some of these factors.
Influencers should be transparent about any partnerships or sponsorships they have with brands to maintain credibility with their audience. Transparency plays a big role in consideration as most times. Consumers are able to detect if an influencer is transparent or not.
Influencers should only endorse products or services that they genuinely believe in and that align with their personal brand and values. It can sometimes be easy to detect when an influencer doesn't genuinely like a product. This is where working with influencers in various niches helps since they are most likely to be knowledgeable and have a genuine passion for specific product categories.
Influencers should consider whether the product or service is relevant to their audience and whether it would provide value to them. It's not impossible, but it's much harder to influence purchasing decisions when working with influencers who don't have a clear niche.
Influencers who have long-term relationships with certain brands are more likely to have longer ongoing influence with certain partnerships.
This is why it is important for businesses to consider the influence of influencers when making decisions about their products and services. To maximize the impact of influencer marketing, businesses should consider using a combination of various marketing mediums with their influencers.
---
Overall Impact of Influencer Marketing on Consumer Behavior
The statistics don't lie, and countless brands have the results to prove the need for influencer marketing and the impact influencers have on purchasing decisions. Content creators have changed how we shop; they've become the bridge between many consumers and brands, allowing brands to streamline the consumer journey and contribute to purchasing decisions.
It's no longer a matter of if brands should leverage influencer marketing, but a matter of when more brands will decide to explore this opportunity.
The future of marketing lies in the hands of influencers, and it's up to us to use this marketing vertical to our advantage.
Activate Your Next Influencer Marketing Campaign