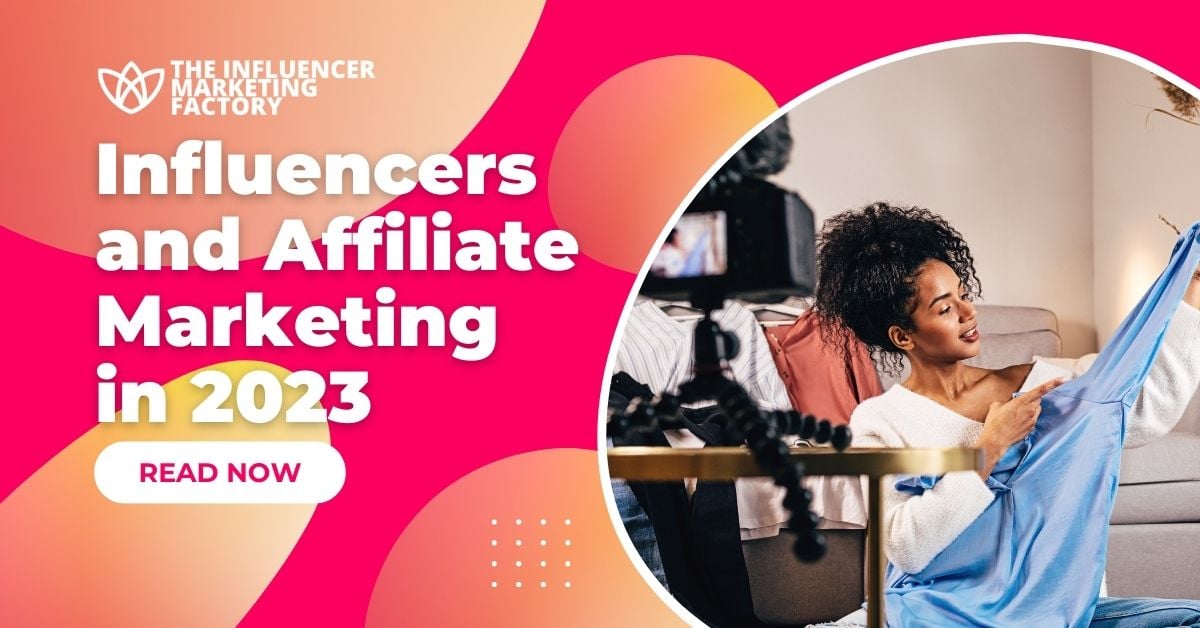 09 Aug

Influencers and Affiliate Marketing in 2023

Brands and creators are always looking for ways to grow their reach and increase their revenue. Social media and other marketing platforms create a unique opportunity for monetization. As more and more brands start their journey to establish their digital footprints, there are a lot of opportunities to explore for both creators and brands.

Are you active on TikTok? If so, you've likely seen that there is a lot of content going around where creators and brands talk about the benefits of affiliate marketing. Some TikTok creators talk about their success with affiliate marketing, and some brands promote their affiliate marketing programs.

This blog post will explore the benefits of influencer and affiliate marketing and our overall predictions regarding social media marketing.
The Impact of Influencer Marketing on Brands
If your brand has never collaborated with an influencer in the past, you could be missing out on some serious ROI. Some brands see a return of up to $5.78 for every dollar they spend on an influencer marketing campaign. And although that is an average figure, it can be much higher for some industries and niches.
The global value of influencer marketing has significantly increased over the last few years. In 2023, the global worth for influencer marketing sits at 21.1 Billion U.S. dollars. At the very least, this should spark curiosity for both brands and creators.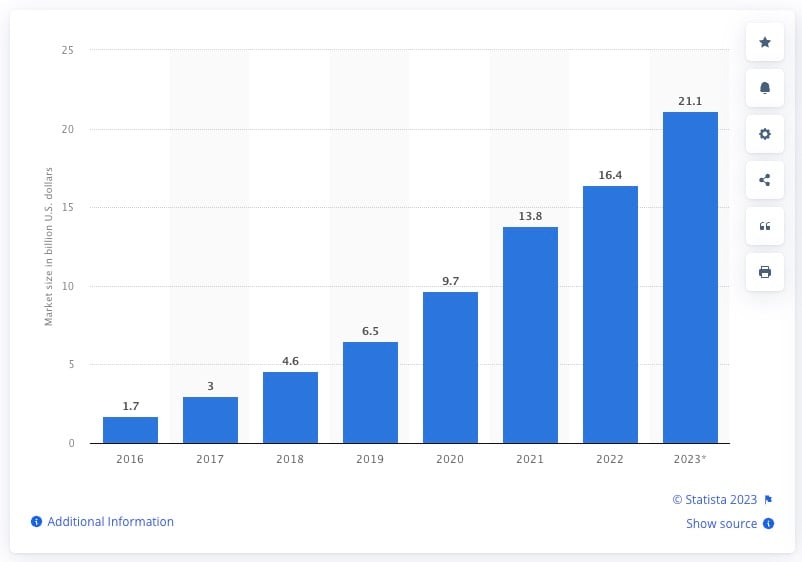 It's pretty clear that influencer marketing has emerged as a powerful tool for brand promotion. Influencers are people with a large social media following who can impact their audience's thoughts and purchasing decisions. Their close relationships with followers and genuine content make them valuable brand advocates.
The impact of influencer marketing on brands is multi-faceted:
It brings a human touch to marketing efforts, allowing brands to connect with their target audience on a more personal level.
It enhances brand credibility and trust, as consumers tend to trust recommendations from real people over traditional advertising.
It can exponentially increase brand reach, tapping into niche audiences that might otherwise be difficult to reach through other conventional marketing means.
It can fast-track community building. Brands can save months or even years of relationship building by tapping into an existing engaged audience when they collaborate with an influencer.
Influencers and popular creators can be used to promote products and services, and yes, they can also be used to promote affiliate marketing programs. If you already have an affiliate marketing program, you know how significant the impact can be for brand reach and revenue generation.
If you'd like to explore using influencers to promote your affiliate products, speaking with a reputable influencer marketing agency would be a good start.
---
The Future of Social Media Marketing
There's always a new platform to learn about or a new marketing tactic that seems to promise the results that every brand dreams of. Sound familiar? The truth is that social media marketing will always evolve, and we'll constantly have to learn new platforms and marketing strategies.
We understand that this can be overwhelming for many, but it's actually a good thing. New platforms mean new opportunities, and a rise in a specific marketing tactic means there is a need and demand for it.
In 2023 alone, we saw Lemon8 introduced in the U.S. and the U.K. after originally launching in Japan in 2020. In the recent month, we saw the launch of Threads by Meta. We also saw Twitter recently receiving a rebrand to X. When significant platform changes happen or when we are introduced to new ones. We have to look at it as an opportunity to explore monetization and community building for our brand.
Another thing to note is that social media has been used more widely to promote affiliate products. Each marketing platform has its own set of rules when it comes to promotional and affiliate content. Many require an affiliate disclaimer statement and have guidelines along the lines of ensuring that the content provides a good user experience, doesn't make false promises, etc, etc.
So, if you've been seeing more and more affiliate products being promoted on social media, whether we're talking about the Amazon Associates program or high-ticket affiliate offers for travel and business, it's because brands and creators realize that long-form SEO content is no longer the only way you can promote affiliate products.
---
How to Use Social Media for Affiliate Marketing
Long gone are the days when the primary channels for promoting affiliate products were blog posts and YouTube videos. Although they are still important channels to use for evergreen or long-term traffic, using other social media platforms can help accelerate results.
Here's how we recommend using social media for affiliate marketing.
Step 1: Do product research on various platforms.
Step 2: From your research, identify one to two platforms you want to use.
Step 3: Review the community and promotion guidelines for these platforms.
Step 4: Reach out to influencers or an influencer marketing agency.
Step 5: Outline a promotional strategy for your upcoming influencer marketing campaign.
Step 6: In addition to your upcoming campaign, create a pre-campaign strategy and post-campaign strategy. You want to keep building hype once the campaign is done.
Step 7: Remember to be transparent and honest about the income potential from your program.
Step 8: Launch your campaign
Step 9: Review your results
Step 10: Rinse and Repeat
It's important to remember that success requires ongoing efforts and consistency with social media and influencer marketing (affiliate marketing or not). Not every campaign is going to be a major hit, and that's ok. When things don't go as planned, we learn and apply those insights to future campaigns.
You also don't need to reinvent the wheel; if you have blog posts and other long-form content that has worked well to promote your affiliate products in the past, you can repurpose the topics discussed in the blog post to create short-form videos on the topic. This applies both to brands and creators.
In terms of promoting products on an ongoing basis, aside from various native in-app tools that you would use depending on the platform, you can always encourage creators to use tools such as Stan.store or Linktr.ee to share their affiliate links on an ongoing basis. Again, as long as proper disclaimers are in place, these are helpful tools that allow creators to monetize from their audience.
Another thing to keep in mind is using video content and current trends. While it's important to put your own unique spin on trends, you'll have higher chances of success if you try something that is known to work combined with your own data and research.
---
How Can Brands Leverage Affiliate Marketing
When we refer to the term affiliate marketing, we're often referring to "performance-based" marketing. Although this is sometimes debatable, creators who promote products and services do not earn unless a sale is made, which equates to performance-based.
For a brand, this can be an incredibly cost-effective way to reach a wider audience and increase their revenue. What's also great about it is that it provides creators or any social media users the opportunity to earn online. Did you know that there are an estimated 35 Million digital nomads around the world? While affiliate marketing opportunities aren't only loved by digital nomads, this indicates an ongoing need to earn income online, and many are turning to affiliate marketing.
Brands can leverage affiliate marketing by setting up an affiliate program and recruiting affiliates with relevant audiences. Offering attractive commissions and providing affiliates with marketing materials and support can boost the success of the program. Additionally, monitoring affiliate performance and optimizing the program regularly is crucial to ensure maximum ROI.
If 2023 is the year where you are looking to grow your reach, increase your profits and reduce your marketing costs, we'd recommend taking a look at affiliate marketing.
---
Expectations for Affiliate Marketing
The success of affiliate marketing for both brands and creators widely depends on the needs of the products, the audience size of the creators, the consistency from both sides and the authenticity applied to marketing.
Being authentic and not over-exaggerating potential with affiliate marketing is critical. We can't stress this enough. In addition to the guidelines clearly set out on each platform, brands should get familiar with the relevant FTC guidelines.
You'll want to make sure that you have appropriate disclosures in place on your program pages and that you create an affiliate marketing success fit for creators who want to collaborate with you. When everyone is on the same page, it creates a great experience for you as a brand, your promoters and audience members.
We're excited to see what's in store for influencer marketing and affiliate marketing in 2023 and beyond, and we invite you to communicate with us to discuss your campaign needs.
Start Your Influencer Marketing Campaign Now