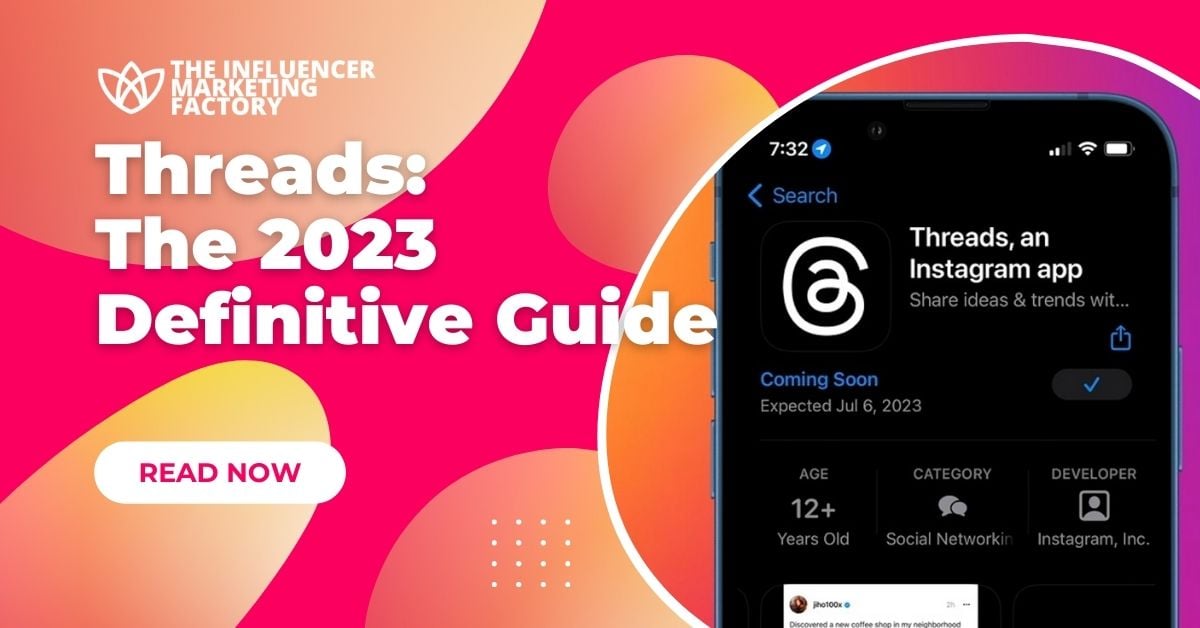 07 Jul

Threads: The 2023 Definitive Guide

Meta has done it again. Within the last 72 hours, Meta has released its new standalone app, Threads, built by the Instagram team and it has skyrocketed to one of the highest downloaded apps. The Threads app gives Instagram users the ability to engage in conversations versus consuming visual content. The conversation-based app is a first for Meta to soon be compatible with an open social network and it is making BIG NOISE, approaching 70 million users according to Search Engine Journal.

Threads is currently the #1 Free Downloads App on the App Store and Google Play. Threads is also the #1 Social Networking App on the App Store with 4.2 Stars and more than 3,400 reviews. In China, Threads secured a Top 5 Social Networking App spot on the App Store although apps from Meta are banned. TechCrunch noted in an article that Chinese users were able to download Threads thanks to VPNs, also known as virtual private networks and other censorship circumvention tools.

Social media users across the globe are rushing to join Threads in their waking hours. With millions of new users joining every day, it is important to consider the strengths and limitations of Threads and how they may influence your participation on the new platform. In this article, we will highlight the features and significance of this newly released app, Threads.
---
Unveiling Threads
Currently, Threads is a standalone app with the premise that you can seamlessly import your existing Instagram information like username, verification status, links, etc. over to the app with ease garnering 10 million signups in the first seven hours after launch.
As of now, only Instagram users can create Threads accounts. If you would like to join Threads, you will have to sign up for Instagram first.
Posts can be up to 500 characters in length and include links, photos, and videos up to 5 minutes in length.
The Home feed consists of content from users you follow as well as trending content.
Threads posts are also shareable on any other platform of your choice, including Twitter.
You can control who can mention you or reply to you within the app.
Accounts are searchable, but not individual Threads.
The Activity feed consists of follows, replies, mentions, and interactions with verified users.
To delete your Threads account, you must delete your associated Instagram account. You may deactivate your Threads account without having to delete your Instagram account.
So what really is the appeal of Threads? For one, Meta is open to user feedback for future updates since the new platform is still in early development stages. Twitter, on the other hand, seems to be a "wild west" social platform with random updates, silent feature pullbacks, and confusing announcements. The whole premise of Threads is to give Meta users a voice to express themselves beyond the creative outlet of Instagram. Threads users throughout the past few days have been introducing themselves, chatting about what they want out of the platform, and more. It's no secret that Threads is a breath of fresh air for ex-Twitter users, and the Meta team is welcoming everyone with open arms.
---
Facilitating Intimate Connections
Instagram is recognized globally as the photo and video social network but is now pivoting and expanding towards enhancing those connections via text messaging, creating a space where all can express their ideas freely. This comes at a very opportune moment for Meta as individuals are looking to foster deeper relationships and connections across the globe.
Whether you are interested in sharing an experience or a life update you can now do this easily and in real-time to whomever you choose: Close Friends, a smaller, trusted circle of neighbors, or your Mom. The point is that now you can seamlessly share those details in real-time via the messaging interface, Threads. The value of this is instrumental in closing the gap from interest-related content to cultivating real and intimate relationships.
---
Privacy and Control on Threads
Meta over the last seven years has invested very heavily in their Community Guidelines on content and interactions and has promised to demonstrate the same attention and investment into the security of Threads as it is an extension of Instagram and the Meta team according to Instagram. With that being said, there are a few points to make here.
Users that join the app that is under the age of 16 or even 18 in some countries will automatically default to a private profile
Threads could collect a wide range of personal information according to its data privacy disclosure on the App Store
There are tools to control who can mention or reply to users
According to Threads' supplemental privacy policy, you can deactivate your profile at any time, "but your Threads profile can only be deleted by deleting your Instagram account"
Content warnings look to be very aligned with Instagram's
Accessibility features, such as screen reader support and AI-generated image descriptions, are available
Threads is still very much in its early days so as far as we know these are the current privacy and control features and guidelines, but we do see these policies adapting as time goes on due to the nature of an open-text platform such as this. Meta has been known to rigorously enforce content and delete accounts for failure to follow policy so this will be an interesting balance for a team that is new to the text-based app space.
---
Opportunities for Brands and Influencers on Threads
The opportunity for exposure and reach for brands and creators alike lies in the mere numbers; the Threads app has been released in more than 100 countries on iOS and Android and has the ability to reach more than 2.35 billion monthly active Instagram users. But is the hype able to transcend into advertising dollars and returns?
Brands and creators sure seem to think so! A few of the creators to arrive early to the scene are Mr. Beast (who is giving away a Tesla via the platform to one random follower), Adam Waheed, Ashley Graham, Alan Chikin Chow, Fadlan Halao Thamrin, and Lauren Godwin.
As far as brands Wendy's, Pepsi, Google, and Netflix are just a few of the recognizable brands that are part of the firstcomers. With that being said, The Verge mentions "only a small fraction of the top 20 most-followed accounts on Instagram have made it to Threads so far, including Instagram itself, Kim Kardashian, Khloé Kardashian, J.Lo, and National Geographic. Soccer superstars Cristiano Ronaldo and Lionel Messi still are not on the app, nor are Selena Gomez, Taylor Swift, and Instagram critic Kylie Jenner."
Food creator Priyanka Naik shared in an interview with Isabelle Sarraf, editorial fellow at The Information, how clickable links in Threads and the public nature of Threads create the perfect playing field for influencer marketing and brand advertising. Naik posted a Thread on Thursday about her Nutpod coffee creamer of the day, tagging the brand, which was swiftly followed by an Instagram Direct Message from Nutpods asking to partner on the new platform. Naik noted, "There's immediate public exposure. I could start monetizing on brand partnerships I develop [on Threads]."
With that being said, Meta's CEO Mark Zuckerberg says that the goal is to get Threads on a "clear path to 1 billion people" before figuring out monetization. This mirrors what Adam Mosseri said in an interview with Alex Heath, about the "champagne problem" of making money with Threads: "If we are successful, if we make something that lots of people love and keep using, we will, I'm sure, monetize it. And I would be confident that the business model will be ads. Right now, we are not focused on monetization. We're very, very focused on just trying to make something that people love to use. And then, if we get something to scale, that'll be a champagne problem."
Brands and influencers have the unique opportunity to be the first to present themselves on Threads and leverage their audience to foster deeper engagement and strengthen relationships with their loyal followers. A few strategies that are top of mind:
Create an Exclusive Close Friends List – most dedicated or engaged followers
Offer Exclusive Promotions, Discounts, or Early Releases – creating a sense of exclusivity, personalized connection, and community
Share Genuine and Personal Updates
Direct Conversations
Live Chats or Q&A Events
Ultimately, by actively participating in some or all of the above strategies a brand and or creator can foster deeper engagement and strengthen relationships with their followers, but only time will tell on the future of set ads and monetization models.
---
User Feedback and Future Opportunities for Threads
As we have seen in the last months, and years not all social networking apps have the ability to make such a pronounced footprint as Instagram and the factor that most comes into play is initial feedback and reactions. So far, this has been a mixed bag from the audience.
The greatest request from Threads users is to add a chronological trending page, but many users are looking into Threads becoming the optimal Twitter dupe. Jay 4827 shared in their App Store review, "I really like how simple and intuitive the UI is for this app. Though, I think this app desperately needs a "trending page" where you can see any big events or news at a glance like how you can on Twitter." Acepransky expands upon these Twitter-inspired requests, asking for a Threads feed that exclusively shows users you follow as well as a Threads listing feature.
Not all active social media users were able to test out Threads due to one major roadblock: You must have an Instagram account to link to Threads. Not only is this a turn-off for users who do not favor Instagram, but it also prolongs the onboarding process for new Meta users. NewYorkgal1 added to this conversation of accessibility, remarking in their App Store review, "While Twitter has become a terrible site due to its change in ownership, anyone and everyone has the ability to sign up for an account, should they feel desperate enough to do so. Denying interested potential users the ability to sign up with Threads, simply because they don't have an Instagram account, is not a particularly business savvy move."
To conclude, it would seem that Meta is setting a solid structure early on, but the bigger question arises of what other new features will be released and will the tie between Instagram and Threads resonate with users. Do users want a platform that can supplement what Twitter used to be, or do they want something more elevated and innovative?
---
Wrapping Up
Looking ahead, it is simple to anticipate that Meta will continue to expand Threads, integrating it with additional features, improving customization, and addressing user feedback to enhance the overall user experience, but Threads is poised to play a much more significant role in the broader social networking ecosystem with its plans to incorporate the app with open social networking protocols.
According to Instagram, "The benefits of open social networking protocols go well beyond the ways people can follow each other. Developers can build new types of features and user experiences that can easily plug into other open social networks, accelerating the pace of innovation and experimentation. Each compatible app can set its own community standards and content moderation policies, meaning people have the freedom to choose spaces that align with their values. We believe this decentralized approach, similar to the protocols governing email and the web itself, will play an important role in the future of online platforms."
Meta has put dedicated significant effort into establishing a solid foundation, and while the future is uncertain, it is evident that the app is gaining immense popularity among users worldwide. The skyrocketing number of user accounts indicates that Threads is poised to have a lasting presence in the digital landscape. While time will ultimately determine its long-term success, it is safe to assume that Threads will remain a prominent player in the foreseeable future.
Activate Your Next Threads Marketing Campaign