28 Apr

How to use Lemon8 for Business

Chances are, you've seen the buzz about the new Lemon8 app and are curious as to what it is and what it could do for your brand. There is no shortage of new apps, and how are you supposed to know which ones to try and if there is an opportunity for your brand on these new apps?

In this blog post, we'll talk about the new app Lemon8 and share why we think every brand should consider leveraging Lemon8 for their marketing efforts.
What is Lemon8
Lemon8 has been taking the world of creators and influencers by storm. Many Lamon8 users describe the app as being a cross between Instagram and Pinterest. Could we dare say the best of both worlds when it comes to visual content?
In short, the Lemon8 app by ByteDance is a photo and video-sharing app, and it was initially launched in Asian countries in 2020. Since launching in the United States and the UK, it has quickly become popular with creators.
What is great about Lemon8 is that in a sense, it functions like known apps, and the learning curve isn't steep, which allows creators to start using the app with success fairly quickly. There seems to be a focus on authentic content on the app, which is of no surprise to us since many platforms (and creators) have been talking about the importance of authenticity for a long time. Similarly to other apps, Lemon 8 provides various options for templates, stickers, filters, and fonts for both photos and videos.
Lemon8 provides a similar signup experience to Pinterest & TikTok. After registering for the Lemon8 app, you will be asked about your interests in the same manner that you would on Pinterest. Many would say that the Lemon8 app's user interface is similar to TikTok, including a 'Following' and 'For You' options at the top of your screen.
The best aspect is that your 'For You' page will be highly localized, and we believe that this presents an opportunity for local businesses & creators. Oftentimes on popular apps, many brands resort to localized ads, but the app could be a game-changer depending on the local marketing strategy that you adopt. We believe that collaborating with an influencer for local campaigns would be worth exploring on this app.
For creators, Lemon8 presents a new monetization opportunity with collaborations, and for brands, it provides the opportunity to tap into a platform still in its early adoption stages.
---
The Importance of Being an Early Adopter
It goes without saying that being an early adopter on any platform is key. With that being said, the reality is that as a brand, you likely don't have time to test out every new app out there. This is where we come in. Shedding light on Lemon8 and what it can do for your brand will give you an advantage both on a short-term and long-term basis.
When new apps like Lemon8 become available and start to gain a lot of popularity, it's common to feel some sort of resistance. Some brands may think that because they have success with other apps, they don't need to learn about Lemon8. As we've seen with the rise of other apps (such as TikTok), the sooner you learn about it and put a plan in place to use it for your business, the more advantageous it'll be for your brand.
When TikTok started to see rapid growth, early adopters were able to leverage quick audience growth and visibility opportunities for their brands. Can you still grow quickly on TikTok? The answer is yes, but the more users an app has, the more you are competing for that reach and those views.
---
Cost-Effective Collaboration Opportunities 
What would make Lemon8 more cost-effective than other apps when it comes to influencer collaborations? First, it's a new app, and second, even if creators on the app have grown rapidly, brands can take advantage of more cost-effective collaborations while creators continue growing their audience. For those who may know, pricing for influencer collaborations often comes down to reach, followers and engagement numbers.
As influencers grow, past campaigns and overall success can also be taken into account. Since this app is fairly new, many creators are still growing their audiences, which makes this the perfect opportunity for brands to explore influencer marketing on the app.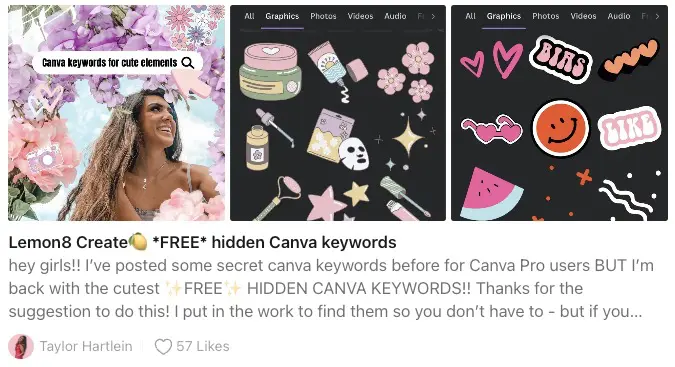 Many topics, such as fashion & travel, food and wellness, have been widely popular on the app. We see this as an immense opportunity to collaborate with creators to seamlessly incorporate your brand into the content they share.
Here are some collaboration examples that you could explore with creators on Lemon8:
Have your hotel chain listed in a "Top 10 Destinations in XYZ" post.
Work with a creator to create a "5 Reasons you need to purchase [enter product name]" post to promote the launch of one of your new products.
Work with a creator to create a campaign for a local business. Example: Spend the day with me at SPA ABC. This type of content does great in the wellness industry.
For product sellers, there is a great opportunity since the app is so visual. You can collaborate with an influencer to have your product included in a post. Example: 10 must-haves for traveling to….
Again, these types of posts can easily be created in the format of "albums" or videos. "Spend a day with me in XYZ" type of content has also been really popular on the app and is a great campaign type to consider for promoting local businesses. Working with an influencer marketing agency can help you find the best Lemon8 creators for your campaign goals.
---
Setting Up & Using Your Account for Success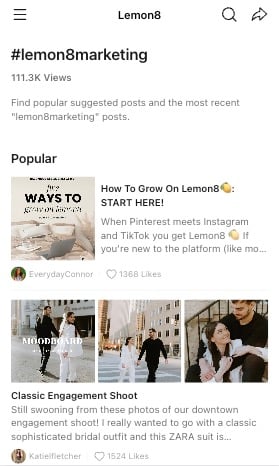 We've said this before, and we'll say it again, first impressions matter both online and offline. As a brand, you'll want to ensure that your bio is optimized and doesn't leave your audience playing guessing games.
Here are some important pointers to keep in mind when it comes to your Lemon8 profile: 
Your bio contains a maximum number of 80 characters. Make it count by telling your audience exactly who you are and what they should plan on finding on your account. Do your best to throw in a call-to-action there. If you have a TikTok account, this shouldn't be too hard since they have the same character limit.
Your profile photo should represent who you are as a business or creator. A key tip here is to use your logo for a brand or a headshot if you are a personal brand. For example, if you are a corporate photographer or a realtor, you could use your headshot vs. a company logo.
You'll notice early on in the set-up process that you will be asked about your interests. As a brand, think about interests that are relevant in a similar niche or a complementary niche as yours.
Once you set up your profile, you'll notice the ability to share it. We recommend copying that link and announcing that your brand is now on Lemon8. You can announce it to your email list, create Instagram stories with a direct link to follow you, and create other promotional material such as YouTube Shorts, Instagram Reels and TikTok videos.
The app provides great templates and design tools to help you create stunning content. As we've seen in the past, platform algorithms tend to like when we utilize the features and tools made available to us. We highly recommend using these tools directly in Lemon8. This doesn't mean that you shouldn't be creating on-brand content with your own design tools, but there is something to be said about using what's available to us, and Lemon8 provides templates and tools that work with the aesthetic style of the app.
Use popular hashtags in your copy. When a platform is still so new, there is no need to focus solely on more niched hashtags. We'd recommend that you use hashtags relevant to your industry, but don't be afraid to test the waters with popular hashtags when you can. Remember to do hashtag research before you start using the app and on a regular basis thereafter.
Spending some time researching the app, and looking at other accounts, will give you a good sense on how both creators and businesses have optimized their profiles. You can also create collections which are private to you; as a brand, this can help your team find inspiration for future content.
---
Tips to Make Lemon8 Work For Your Brand 
As this app continues to grow in popularity and expand in other regions, it's likely that we'll also see a rise in creators and brands using the app and possibly more functionalities added as well. Just like anything else in the marketing world, the more research we do as brands, the better the experience.
We've worked with countless brands in the past on new and upcoming platforms, such as TikTok, and we can already tell you that brands should be leveraging Lemon8 for their businesses!
Here are some tips to help you make Lemon8 work for your brand: 
Spend a lot of time researching content relevant to your industry, and make a note of the content that gets the most engagement.
Make sure that you make engagement a part of your strategy on the platform. When we can observe high-engagement rates on a platform so early on, it makes it clear that outbound engagement is important.
Whether you post yourself or with the help of a Lemon8 creator, ensure that you test different headlines for your post caption. Although the goal here is for your visual to attract your audience's attention, a good headline or hook is a well-known marketing tactic that never fails.
Don't be afraid to test the waters. There is no such thing as "perfect" content; if you wait for the perfect opportunity, you could be missing out on visibility opportunities.
Look into working with an influencer marketing agency to either work with influencers on an ongoing basis or create a strategy for UGC (user-generated content.) We all know that user-generated content tends to get a lot of engagement, and this platform is no different.
Make sure to complete competitor research. Even if the app is still up and coming, as a brand, it's important to do competitor research and even conduct a SWOT analysis. The more you know, the better equipped you are for success.
Lemon8 only allows up to 10 hashtags per post, which, honestly, we like since it puts focus on the creative aspect of the post, such as the headline, caption, and photos or video.
---
Lemon8 Closing Notes 
What excites us about this app is the unique ability to showcase a brand's authentic side, and how the influencer marketing landscape on the app is quite untouched. We're also impressed by the many features and tools already available in-app for creators. Using Lemon8 doesn't mean that you need advanced design skills. If you're passionate about authenticity and storytelling, you may just find that this is the perfect app for your brand.
We predict that in the upcoming twelve months, the app will experience immense growth, and we hope to see brands and creators alike explore this new untapped opportunity. Although overwhelming at times, it's important to remember that exploring a new platform doesn't mean more time. With a good plan in place and the support of dedicated experts, you can make this platform work for you.
As TikTok continues to face scrutiny and limitations in various regions, this should serve as a gentle reminder that although you do not need to be everywhere, diversifying your online presence is key.
Will your business be one of the early adopters of this incredible platform? Get in touch so that we can explore this opportunity together.