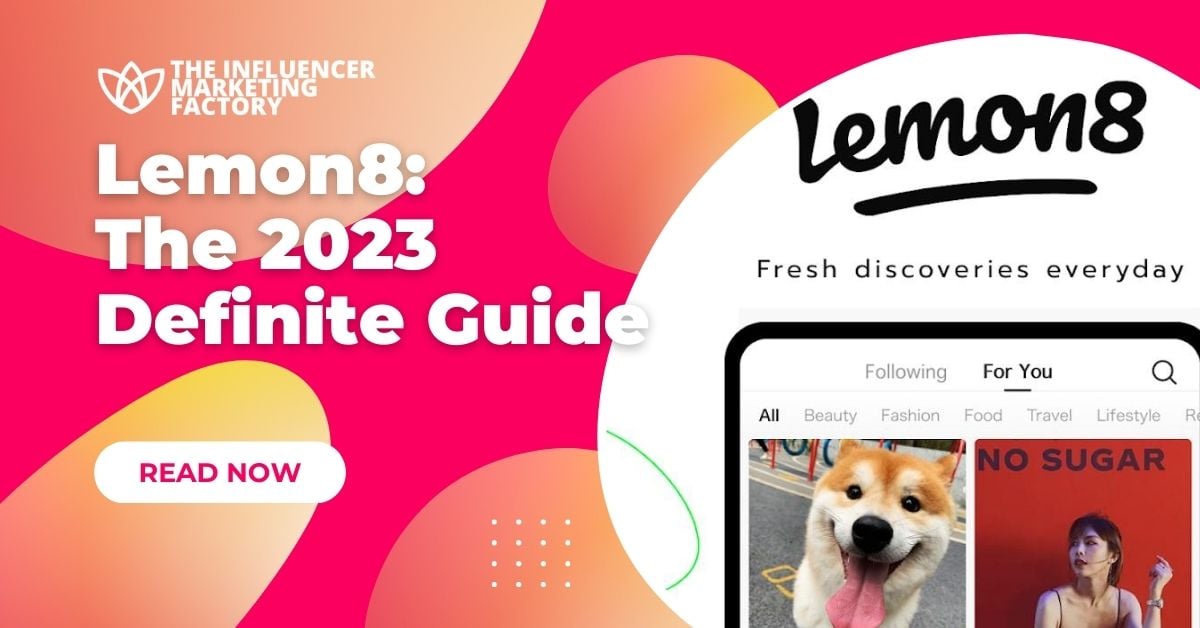 20 Apr

Lemon8: The 2023 Definite Guide

As US lawmakers discuss a possible ban on the popular social media app TikTok, another rising star is making waves. Lemon8, owned by ByteDance, has quickly become one of the most popular lifestyle apps in the Apple App Store.

Lemon8 is not like other digital platforms. Instead, it's a friendly place that celebrates the creativity of young people. They have different topics like fashion, food, travel, homewares, and pets. If you want to find inspiration or share your own creativity, Lemon8 is perfect for you. And for your business too.
What is Lemon8?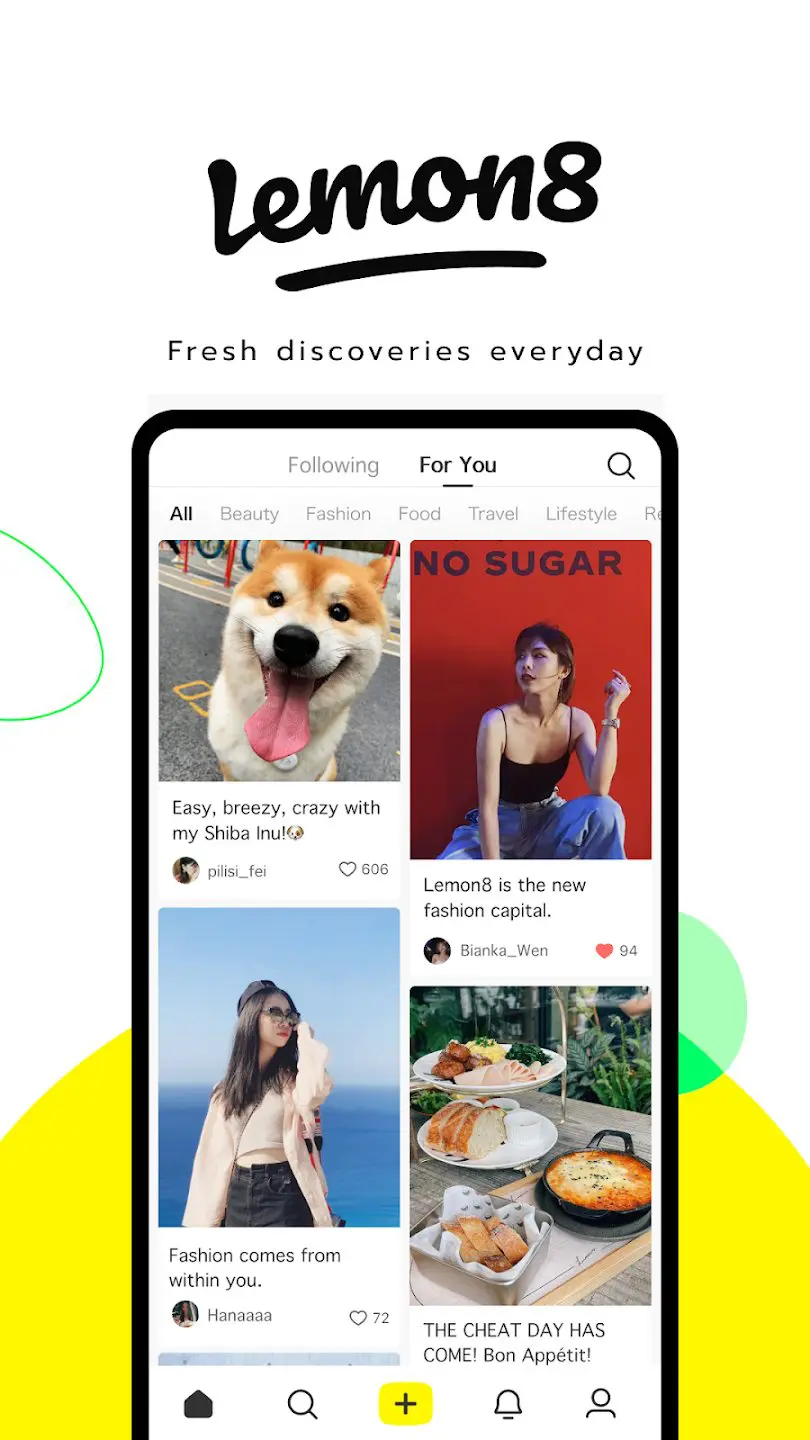 Lemon8 is a newer social media platform designed specifically for young, edgy, and creative minds. It's been described as a unique blend of Instagram and Pinterest, and it offers a refreshing take on social media, combining stunning visuals and inspiring content from fashion and beauty to food, travel, and so much more. Unlike other platforms that prioritize videos, Lemon8 focuses primarily on photos, creating a more immersive experience that allows users to showcase their creativity in more ways than one.
The app has a "For You" page and a "Following page," similar to TikTok. However, Lemon8's interpretation of these features takes it to another level. Users can leverage the power of templates, stickers, filters, and fonts to create posts and share multiple photos in carousel format to keep their followers engaged.
Signing up is quick and easy—just enter an email or phone number, choose a witty username, specify the preferred pronouns, and share your specific interests. Lemon8 allows you to connect with like-minded artistic individuals, where you can share your unique perspective and let your creativity run wild. There's no doubt that Lemon8 is the ultimate digital staging ground that allows you to express your unique identity while having fun.
---
Lemon8 Algorithm: How does it work?
Discover how to increase your followers on Lemon8 and learn the secrets of the app's current algorithm!
Lemon8 Keywords
Incorporate keywords into your post's title, caption, and hashtags. The app seems to prefer lengthy captions filled with relevant keywords. When choosing a title for your post, place the most crucial keywords at the beginning! For example: "Lemon8 Algorithm | Strategies for Boosting Your Followers." Utilize up to 10 pertinent hashtags! Concentrate on niche hashtags that have between 5,000 and 100,000 views.
Lemon8 Trending Content
Content that consistently goes viral either provides value or narrates a story! Consider teaching someone something new or sharing a gripping tale through multiple images in a single post. The app appears to favor carousel posts. The most significant tip we can offer is to aim for more SAVES on your post, as the algorithm will promote it further. Urge people to SAVE your post for later use.
Increase your followers
Motivate your audience to return for more content! One way to achieve this is by creating a series and starting with "part 1" to entice them to follow you for more installments. Be tactful about asking them to follow you in your caption, but also provide them with a reason to do so. Offer new content the following day and follow back your devoted audience.
---
Do's And Don't Of The Lemon8 App
If you're ready to join Lemon8 and take the social media world by storm, make sure you adhere to their guidelines. Here are some of the do's and don'ts that should help keep your account in good standing:
Lemon8 DO's
Use high-quality images that look visually appealing and attention-grabbing. Quality photos can attract the viewer's attention and increase engagement with your content.
Create an eye-catching title that summarizes the post's content and encourages the viewer to read more. A well-crafted title can increase the chances of your post getting noticed and read.
Share more information or write a story in the post's description to make it more engaging or educational. It can elevate your content and provide the viewer with additional context and insights. Instead of posting an image with minimal text, reveal more about the backstory. Discuss what drew your attention, any tips or tricks you'd like to share, and anything else! Allow the community to learn from your experience. For instance, if you're showcasing your favorite jacket, share where you purchased it, its cost, and your opinion on the fit. This will help the community get better acquainted with you.
Lemon8 DON'ts:
Use plagiarised content on the app. Creating original content is crucial for building a dedicated and engaged audience. Using copied content can damage the credibility and trust of your follower base.
Include promotional links or call-to-action in your post's description. The Lemon8 app is a platform for sharing creative content, not promotional material or adverts.
Refrain from posting any promotional materials, including links, promo codes, advertisements, or content featuring watermarks from other sites. Let's ensure Lemon8 remains a secure and spam-free environment for our users.
Post content from other apps that have a watermark on their images or content. It is not appropriate to use other creators' content without their permission and credit.
By following these "Do's and Don'ts," you can enhance your Lemon8 app experience and build a strong online presence with great original content!
---
How To Gain More Followers On Lemon8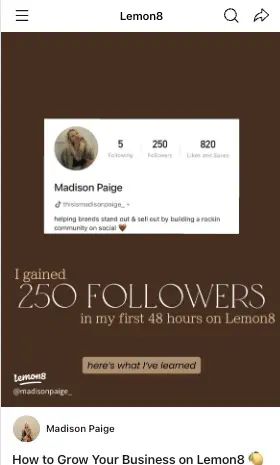 Are you feeling frustrated with the lack of engagement on your Lemon8 posts? Don't stress about gaining more followers and engagement. There are actually a few tips and tricks that can help you do just that! First of all, try to make sure that your posts are visually striking and of good quality. Natural lighting works wonders, and keeping your media clear and concise never hurts. Another thing to keep in mind is to use relevant hashtags for your niche or industry so that like-minded users can find and follow you.
In order to gain the interest of others, it's important to reciprocate the love! That means taking the time to like, comment on, and follow accounts that are in line with your brand or personal interests. By doing so, you show that you're genuinely interested in others and are more likely to attract followers who appreciate your content and want to engage with you.
Finally, consider collaborating with other Lemon8 users or brands to expand your reach and gain exposure to new audiences. With these tips and tricks, you'll be on your way to gaining more followers on Lemon8 in no time!
---
Keywords To Use On Lemon8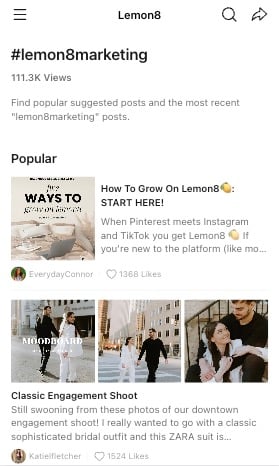 When it comes to gaining followers on Lemon8, using the right keywords is crucial. Keywords are the words and phrases that users search for on Instagram to find content related to their interests. By incorporating relevant keywords into your posts, you increase the likelihood of your content being discovered by users who are searching for those topics. This, in turn, can lead to more followers for your account.
Since Lemon8 is a creative platform, it's important to use keywords that reflect your niche or industry. For example, if you specialize in food photography, then some of the keywords you should use are "food photography," "food styling," and "culinary arts." Additionally, make sure to include hashtags as well, as this will make it easier for users to find your content.
If you're at a loss of what specific keywords to use, then it's a good idea to take a look at other Lemon8 accounts in your field. This will provide you with an idea of the type of keywords they use and how effective those words are for their audience.
---
How To Edit Lemon8 Posts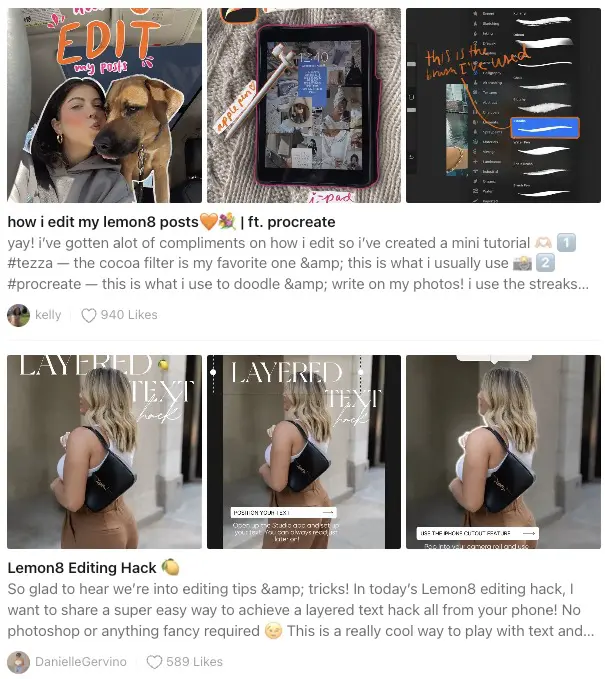 There are several ways to edit your Lemon8 photos, photo carousels and videos. Many of them are totally free.
Picsart
This app has a feature called "add photo" that you can use to either incorporate a cutout image or transform an image into a shape (circle, square, etc.). With the cutout tool, you can select what you want to cut out—such as a person, face, clothes, sky, etc.—or even do it freehand. You can cut out multiple images simultaneously, resize them, and position them. Content creators often use the shape tool when displaying another photo of a location. Once you've cropped it to the desired shape, you can add a border, resize it, and move it around.
Lemon8
Lemon8 has a lot of interesting fonts available on its app. There are numerous charming options to choose from. Additionally, you can also experiment with the "arch" tool, particularly when you have photos with curved edges. Running the text along them looks incredibly cute.
Procreate
This is a tool many influencers and content creators utilize for sketching and adding text to their images. A suggestion is to use the streaks brush, (particularly the brushes in the calligraphy tab, as they provide a rounded appearance to the fonts and enhance someone's writing). Procreate offers a wealth of possibilities, especially for designers and artists.
---
How To Create Lemon8 Stickers
Creating stickers on Lemon8 is surprisingly simple! Follow these steps: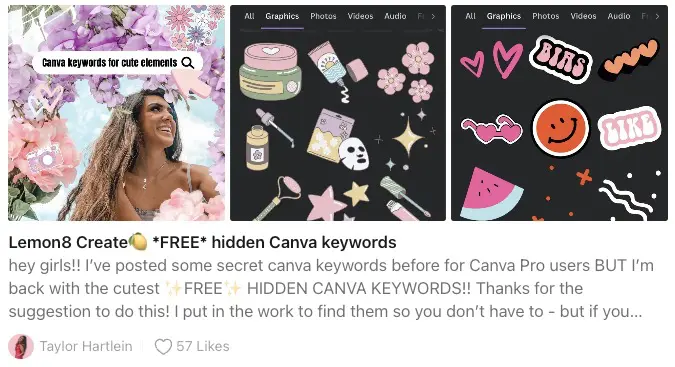 Start by creating a new design in Canva (any size) and incorporate graphics you want to use as stickers. Filter by "graphics", "static", and "free" to quickly find the best options.
Download your design page as a .PNG to your phone.
Crop each graphic individually to make it a separate image.
Open the Lemon8 app and tap the yellow + to create a new post. Use any image for this step.
Next, tap the Stickers feature at the bottom and tap the "Customize" option in the first tab.
Choose a sticker graphic to upload and tap "Remove background" in the bottom left. Then tap "Add border" on the right to include a white border around the sticker (optional).
Tap Save, and it will automatically save your new stickers. Repeat steps 5-7 for all additional stickers.
Now you'll have your own personalized stickers to use on your Lemon8 posts! Find them in the second tab of Stickers. All your stickers will be saved to your account, so they'll be ready to use on any post without having to recreate them!
Tap a sticker to add it to your post. Adjust its position and size as needed.
---
Wrapping It Up
Lemon8 provides an incredible opportunity for artists and creators to exhibit their talents and cultivate a dedicated audience. With savvy utilization of pertinent keywords, forging alliances with fellow users, active engagement with followers, and the creation of superior content that resonates with your target audience, it is possible to raise the engagement metrics such as likes, comments, and saves on all of your posts.
Start Your Lemon8 Influencer Campaign Now