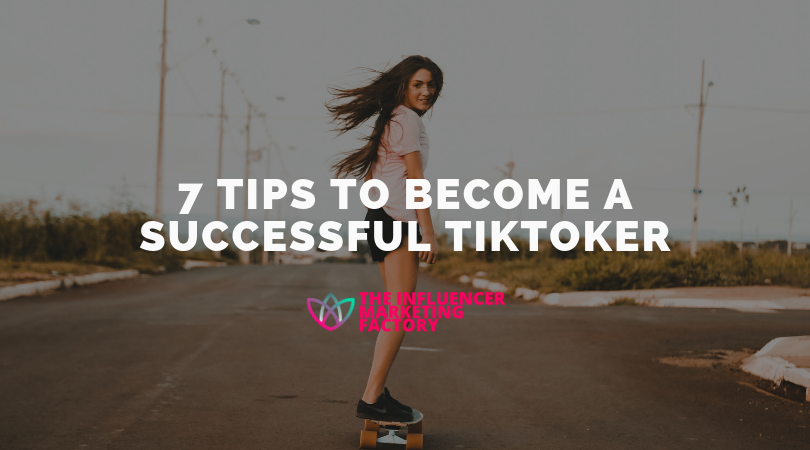 26 Jul

7 Tips To Become A Successful TikToker
What Is TikTok
TIkTok is one of the hottest app of the moment and close to 1 billion downloads globally, according to Apptopia. And the parent company ByteDance just announced that now has 1.5 billion MAU (monthly active users) globally across its portfolio that includes apps such as TopBuzz, TikTok, Toutiao, Xigua Video, Duoshan, Helo, News Republic and many more.
TikTok is a social media app that allows everyone to post engaging videos, using popular songs as a soundtrack and with the possibility to duet with other users and create a domino-effect of viral trends.
---
Why You Should Be On TikTok
TikTok's feed – called For You Page – is giving the opportunity to everyone to be under the spotlights even after uploading one only video. This means that everyone can become famous from day 1 if the content is starting or following a trend.
So you don't need to have already a fan base on other social media like Instagram or YouTube, you just need to combine together certain skills and tips that I will explain later on in order to have a chance to get on the For You Page.
And no, TikTok is not only for young people. There are many 30+/40+ years old on the app that have huge fan bases and are still able to talk the same language of younger generations. For example, Anthony Barbuto is a 40-year old American lawyer with more than 1.2M of followers that makes funny videos every day.
---
How To Become A Successful TikToker:
Be creative
A good TikToker has to think out of the box in order to get viral on TikTok.
Follow the trend
Another way to get on the For You Page is following a trend and proposing it in a different and new way. In fact, everyone who joins the trend has a chance to be seen & to get in 'For You' page.
Livestream like a pro
Live streaming can be super powerful if TikTokers use it properly and lives actually creates a lot of human being interaction that is valuable to an audience because it connects directly the TikToker and his/her followers/viewers.
Learn how to edit your videos
Editing videos nowadays is an easy thing. There are tons of free apps that will help you in becoming a director and create amazing videos thanks to professional editing that will get featured on the For You Page.
Film outside
A lot of TikTok influencers and content creators told us that outdoors videos gain more popularity and are easier to get them featured on the For You Page. Try it!
Don't just lipsync
TikTok users don't find these videos engaging as it was happening during the Musically era. So now is time to give to the users something more valuable, because if that is not the case, you actually might receive negative comments.
Create suspense in the first 3 seconds
You have a few seconds because that's exactly when the users decide whether or not to continue watching the video or scrolling down to the next one, so put all you energy at the beginning to get the user's attention!
---
Interested in TikTok for Influencer Marketing?