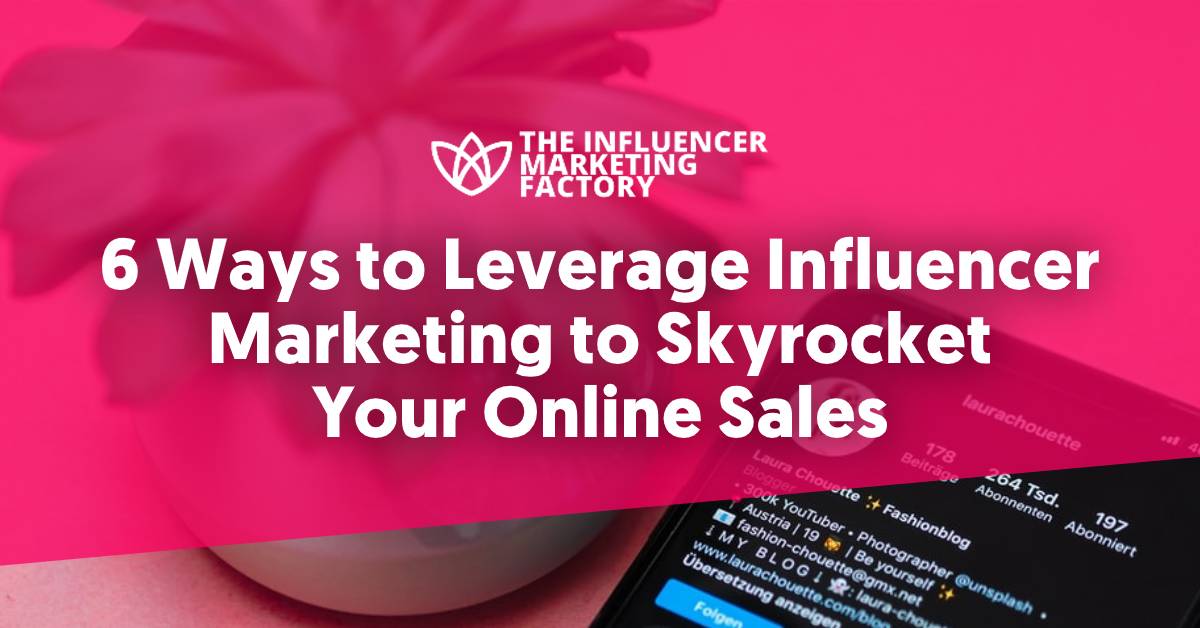 06 Aug

6 Ways to Leverage Influencer Marketing to Skyrocket Your Online Sales
What makes you buy a product online?
Is it because the product description is convincing? Or is it because you discovered it through an influencer?
According to a survey, 89% of marketers say that the ROI in influencer marketing is significantly better than other channels. This means that brands generate more sales with the help of online influencers.
After all, social media users would prefer to follow internet-famous people who share the same passion as theirs. For instance, young adults who are into gaming would opt to follow gamers and streamers on Instagram.
So, how do you utilize influencer marketing to skyrocket your online sales? In this post, we have outlined the ways you can leverage it.
---
Find your ideal brand influencers
After you know who your target audience is, you need to single out who these key influencers are.
Ideally, the right influencer for your e-commerce business is the one that matches the tone of your brand, style, and mission. They should be people who are popular in your niche. For example, look for fashion influencers that match your brand and style if you're a fashion brand.
You're not just paying someone who will tell people to buy a particular product. Instead, you want to partner with someone who can craft meaningful content around your business and its objectives.
Finding the right influencer to work with would help look for popular social media platforms. Usually, blogs and social media are one of the best places that you can find these influencers.
---
Get them involved in your campaigns
Everyone wants freebies or wants to win something.
Influencer giveaways pretty much work the same as the usual brand giveaway. The primary difference here is that the brand that hosts the giveaway has a partnership with an influencer.
Influencers are known to host successful giveaways. So much so that they generate new followers and boost sales for your brand.
Thus, instead of hosting the giveaway yourself, consider partnering with a relevant influencer.
---
Maximize Instagram Story
Many brands and marketers often link influencer marketing with Instagram. That's because it's one of the top social media platforms used by influencers.
Because it's one of the leading platforms you'll be using, you need to use it to marketing and branding your business.
One of the best ways to maximize this platform is by using Instagram Stories. This feature allows users to publish multiple photos and videos in a slideshow format, disappearing after 24 hours.
Moreover, you can use this feature to enhance engagement and boost brand awareness. All you need is to post IG stories regularly and make use of interactive stickers.
Leverage Instagram Shopping
One of the essential components of a social media post is images. That's why you should expect high-quality pictures from the influencers who partner with you.
However, stunning imagery is more than just publishing aesthetically pleasing photos. It needs to have a purpose as well. Instagram, for instance, has a feature called Shopping Tags which allows you to tag products on the images.
Usually, there's a "Tap to view products" notification found at the bottom left of the image. When tapped, it will reveal a series of tags that overlaid on the post, along with details and prices.
If users love what they see on the image, all they need to do is click on the link to take them to a website's product page.
---
Provide discount or promo codes
Who doesn't love promos and discounts?
Offering incentives is an excellent way to boost your online sales. However, you do not have to do it alone. Instead, you can give an influencer a unique discount code that they can share with their followers.
Doing so enables you to maximize influencer marketing to boost your sales. Meanwhile, the unique code can help you determine which influencer brought the sales.
---
Prioritize transparency
It's easy to be popular on social media nowadays. But this can also mean more regulations.
So, if you're planning to work with an influencer, you should practice transparency. Doing so builds trust with your customers and deals with FTC regulations since you're sharing paid posts with customers.
For example, your influencer agreed to make ten posts for the next month to promote your products. You have to be clear that you need to approve their post first before publishing. That way, you can ensure that it reflects your brands' values without hindering your influencer's creativity.
---
Over to You
Influencer marketing is a great tool that you can use in today's highly competitive industry. But just like with any e-commerce strategy, there's no one-size-fits-all approach in it.
You need to risk trying out new things and see what works and what doesn't for your brand.
It would help if you also found the right people to work with to launch successful influencer campaigns.
Once you've found suitable and relevant influencers for your brand, you need to create a strong relationship with them. This allows you to boost your e-commerce conversions in the long run. Good luck!