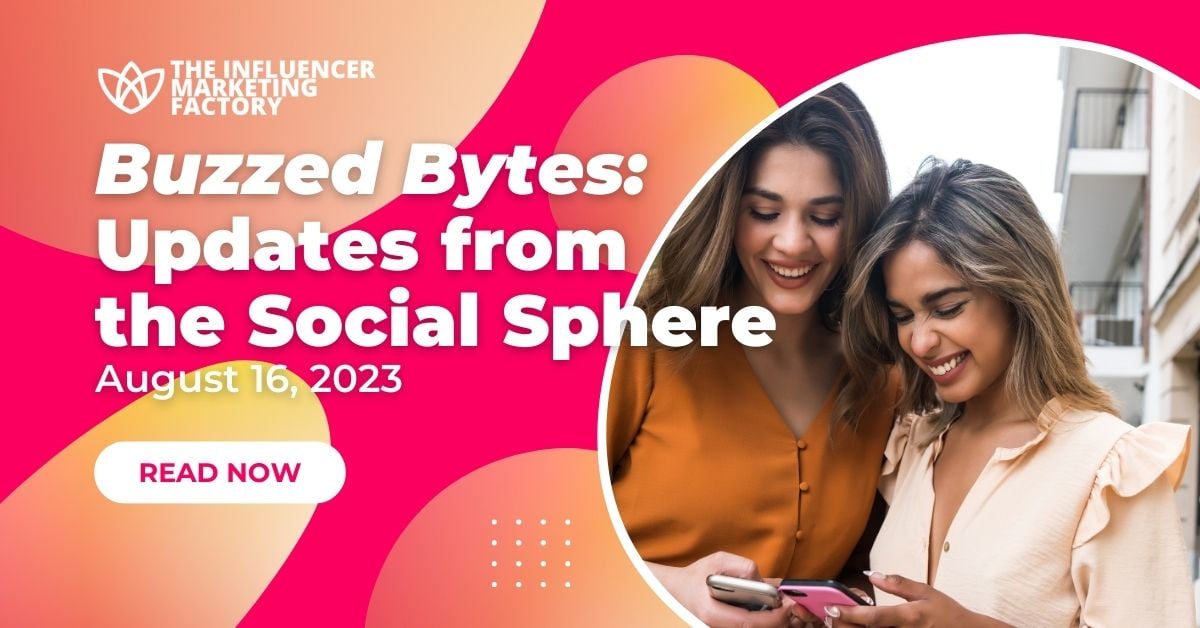 16 Aug

YouTube Shorts Updates, TikTok's PrivacyGo, Snap Lens Creator Rewards Program
Major Upgrades and Updates for YouTube Shorts
Good news for avid short-form content creators: YouTube is revamping Shorts with several amazing new features. YouTube is stepping up to the plate against TikTok and Meta Reels to offer Shorts creators a new variety of creative, community-building, and monetization features. With these new features, YouTube creators may embark on a new production and engagement experience while also pursuing new revenue streams.
YouTube is currently in the process of testing a new discovery feature where Live previews are shared in between content on the Shorts feed. This developing mobile-first feature is the first of its kind on YouTube with the primary goal being to boost Live creators with new, engaging content styles. With TikTok having a similar Live preview integration on its For You feed, this feature seems to be promising for YouTube creators looking to make more impressions and reach out to new audiences.
YouTube announced a fair number of editing and production tools specifically for Shorts. As a means to encourage inspiration on the platform, YouTube released an updated Remix feature where creators may use the same audio and effect from the exact timestamp of the video their viewing. New effects and stickers are also now available for creators to add to their Shorts. In the near future, YouTube will test "recomposition" tools which will allow creators to turn horizontal videos into vertical content for Shorts.
YouTube is competing head-on against TikTok with a collection of TikTok-inspired features on Shorts. Collabs is a new tool coming to Shorts similar to TikTok Duets that enables creators to create side-by-side videos alongside YouTube videos or other Shorts. A new greenscreen effect is coming to Shorts as well that allows creators to use other YouTube videos or Shorts as the background for their vertical content. Similar to TikTok Stitches, YouTube's new Cut tool for Shorts allows creators to remix a one-to-five-second clip from any YouTube video or Short into the intro of their new content.
Most of these new features are currently available for creators on Shorts, but YouTube shared that certain tools including Live previews may be available following a series of tests in the coming months. YouTube isn't shy about taking notes from its biggest competitors, but will these new features aid Shorts in becoming the stand-out short-form content platform?
---
Introducing Snap's New Lens Creator Rewards Program
Source: Oscar Falmer/X (Twitter)
Snapchat is here to give thanks to the amazingly creative and talented creators responsible for the trendiest AR filters on the OG social media platform. This past week, Snap announced its new Lens Creator Rewards Program, a favorable opportunity for creators to monetize their successful AR creations.
According to Snapchat's official announcement, "Every month, a Lens Creator could be awarded up to $7,200 if their Lens is the top-performing Lens in the United States, India, and Mexico. The program is open to new and existing Lens Studio community members from nearly 40 countries." What exactly are these performance metrics? Snap vaguely shared in its announcement that it will take into consideration views and other engagement metrics to formulate earnings for each creator.
It's critical that creators interested in monetizing with Snap's new Lens Creator Rewards Program understand that their earnings will not be impacted by performance in their home country. Snap has yet to announce if and when the Lens Creator Reward Program will consider performance metrics from countries outside of the US, India, and Mexico. Creators may have to analyze and take inspiration from viral AR content in these three countries to curate the best high-quality, engaging Snap filters and turn a greater profit.
As rival social media platforms explore new AR and AI initiatives, Snap is determined to incentivize AR filter innovation among loyal creators. Will this new monetization program serve as a sustainable source of income for creators or will they encounter inconsistencies similar to those monetizing their Spotlight content? We look forward to seeing what's to come with Snap's Lens Creator Reward Program and how its creators will take AR filters to new heights.
---
PrivacyGo: TikTok's New User Privacy Tool
Source: VPNoverview.com
TikTok has made a multitude of headlines in recent months surrounding the controversial topic of user privacy online. Now, TikTok is in the process of developing a new privacy tool known as PrivacyGo which aims to refine how advertisers match audiences to the best content possible.
According to Social Media Today, the process behind PrivacyGo on TikTok is a new-and-improved data cleanroom approach to privacy-protective advertising. Advertisers can match their CRM information with insights across TikTok's diverse user base without either party having access to the other's precious data.
TikTok shared that PrivacyGo will be powered by multi-party computation along with differential privacy to ensure that all data is protected and separated. This privacy-protection strategy emulates that used by the United States when analyzing census data, so TikTok may rest assured that their new initiative is safe and satisfactory.
Although TikTok is following the steps of the US when it comes to protecting privacy, it is not completely clear from other investigations surrounding involvement with the Chinese Government and mishandling of user data. Lawmakers are still debating whether or not TikTok is safe to use in the US, with states such as Montana already signed off on banning the platform entirely. For more updates on TikTok's PrivacyGo program and other privacy initiatives, be sure to tune in weekly to Spreading the Influence.
---
Meta Music Revenue Sharing Program Backlash
Source: 9to5Mac
Several content creators have spoken out against slashed payouts for the month of July, particularly short-form video creators participating in the Meta Music Revenue Sharing program. Losses for the July pay period totaled several tens of thousands of dollars for many creators involved in the crisis, some creators being initially promised up to $45,000 per video. Creators are calling for legal action amidst several protests organized by influencers, some of which were members of a private US Meta Creator Community Facebook group.
In response to the serious backlash from creators, a Meta spokesperson shared with Fortune that, "due to a display error, a small number of creators were shown incorrect Ads on Facebook Reels approximate earnings in the Insights tool. Payouts were not impacted. We apologize for the inconvenience." Although the revenue losses were due to a glitch in Meta's system, creators were not notified until later that their expected earnings were incorrect. Instead, creators watched as their monthly earnings were axed to a fraction of their original estimate with no warning whatsoever.
Meta creators are stuck at a crossroads between migrating to competitor platforms with more consistent earnings or staying on Facebook and Instagram where Reels. Azure MacCannel, a cleaning niche creator, shared in a statement with Fortune, "We're steering more towards TikTok and YouTube because they're more consistent." How will Meta make amends with creators looking for a more manageable and structured source of income? Subscribe to Spreading the Influence for more Meta monetization news and updates.