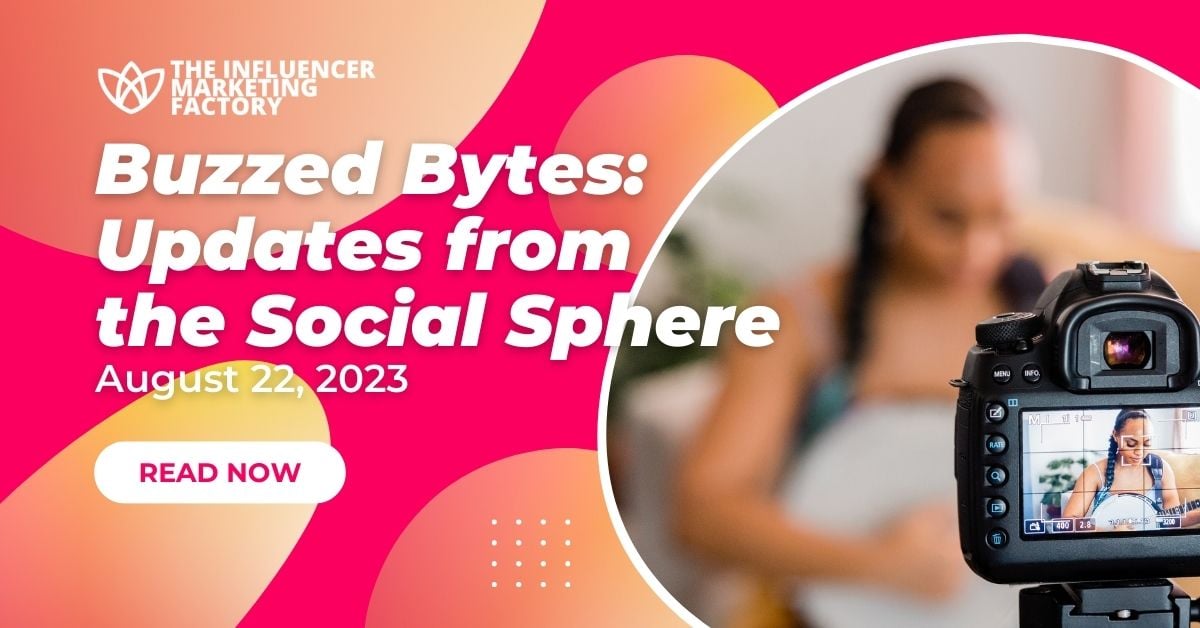 28 Aug

Fulfilled by TikTok Shop Launches in the UK, New YouTube Shorts Links, and Samples on YouTube Music
Fulfilled by TikTok Officially Launches in the UK
TikTok has officially launched its new Fulfilled by TikTok Shop logistics program for UK merchants. In a recent blog post, TikTok shared all about the structure and application process for TikTok Shop, highlighting the program's strengths via multiple case studies of merchants who recently tested FBT in the UK.
FBT's key offerings for TikTok Shop merchants include storing, picking, packing, and shipping goods. With FBT, TikTok Shop merchants are relieved of the time-consuming logistics involved with fulfilling countless orders on TikTok's growing social commerce platform. What's in it for TikTok users buying from TikTok Shop? Users can access same-day, automated fulfillment between Monday and Saturday on all orders placed by 7 PM, premium delivery by the next business day, top-of-the-line customer service support, and improved delivery time metrics.
TikTok Shop merchants must be based in and delivering to the UK with packages exceeding at most 30kg or 31.5 cubic liters per shipment in order to be considered for the FBT program. Eligible merchants who sign up for FBT will provide TikTok with a volume of their selected stock which TikTok will store and fulfill orders in seamless warehouses.
Many UK TikTok Shop Merchants are raving about the program's efficiency and sales success. Modest fashion brand Sumayah shared that FBT "significantly reduces lead time, enabling lightning-fast order processing and delivery." With FBT, booming brands can focus on developing and manufacturing their best-selling merchandise without the overwhelming demand of fulfilling non-stop TikTok Shop orders.
TikTok has yet to announce if and when FBT will be expanded to other regions such as the US. For more updates related to TikTok Shop and FBT, make sure to subscribe to Spreading the Influence here on LinkedIn.
---
New Linking Features Coming to YouTube Shorts
YouTube is putting the power of monetizing traffic in the hands of its creators with the upcoming release of new linking features for Shorts. Soon, YouTube creators will have access to link their shorts to other forms of content, particularly long-form videos posted to the main YouTube platform. Not only is this feature a safe and easy method to direct viewers to similar, favorable content, but creators will have a new method to monetize traffic from Shorts.
Once available, YouTube creators will have the option to add a link to any Short in YouTube Studio. From here, creators have the option to showcase up to 14 links on their official channel page with the first taking the focal spot next to their subscribe button in their profile section.
YouTube shared that creators should have access to the new linking feature by the end of September 2023. YouTube is in the process of developing other safety features for posting and sharing content, and links to YouTube Shorts won't be the last feature added to this roster.
---
Samples: YouTube Music's New TikTok-Style Video Feed
YouTube has taken a page from TikTok's discovery playbook with their introduction of Samples on YouTube Music. Samples is a new vertical short-form video feed personalized to each YouTube Music subscriber which will showcase samples of recommended music. Each clip showcased in the Samples feed will offer users a taste of different artists' styles, aesthetics, and music videos.
Brandon Bilinski, a director of product management at YouTube, shared in an exclusive interview with TechCrunch his thoughts and reasoning behind YouTube's development of the new vertical feed. Notably, Bilinski shared that "If you ask people how they discover music, they always say friends and family, but just recently short-form video climbed into a close number two. We sort of took that insight and we decided to make a discovery-focused, short-form video experience solely focused around music."
The power to discover new music whether it's a trending new release or an underground old hit is now in the hands of streamers subscribed to YouTube Music. Moreover, YouTube wants to take the mindless scrolling out of vertical video feeds by making Samples an immersive and interactive experience. Users can interact with songs they discover in the Samples feed by clicking through to full-length music videos and live performances as well as having the options to share and save. Samples also tie in with Shorts on YouTube in that users have the ability to use songs discovered via the Samples feed in a Short.
The opportunities with YouTube Samples are endless, and YouTube is working diligently to develop new discoverability features on Samples and other vertical feeds for future release. YouTube Samples is now available for all iOS and Android users subscribed to YouTube Music.
---
Share Audio Clips with Instagram Notes
Sharing Notes on Instagram is a fun and fresh way to connect with friends and followers. Whether you want to share your song of the day, how you're feeling at the moment, or even reach out to make plans, Notes is a great way for Instagram users to stay connected in real-time without the pressure of sharing highly-produced photo or video content. Instagram recently announced the official introduction of audio clips on Notes, taking the real-time connection to the next level.
Audio clips for sharing on Notes have been in testing since June of this year as reported by Alessandro Paluzzi on X, formerly known as Twitter. Instagram CEO Adam Mosseri shared about the new Notes feature via a post to his Instagram Channel. According to Mosseri, the new audio clip option on Notes will enable users to engage in a new way with friends via the group prompt option. Mosseri also mentioned that nothing has been tested publicly yet but that the new audio feature is indeed in development.
Instagram has yet to announce when the feature will officially launch for public use amongst users. Audio clips seem to be a promising development for Notes considering that the recent music-sharing feature launched just in June following a gleaming report that more than 100 million teen users actively shared Notes. Are MySpace-style music and status sharing back in style with Gen-Z and will audio clips further the popularity of Notes amongst teens?