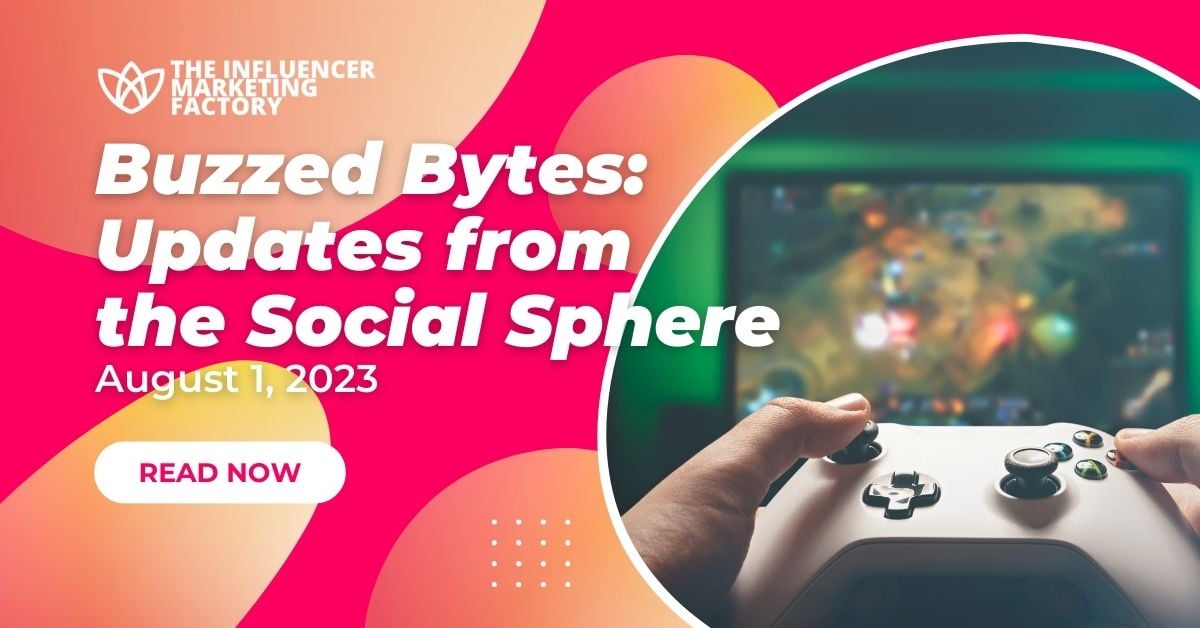 01 Aug

Earn Big on Roblox, TikTok eCommerce Developments, Twitter Rebrands as X
Earn Big Via One of the Largest Virtual Economies, Roblox
Digital creators interested in earning big have rapidly joined one of the largest virtual economies to date, Roblox. What may be your younger relative's favorite multiplayer video game has become a pillar in what Lia Haberman, an Insider Top Creator Economy Expert and UCLA Social Media and Influencer Marketing Instructor, calls the recent "prosumer" trend. Not only do creators on Roblox produce clothing, accessories, and other digital additions to users' gaming experiences, but they also fully immerse themselves into the platform to play and interact with others, creator and non-creator.
With Roblox's favorability amongst digital creators, primarily those who specialize in gaming, more than 66 million users from 180 countries log in to the platform daily and its GDP is now "as large as that of some countries," according to a recent blogpost shared by developers. In 2022, Roblox paid out more than $624 million to digital creators with the top 10 creators earning an average of $23 million each. With Roblox creators earning a 25% cut of Robux from selling products, the platform itself is earning even more.
Roblox enthusiastically shared the power of selling via the marketplace, highlighting the opportunity to earn a comfortable living via the platform. Roblox claimed that almost every creator in its top 500 last year earned at least $140,000 from payouts. Furthermore, Roblox noted that their 1,000th top-earning creator earned a substantial $55,000 in 2022.
Roblox's virtual economy is booming in light of recent investments into the creator economy and metaverse as well as hype drawn in amongst users. Roblox reported that 2023's payouts have already outpaced those of last year. By March this year, Roblox creators brought in more than $182 million from selling digital creations via the marketplace.
A Roblox developer shared, "As ambitious as it sounds, we believe that many new careers, industries, and business models will be born on Roblox." Should we look at selling on Roblox as a creator side hustle or a tangible opportunity to earn a living? How much do you think Roblox will distribute in payouts for 2023 and beyond? We'd love to hear your thoughts.
---
The Future of E-Commerce on TikTok
The floodgates of e-commerce have opened on TikTok with plentiful merchants, small-business owners, and live-shopping creators making waves on the top social media platform. TikTok is moving full steam ahead with even bigger plans for its retail empire, focusing on bulking up the strength of TikTok Shop. According to a recent report from Wall Street Journal, TikTok aims to boost retail sales by 300% in one year, targeting $20 billion in sales by the end of 2023.
Is TikTok's 2023 sales goal ambitious, or will its Amazon-inspired playbook make all its e-commerce dreams possible? As reported by Wall Street Journal, the TikTok Shop Shopping Center will take on a structure similar to the e-commerce giant's "Sold by Amazon" program to sell even more products beyond what is currently available via TikTok sellers. TikTok plans to source third-party goods from manufactured via Chinese outlets, similar to Shein and Temu, for which it will manage sales, shipping fulfillment, and other logistics independently.
With the integration of TikTok's new e-commerce expansion, users will have a wide range of products to purchase directly in-app besides brand-affiliated products and TikTok small businesses. Wall Street Journal reported that the updated shopping center will enhance users' shopping experience with a new interface that "integrates different channels where users can view and buy goods into one single page." Shopping on TikTok has never been easier via clickable TikTok Shop links on videos and livestreams, but this new initiative and interface will further streamline shopping on the platform with ease.
TikTok has yet to announce when third-party items will be available on TikTok Shop nor has the platform announced when we may see the new marketplace interface. For more updates on TikTok's e-commerce endeavors, be sure to subscribe to Spreading the Influence.
---
Text-Based Posts Now Available on TikTok
We've seen TikTok Blogs, aka slideshows, greenscreen videos, and other content showcasing text. From funny screenshots of Tweets to long, emotional quotes, there's already a fair share of text-centered content on TikTok. Text-based posts similar to those on Instagram Stories are now available on TikTok. Like many others, our main question is why?
According to TikTok's official announcement for the new feature, text-based posts will serve as a new platform for creators to express their written creativity which is seen often in comments, captions, and videos on TikTok. Text-based posts make written content creation easy and engaging with fun colored backgrounds and text, different fonts, tags and hashtags, stickers, and Sounds. Moreover, text-based posts serve as a new and easier creative outlet for those sharing on TikTok.
To get started with sharing your own text-based post on TikTok, simply access the Camera page and select the Text option. From there, you can customize your post to your liking using the various features aforementioned. Text-based posts on TikTok may also be drafted for future editing and posting alongside your other unpublished content.
So what is the real benefit or use for text-based posts amongst TikTokers? We predict that text-based posts will be utilized for quick updates or thoughts related to recent content shared by creators. If a creator has encountered many questions about a certain product they use, their opinions about a topic, etc., then a text-based post may be a quick and easy option compared to producing an entire video, but this may vary case-by-case. Considering that text-based posts may interfere with the overall look of creators' feeds on TikTok, they may primarily be shared via Stories as well.
Will text-based posts on TikTok become a key tool for creators, or will they be put on the back burner for low-priority content? Will we see traditional lifestyle influencers adopt text-based posts to connect with their audience, or will we see artists, chefs, and storytellers turn to posting text first? With TikTok jumping on the recent text-hype train, maybe this is a feature we didn't know we needed.
---
All You Need to Know About X
It's official: Twitter has rebranded to X. According to Twitter CEO Linda Yaccarino, "X is the future state of unlimited interactivity — centered in audio, video, messaging, payments/banking — creating a global marketplace for ideas, goods, services, and opportunities. Powered by AI, X will connect us all in ways we're just beginning to imagine." Many loyal Twitter users are curious to know what changes and shifts are coming to the platform following the rebrand. There's no need to worry as the core platform still works as usual, but Elon Musk and other X personnel have recently shared new updates coming to X for creators.
When accessing X online, the URL X.com redirects to Twitter but serves more so for aesthetics. On mobile, the app has a new X logo with an automatic dark mode viewing setting for users. All Twitter bird logos have been switched to an X logo for both mobile and desktop, but there is no saying whether or not this will be the final look for the platform or the logo itself. The X team is also continuing its expansion of Community Notes from Twitter with users in more than 18 regions now applicable for the moderation program.
Elon Musk has intentions of turning Twitter, now X, into an "everything app" for creators but is currently more focused on the future of advertising on the platform as demonstrated by recent updates. X is cutting ad prices as a means to bring more brands back to the conversational platform, according to the Wall Street Journal. Up until July 31st, X offered a 50% discount on new ad bookings to promote advertising on the platform.
Although X is slicing ad prices, the platform reportedly informed its advertisers that they must spend at least $1,000 to retain their verification status. This may come from X as an effort to cover losses from Twitter and strengthen its main source of revenue, but Musk shared otherwise. Elon Musk responded to reports from the Wall Street Journal saying that the high cost serves as a preventative measure against bots and scammers creating "millions of accounts" on X.
Elon Musk and his team are confident that X will become one of if not the top social media platform for creators to collaborate, earn a living, and share amazing content. X is still very much in the process of solidifying its identity and purpose as a platform, but Musk is certain X will become a go-to destination for users across the globe.