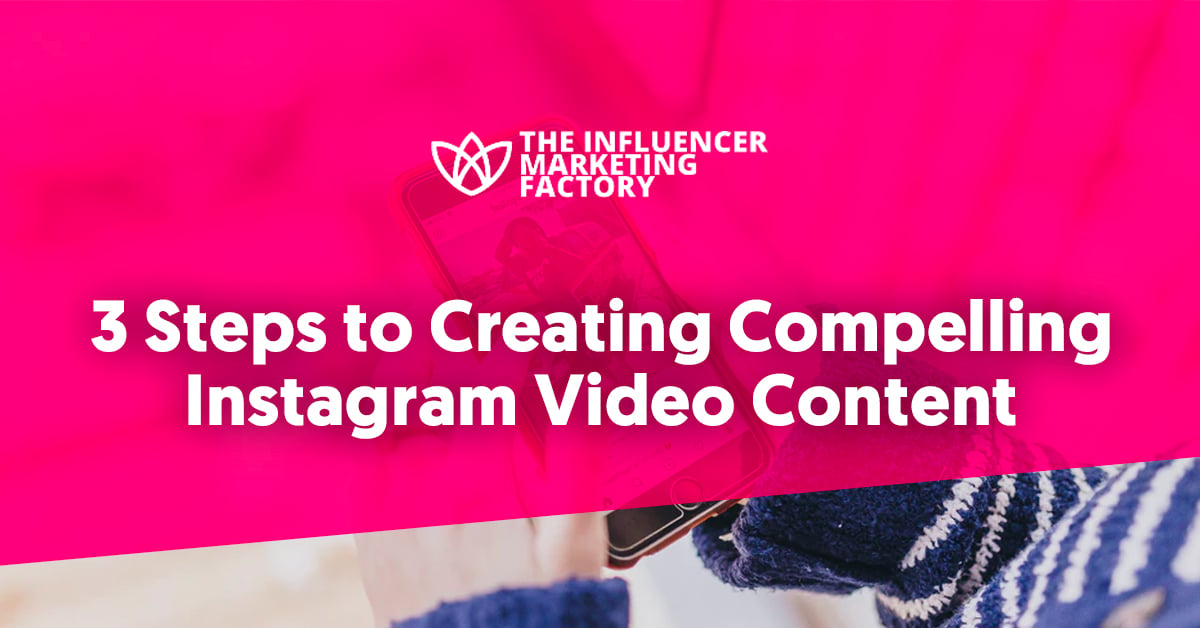 17 Nov

3 Steps to Creating Compelling Instagram Video Content

If you want to get the word out about your services, a cause, or nearly anything else, social media is one of the best ways to do that.

Marketers have been turning to social media more and more over the last several years. They've seen impressive spikes in users and engagement—and new platforms come out left and right.

There's always something new going on, whether it's a platform that didn't exist before or a new feature on an existing channel. We believe the most promising platform, however, is Instagram.

The power and influence Instagram has had since launching is astounding, and something marketers simply can't ignore. If you have an account or you're thinking about starting one, you may be wondering how to get better numbers and avoid getting stuck in a rut.

Just like the creators of these platforms, you must always focus on innovating—because, like with many things, if you aren't trying to move forward, you'll slip backward.

No one wants that. So we've compiled some ideas for you to invigorate your brand using one particularly great feature on Instagram: video content. Here are a few tips to generate compelling motion-based posts so your fans stay engaged and follow along with each one.
---
1. Have an Aim: Getting Your Video Strategy Together
Before shooting any footage or designing any animations, figure out your end goal. What is it you want to post?
Getting organized with a clear vision and a detailed plan—such as a script or a storyboard—will ensure your video is a hit (not a time-waster).  You can't hit the mark without a strategy to do so.
Whether you're making the content in-house or paying an outsourced service, never go in aimless.
Determine what you want your video to do. What is your call to action (CTA)? Do you want more people following you? Maybe you want to drive people to your website so they'll eventually make a purchase. Are you going to do an educational how-to or demo post? Perhaps you're simply generating videos that serve as mini-commercials, to keep viewers engaged and boost your brand recognition.
Once you have your purpose down, you will have a better sense of how you're going to shoot it, what editing techniques you'll use, and of course, what hashtags you should use to get the attention you want.
---
2. Be Brief—People Have Short Attention Spans
Instagram did expand the length you can have per video from 15 to 60 seconds a few years back, but that doesn't mean you need to use it all. When drawing up the plans for your videos, you'll need to keep this in mind: people are inundated with content every day. Grab your viewer's attention instantly so they don't tune you out.
To hook your potential viewers, try starting off with a compelling first scene and some attention-grabbing text. You should incorporate text because by default, Instagram videos are muted, so captions allow you to get your message across—even if a user keeps their sound off. This simple detail can significantly increase your engagement. Just don't use too much text. It needs to be easily and quickly digestible, or you risk scaring people off.
Experiment with movement. Even if you're going for a slideshow effect, including real motion within the first few seconds will render a more dynamic video, increasing your chances to stop someone mid-scroll.
---
3. Time to Shoot and Share
While many companies utilize the in-app features for video and editing, consider investing in a camcorder or professional DSLR camera for enhanced results. If you choose to save money and stick with a phone, most high-end smartphones should work fine.
You may have to use a little finesse if you want cell phone camera footage quality to look top-notch. To do so, pay attention to audio and lighting. Splurge a little and get a tripod for smoother shoots, a couple of studio lights, and a decently-rated mic—there are many online to choose from, so make sure you do your research before buying.
When posting, do some testing to see what times of day your audience is online and engaging with your posts the most. Include tags that are not just interesting, but also relevant and popular in your industry. This will boost your reach and increase your chances of being seen by enough—and the right—viewers.
Additionally, think about connecting with your audience in real-time through live-streaming and stories.
Whatever you choose to do, here are some rules of thumb to live by: videos can be up to 15 seconds long, ideally with a 9:16 aspect ratio, and in MP4 format.
If these seem like a lot of rules, don't worry—always feel free to experiment a bit and see what works for you and your customers. These are merely guidelines to give you an edge over the competition and stand out in the crowd. Be calculated with your maneuvers, but ultimately, have fun with it.
---
Author: Daniel Nanasi
Music, people, and traveling have always fueled my passion for business, the arts, and life itself. I am a seeker of adventure and rich experiences. Early on, I found video as the medium that could help me achieve both. I have worked with celebrity hip-hop artists and rock icons as well as executives from the healthcare industry and fortune 100. My extensive travels and my craft have now merged into what I do for Think Branded Media.
Start Your Next Instagram Influencer Marketing Campaign