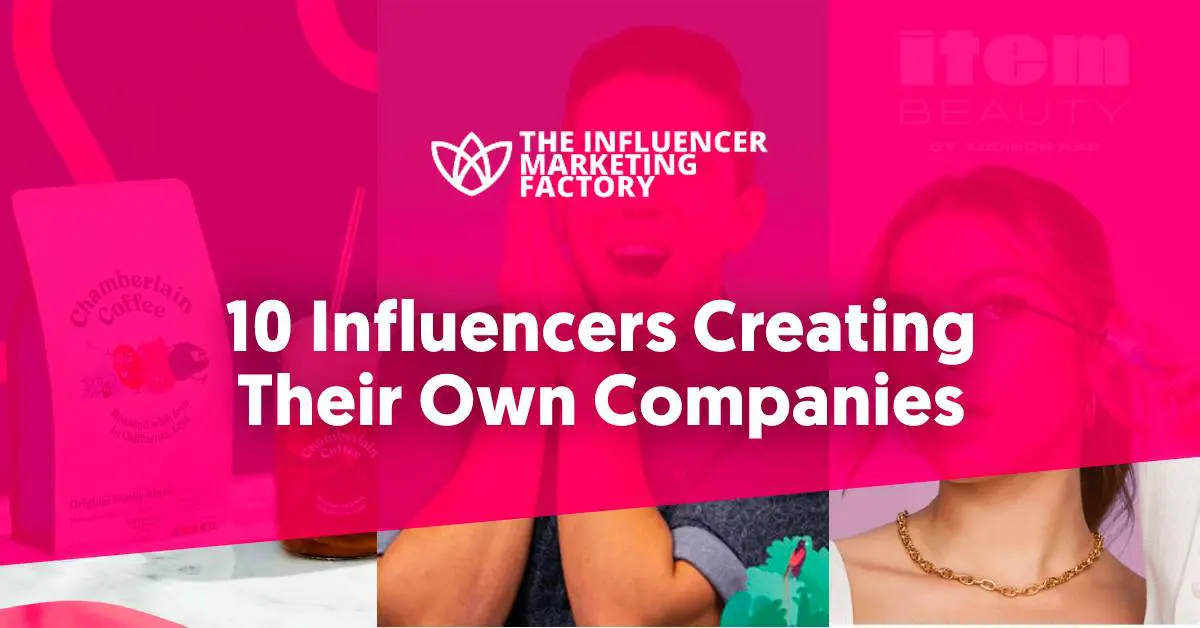 05 Nov

10 Influencers Creating Their Own Companies

With the growing prevalence of social media, content creators have created a new economy that essentially has no glass ceiling – The Creator Economy. There are over 50 million content creators (2020 Report by SignalFire), including social media influencers, bloggers, and videographers who use software and finance tools that assist in their growth and monetization. Creators who are able to cultivate a substantial following, more opportunities begin to present themselves in the form of brand deals, collaborations, and even the ability to start their own company. As creators gain more experience with marketing and business, we see them shift from solely working with brands to creating their own. Many influencers create their own product lines, promoting their own services, brands and social media, resulting in a greater diversification in revenue streams and overall opportunities.
1. Addison Rae's Item Beauty
Addison Rae rose to stardom when TikTok videos of her dancing went viral overnight. With her beauty and bubbliness taking the social media world by storm, Rae built herself into a "multi-hyphenate powerhouse." After working with well-known companies such as Skims and American Eagle, she took her experience to the next step, becoming the co-founder of Item Beauty. Rae's collection consists of 13 products including makeup, skincare, and tools, all of which are held at affordable costs. This allows for her intended audience (Gen-Z) to purchase and support her line. Her line overall is inspired by Rae's perspective of beauty, as she puts a large emphasis on self-love and unique beauty (Reviewed). Along with her 85.3 million followers, previous brand deals, and development of Item Beauty, Rae is pulling an estimated $5 million per year, placing among the few highest-earning TikTok stars (Forbes). 
---
2. Emma Chamberlain's Chamberlain Coffee
Emma Chamberlain, a 20-year-old YouTuber, has captured the hearts of her 11 million subscribers. She has a golden touch when it comes to videos, making almost anything into a hilarious vlog, in fact, she basically created a whole new genre of YouTube videos in the way that she edits. Chamberlain's brand focuses on being relatable and becoming an adult, including everything, the good, bad, and the ugly. Starting her YouTube career around 16 years old, many of her subscribers have essentially grown up with her and find comfort in her realness despite her fame. Chamberlain is also widely known for her love of coffee, always having one in hand during her vlogs. Due to her passion for coffee, she launched Chamberlain Coffee, a feat she admitted was not an instant success. Chamberlain and her team took time to revise and perfect the brand, gauging what everyone liked and didn't like. First coming out with tumblers, mugs, and coffee bags, Chamberlain decided to take it up a notch by re-branding and releasing her own carefully crafted grounds and coffee beans with names like Careless Cat or Night Owl (Refinery29). She has also other brand deals with Louis Vuitton and Levi's and her YouTube videos earning, plus her Chamberlain Coffee's estimated revenue of $9 million (Zoominfo). 
---
3. Charli and Dixie D'Amelio's Social Tourist
Two of TikTok's brightest stars, Charli and Dixie D'Amelio, decided to partner with Hollister and create their own fashion line called Social Tourist. Going viral around the same time as Addison Rae, Charli took the lead with her school bathroom dance videos and then began to include Dixie, making her growing following a family affair. With a now combined 250 million TikTok following, both girls have been a part of various brand deals, most famous being Charli's collaboration with Dunkin Donuts and the "Charli" cold brew. Since partnering with Hollister in 2020, the D'Amelio sisters launched the #MoreHappyDenimDAnce TikTok challenge and have accumulated over 5.4 billion views. This lifestyle athleisure clothing brand "allows teens to experiment with fashion by incorporating the sister's style with their own," (V Magazine). Each collection of Social Tourist includes limited-edition items and new product drops every month.
---
4. Hyram's Selfless Skincare Line
Hyram Yarbro became a super popular creator as he was seen reacting to people's skincare routines on TikTok or sharing his favorite products on YouTube. Aligning with his passion for self-care, Hyram took his success to the next level, collaborating with The Inkey List, a skincare brand, to create the Selfless by Hyram collection. His line features a cleanser, three serums, and a moisturizer, all sold at affordable pricing. All of his products are eco-friendly, made with recycled materials, and the ingredients are consciously sourced. The brand also promotes social change, as with every product sold, a portion of the proceeds are donated to providing communities with clean drinking water (Purewow). 
---
5. Olivia O'Neill x Motel Rocks
Olivia O'Neill is a Northern Irish Youtube and TikTok star, known for her vlogs, dancing, and fashion content. To allow her followers to embody her style, O'Neill partnered with Motel Rocks and released her own line. Her first collection consisted of "fresh spring pieces" and trendy co-ords. O'Neill then dropped a second collection, Olivia Neill 2.0, focusing on fall pieces, from comfy sweaters to long pants. Motel Rocks is a super trendy website that draws in a ton of traffic from teenagers to young adults, allowing Olivia to connect directly with her audience. 
---
6. MrBeast Burger
Jimmy Donaldson, widely known as MrBeast, is one of the most-viewed and highest-paid YouTubers. He is known for a variety of stunts and bits such as buying everything in a store, reading every word in the dictionary, or giving away a million dollars but only giving the recipient one minute to spend it, accumulating around 53 million subscribers. In December 2020, MrBeast opened a restaurant, MrBeast Burger, that paid people to eat their food. With over 300 delivery-only locations across the U.S., fans of MrBeast were able to order from MrBeast Burger through the delivery service UberEats (Insider). The pop-up restaurant operated out of existing restaurant kitchens, allowing restaurants to add a new source of revenue without impacting business operations. (MrBeastBurger). 
---
7. NikkieTutorials's Nimya Line
Nikkie de Jager, widely known as NikkieTutorials, is a huge makeup artist and beauty vlogger on YouTube with 13.6 million subscribers. She joined YouTube in 2008, sharing makeup tutorials and as the beauty community began to grow, she became one of its shining stars. She was named the first-ever global artistry advisor for Marc Jacobs Beauty in 2021, working with the brand on product development, social media content, and makeup artistry all over the world. She has given makeovers to countless celebrities such as Lady Gaga and Ashley Graham, and after collaborations with makeup brands such as Ofra, de Jager decided it was time to launch her own business (Insider). Launched in September 2021, de Jager introduced her brand Nimya, a cruelty-free skincare line consisting of four products: a cooling eye stick, a moisturizer, glow serum, and setting spray. Since she did specialize in makeup, it is also predicted that the line will expand into makeup as well. 
---
8. Ashley Strong X Morphe
As the first winner of the YouTube beauty competition, Instant Influencer, Ashley Strong is living up to her title. She is best known for giving advice on a quick contour, how to thrive as a beauty influencer, listing her favorite products, and now, this Morphe collaboration. Her line's purpose is to promote makeup as a form of self-care, something Strong has always believed. Her goal is to encourage her supporters to make time for themselves and to prioritize their mental health (Yahoo).
---
9. Blair Walnuts X En Route Jewelry
Blair Walnuts is a well-known YouTuber focusing on lifestyle, and being the "hot girl" enjoying her "hot girl summer," (MarketWatch). With roughly 700k subscribers, she features content of her participating in food challenges, traveling, and fitness. Walnuts launched a collaboration with En Route jewelry inspired by her travels with pieces named Amalfi Ring or Tulum Body Chain. En Route is a small jewelry brand based in New York that has partnered with other influencers who have collections similar to Walnut's. This brand focused on designing affordable pieces by pricing matching and working towards fostering an ethical work environment (MarketWatch).
---
10. Michelle Khare Fitness App
YouTuber Michelle Khare launched MKfit, a subscription app that includes guided workouts, exercise videos, and nutrition plans. In her series Challenge Accepted, Khare attempts different challenges such as training like a navy seal or the FBI academy. On her channel she documents her immersion into a new experience, setting out to prove that anything is possible with enough hard work and perseverance. MKFit allows fans to connect directly with Michelle via DMs and gives them access to an exclusive members-only Facebook group. Along with her app and YouTube, Khare also has hosted various TV shows, such as HBO's Karma.
Activate Your Next Influencer Marketing Campaign