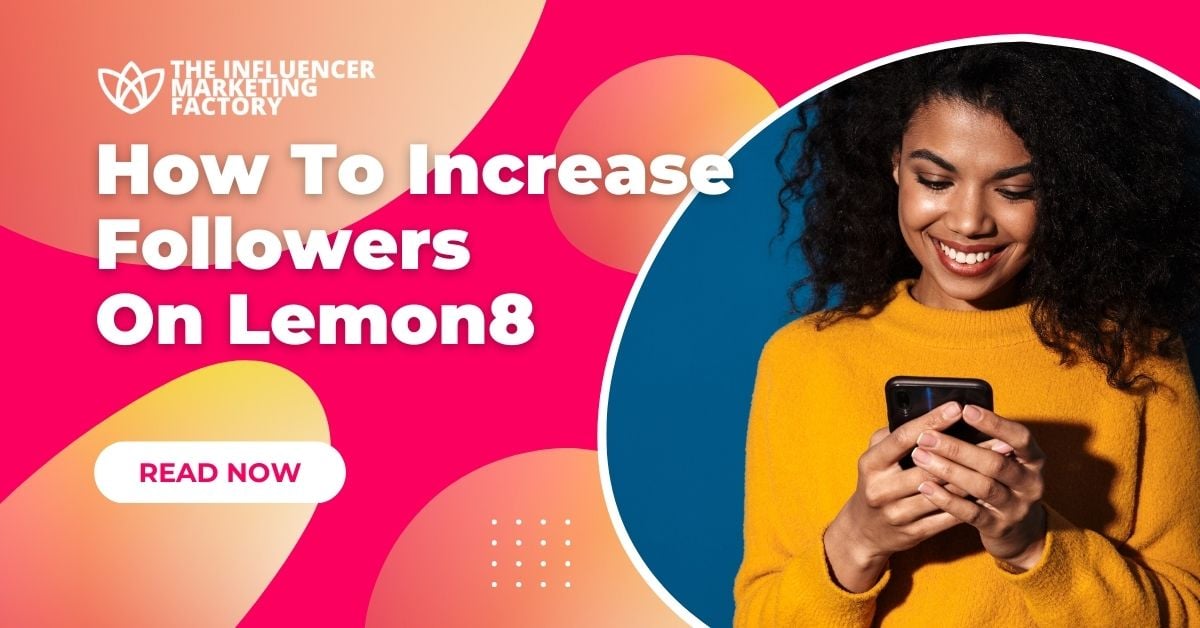 28 Apr

How To Increase Followers on Lemon8
What's Different About The Lemon8 App
Lemon8 users have been very clear about the fact that the app creates a sense of authenticity and celebrates various creative styles. What we have to understand about Lemon8 is that it's still a new up-and-coming app, which means that the algorithm will continue changing and evolving, and this also means Lemon8 users shouldn't get comfortable with what's working now. So what makes Lemon8 different? Although the app does allow for video sharing, Lemon8 is not video-focused.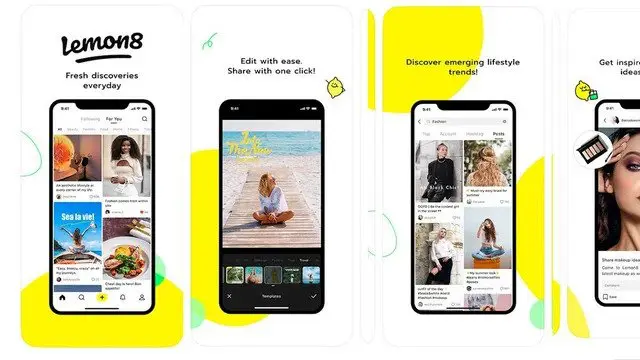 This is a big win for creators who love sharing photos and collages. In recent years, we saw Instagram trying to mimic various features and algorithm preferences similar to TikTok and creators who primarily shared photos felt that their content started getting less and less reach. Although Lemon8 is from TikTok's parent company, ByteDance; users can feel confident that both their photos and videos are welcomed on the platform.
What also makes Lemon8 different is its available in-app templates. Yes, TikTok has templates, and Instagram Reels can now be created via user-created templates or suggested templates; however, Lemon8 has put serious efforts into creating templates and Canva even has templates for Lemon8 creators.
Another key difference is that Lemon8 also has caption templates, and their editing tools, such as the in-app cutout tool, help creators finish their posts from start to finish without needing a third-party app. The caption templates also provide structure by niche to help increase your post engagement.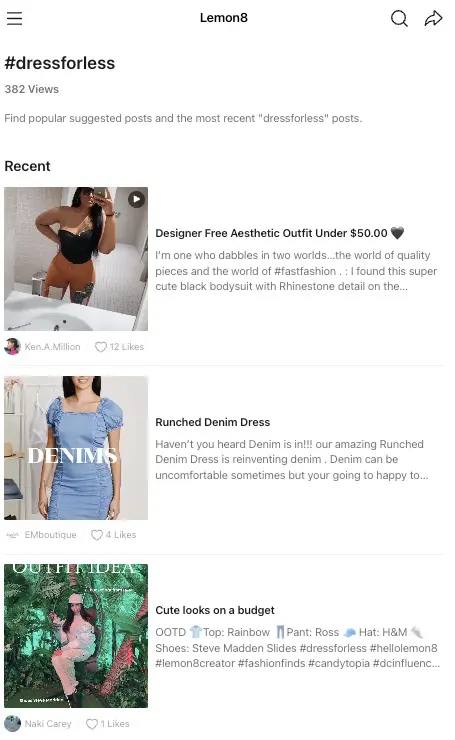 For example, here are some example caption templates Lemon8 provides:
This is why you need the (insert brand and product name.)
5 Ways I Wear X.
Dress for less. (List five brands to dress for less.)
This is great for creators who are brand new, working on building an audience, and may not have much copywriting experience. Overall, we'd say that one thing that sets Lemon8 apart is the full in-app experience it provides, and it really does seem like they want to set their creators up for success.
---
Universal Tips to Growing a Following
Although most platforms have unique strategies that work best for growing a following, there are universal tactics and strategies that you can use to build an engaged following for your brand. Some of these tactics will work on any platform.
Firstly, when you create a new social media account, you need to talk about it. Share it on your other platforms, to your email list, and cross-promote some posts on other platforms. The bottom line is that you need to talk about your presence on a new platform to leverage your exciting audience that may also be on the platform you are trying to grow. Think of it as using real estate that you already have to grow your audience.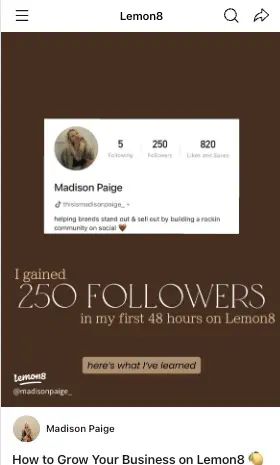 Something else to consider is going outbound engagement. When we hear the term "outbound engagement," we often think about doing likes and perhaps saving a few posts we like. It's much more than that. Leave meaningful comments on the accounts of creators that resonate with you as a fellow creator or that resonate with your brand.
You should also consider working with an influencer marketing agency. Influencer marketing agencies know the ins and outs of new up-and-coming platforms and likely already have influencers in their network thriving on new platforms such as Lemon8.
These are some tips to remember when trying to grow a new platform.
---
Optimizing Your Lemon8 Posts for Growth 
It goes without saying that content optimization will be important on this new platform. It's already pretty easy to see what works best on this new app. Here are some of the tips we have observed so far.
Ensure that you create a cover photo that includes a keyword, and also include a keyword in your post headline and caption. We all know that most platforms put a big focus on being optimized for search, and doing this from the start with Lemon8 will give you an advantageous edge. By being optimized for search, you're likely to get discovered by users who want and need what you have to offer when they search and platform, and this increases your chances of getting new followers.
Always include a catchy headline or "hook," as we like to call them, on your cover photo or as text-overlay on your video. While keywords will help you get discovered, you want to create a sudden sense of excitement and get Lemon8 users to stop scrolling when they come across your content.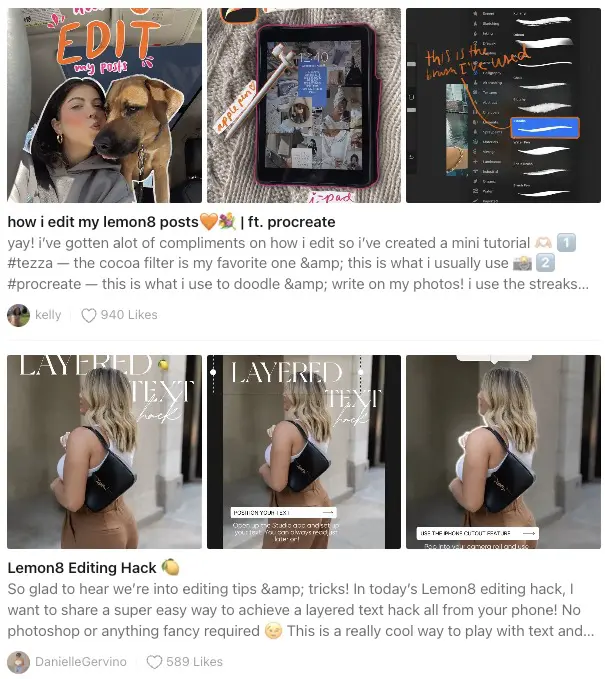 In your post copy, take the opportunity to invite your audience to give you a follow. As we mentioned above, the app provides plenty of caption templates for you to try, and many of these templates include a reminder to include a CTA (call-to-action.) Generally speaking, when we ask our audience to take action, they are most likely to do so. You should also think about adding a call-to-action on the last graphic of your post or even at the end of your video.
Since the app does give you the opportunity to enter ten hashtags, if you can find ten relevant ones, we'd recommend using them all. Doing hashtag research at the beginning of your journey on this app is key, as well as using the search bar to see relevant key searches to help you optimize your copy.
Never forget to include your location tag. We've seen that sometimes brands and creators don't include a location tag because they don't want to be known for a specific region only. This is a big mistake for both brands and creators alike. Many brands who seek out influencers do not care about your location, as they are international brands with audiences in various demographics. On the other hand, local brands can easily get discovered by being consistent when using the location tag. It's an important part of optimizing your post.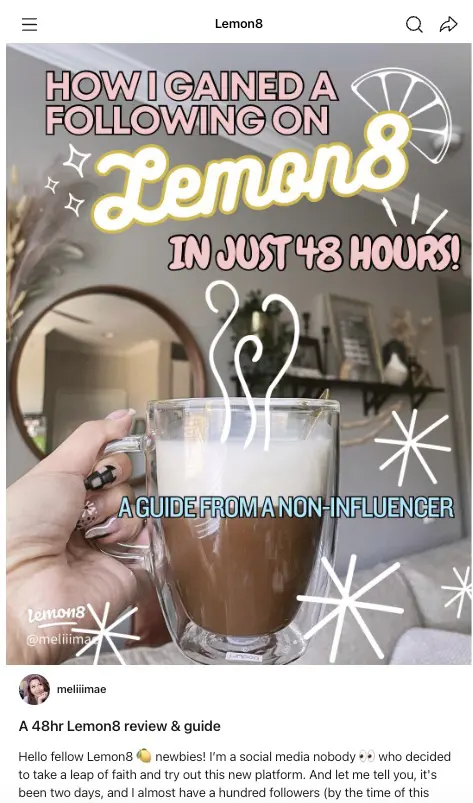 Your post should also provide context. What's similar to Pinterest on this platform is that your audience wants a full visual concept. What we mean by this is that Lemon8 users prefer to see something from start to finish rather than a quick sneak peek.
What are some examples of providing a full context? 
If you create some packing tips and tricks, ensure that you take your audience on a journey. Your cover photo should make it clear that you're sharing packing tips and tricks. Your next photos should include the steps to take to pack, some of your photos can include text explaining why this specific packing method works best, etc.
If you create a post showcasing how to apply self-tanning products. Don't forget to show the before, during and after results. When it comes to products, showcasing the results or outcome will likely increase engagement, which is ideal for both brands and creators.
When speaking about a recipe, share the ingredients, preparation process and photos of the end result.
If you are creating travel content about a specific destination, help your audience understand why this destination is the ultimate destination.
If you are sharing business tips on a visual app, make it visual! Here's a great example of a visual post sharing business tips on how to use the app. This type of post clearly represents what providing a full concept with visuals looks like.
If you are creating "a day in the life" style content, make it fun and emphasize the little details, like in this post.
Post optimization will play a big role in the growth of your followers, and it is critical to remember to add your call to action.
---
Leverage a Repetition Strategy 
Have you ever noticed how creators who stick to a specific post type tend to get so many followers and engagement? Well, that's because repetition creates a sense of desire, and if an audience likes what they see, they become invested in the creator's life and content type, leaving them wanting more.
This may not be the ideal strategy for everyone, but for influencers who focus on specific niches or brands that do the same, it may be worth exploring. Creating a repetitive pattern around your content also sets you up for success on any platform.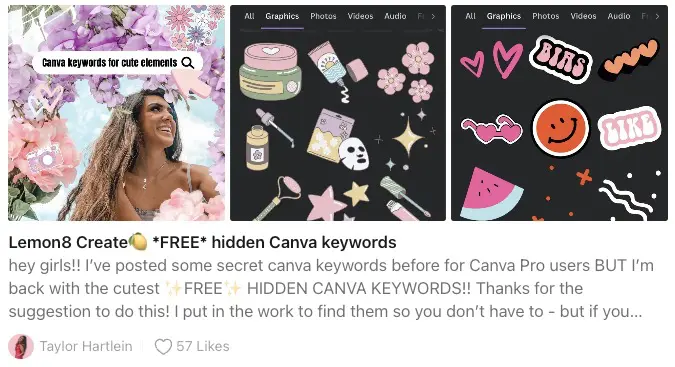 We also want to remind creators that repetition doesn't mean that it's the only type of content you create. Creating a sense of repetition means including a specific content type or format as part of your regular content calendar.
Most social media users are great at identifying patterns, so whether you create repetitive post styles once per week or three times per week, they will notice.
Here are some examples of repetitive content styles that may help brands and creators grow on the platform: 
A day in the life series. Similar to a day in a life video that you see on TikTok or Instagram, you can take your audience on this journey with photos.
Behind-the-scenes content. This could be anything from behind-the-scenes with a Content Marketer or behind-the-scenes with a Dog Groomer, behind-the-scenes with a full-time Travel Nanny. This works well for both bands and creators.
Useful lists. This can work for any niche or industry. Create regular lists of must-have tools, destinations, products, tips, or anything that comes to mind. List content does well on any platform, and because they are value-packed, they are effective in growing followers.
Throwback storytelling content. This type of post is where you share about a past experience, a part product, or a past adventure. This is an opportunity to apply storytelling to your content strategy and take your audience on a journey through the engaging photos you will create in-app.
Local business reviews. For creators, this is a great opportunity to gain the attention of local businesses for future collaborations. They can be easy to create, and you can base them on places you are already planning on visiting. Adding one or two weekly posts featuring local businesses can help you grow your local following rather quickly.
Educational posts. This is great for both brands and creators. You can dedicate regular educational content based on your niche on a regular basis.
The sky's the limit here. The key is to introduce these types of posts regularly to create that sense of repetition with your audience. As always, with anything else, adding relevant call-to-actions in your content will be of significant help.
---
Creating a Sense of Belonging 
We love reminding our clients that one of the most important aspects of growing any platform is fostering a sense of belonging. When people feel like they are part of a community, they are more likely to be loyal, engage with your content and even follow you.
Here are some quick and easy tips for fostering a sense of community:
Don't be afraid to engage with other brands and creators. Community is always valued over competition.
Create your own creator or company hashtag. Invite your audience to use the hashtag when they create content that is relevant to your brand or a trend that you start.
Involve your audience in the process. If they request a certain type of content or ask for you to review a specific product or location, listen to them. Listening to what your audience wants is one of the best ways to grow. It makes people feel heard and like they belong.
Try to be accessible. While we understand that working with new platforms means you are working with the tools they are providing, try to keep in mind font sizes and color contrast to be as accessible as possible.
Be personable but professional. Respond to comments, questions, and concerns that you receive as you would on other platforms.
The opportunities to grow your following on Lemon8 are limitless. As we've covered in this blog post, there are ample tips and strategies to help you with those efforts. If you are looking to get started with influencer marketing or have questions on how Lemon8 could help your brand with various marketing goals, we're here to help.