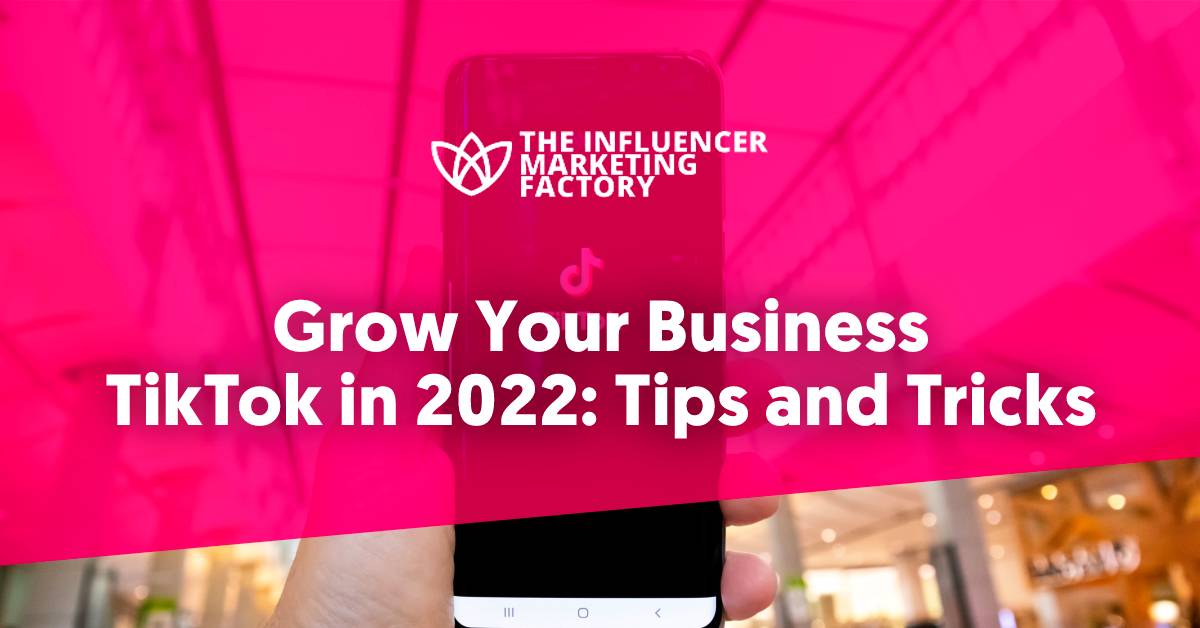 07 May

Grow Your Business TikTok in 2022: Tips and Tricks

If you're like most business owners, you're always looking for new ways to grow your company. You may have tried social media marketing, but are you using TikTok?

TikTok is a fast-growing social media platform that can be a great way to reach more customers and grow your business. With more than 1 billion active users as of September 2021, it's no wonder that companies are using TikTok to reach new audiences. In this blog post, we'll discuss some tips and tricks for using TikTok to grow your business in 2022.
1. Understand Your Target Audience
Before you start creating content, it's essential to understand your target audience and who you're creating content for. If you have already established your target audience on other social media platforms, you can use those same demographics when targeting TikTok users. If you're not sure who your target audience is, take some time to research the various demographics of TikTok users. This will help you create content that appeals to the people you want to reach.
---
2. Use The Right Video Size
TikTok is different from other social media platforms because it takes up the user's entire screen. This means that you'll want to ensure your business's content is filmed in 9:16 format or a full-screen vertical video. Shooting your video in the correct size will allow your content to fill the user's screen and is more likely to grab their attention. In fact, videos shot vertically have an average 25% higher six-second watch-through rate. So when shooting your videos, keep this in mind and adjust accordingly to ensure your videos aren't cut off.
---
3. Use A TikTok Growth Service For The Best Results
While there are many ways to grow your TikTok following, one of the best ways is to use a TikTok growth service. The Influencer Marketing Factory is an organic TikTok growth service that specializes in helping businesses grow their TikTok following. With years of experience, a team of experts, and proof of success in TikTok growth marketing, we can help you build your brand's followership and engagement on Tiktok with our proven solutions. Click here to learn more about how to grow your brand's TikTok following today.
---
4. Stay On Top Of Trends
TikTok is known for being a platform where trends move quickly. In order to ensure your content is seen by as many people as possible, it's crucial to stay on top of the latest trends. You can do this by following popular TikTok users in your industry, checking out the "For You" page, and searching top hashtags. Once you understand what's popular on the platform, you can start creating similar content that relates to your business. Remember to not delay on the trends as they tend to move quickly.
---
5. Keep It Entertaining
Unlike other platforms where you're trying to sell a product or service, TikTok is all about entertainment. This means that your business's content should be entertaining and engaging. The best way to do this is by thinking outside the box and getting creative with your content.
Instead of just promoting your products, try to develop creative ways to show them off. For example, if you sell clothes, you could film a fashion show or style tips video. If you sell food, you could do a cooking tutorial or food review. Get creative and have fun with your content to make it more engaging for TikTok users instead of using outdated selling methods.
---
6. Collaborate With Other Creators And Businesses
TikTok is an excellent platform for collaboration. If you can find other businesses or creators in your industry to collaborate with, it can help you reach a wider audience. Collaborations can be anything from doing a duet on TikTok to cross-promoting each other's content. Not only will this help you reach more people, but it can also help you build relationships with other businesses. These relationships can be beneficial for both parties involved, so it's definitely worth considering collaborations when growing your TikTok following.
---
7. Be Consistent With Your Posting Schedule
Whenever you're using TikTok (or any social media platform), it's essential to be consistent with your posting schedule. This means posting regularly and being active on the platform. The more active you are, the more likely it is that people will see your content and follow your business. On the other hand, if you're inconsistent with your posting, people will forget about your business, and you'll have a hard time growing your TikTok following. While it's recommended to post at least once a day, you can adjust your posting schedule based on your available time.
---
8. Repurpose Your Old Content
If you're struggling to develop new content, don't worry! You can always repurpose your old content. Repurposing your content is when you take the content you've already created and use it differently. For example, if you have an old blog post, you could turn it into a TikTok video. Or, if you have an old video from YouTube, you could turn it into a short TikTok series. By repurposing your old content, you can save time and still provide value to your TikTok followers.
---
9. Use Trending Hashtags
Hashtags are a great way to get your content seen by more people. TikTok has a "Trending" section where you can see which hashtags are currently popular on the platform. When creating your content, be sure to include relevant hashtags that will help you reach a wider audience. Remember that you don't want to go overboard with the hashtags, as this can come across as spammy. Use them sparingly and only use relevant ones to ensure people see your content.
---
10. Be Engaging With Your Followers
Finally, it's important to be engaging with your followers. TikTok is a social platform, which means you should be interacting with other users. This can include things like responding to comments, liking and commenting on other people's videos, and following TikTok users who might be interested in your business. By engaging with your followers, you're building relationships and making it more likely that they'll follow your business.