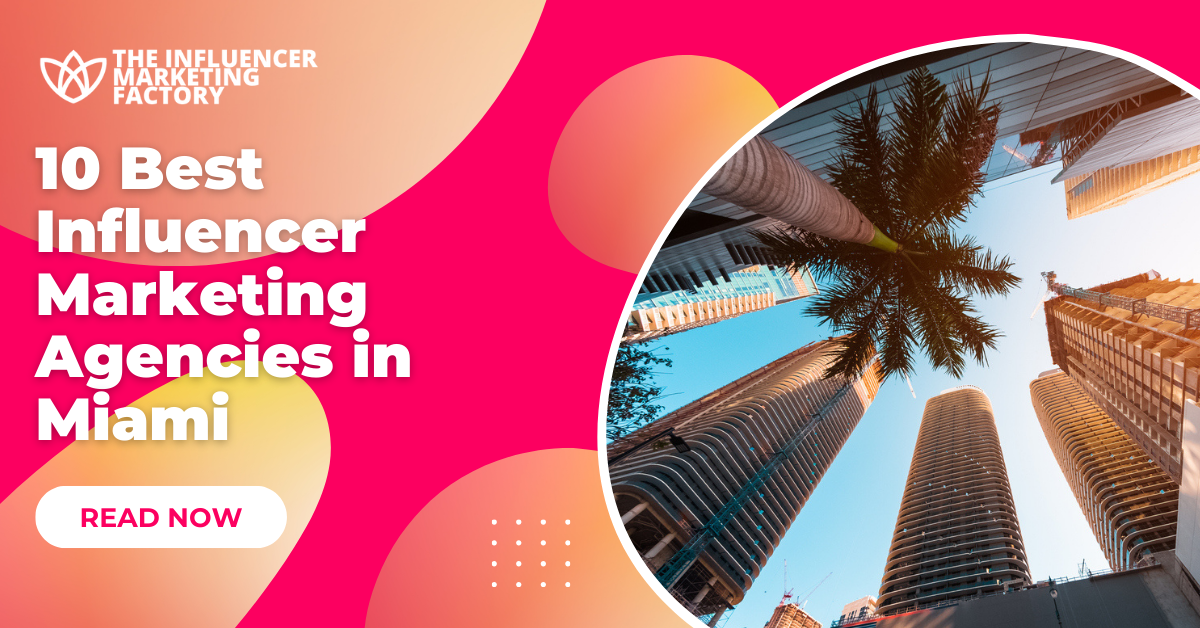 01 Sep

10 Best Influencer Marketing Agencies in Miami

In the vibrant city of Miami, influencer marketing is not just a buzzword – it's a transformative force reshaping the advertising landscape. With the power to amplify messages and engage audiences, this form of promotion has become indispensable for brands aiming to make an impact. But how do you choose the right agency to partner with? Look no further. We've curated a list of Miami's 10 premier agencies in this sector, each excelling in creativity, reach, and return on investment (ROI). Dive in to discover your perfect match.
1. The Influencer Marketing Factory

Welcome to The Influencer Marketing Factory! In the dynamic realm of digital advertising, we stand out as a guiding light for brands eager to make a genuine mark. With a far-reaching global presence, we masterfully design scalable, authentic, and return on investment-driven (ROI) campaigns on platforms like TikTok, Instagram, and YouTube. Our approach is thorough: we start by deeply understanding a company's vision, mission, and objectives. We then zero in on the target audience, ensuring our campaigns genuinely connect with the intended demographics. 
Moreover, we handle all legal aspects seamlessly, with each influencer entering into a transparent agreement. But our efforts don't stop at reach; we emphasize content that truly engages the audience. And, importantly, we provide meticulous tracking for every campaign, granting clear insights into its efficacy.
But what makes The Influencer Marketing Factory unique from the competition? We meld all the white-glove services of an influencer marketing agency with a data-controlled approach to ROI, metrics, conversions, and KPIs (key performance indicators). 
Still in doubt? Let the accomplishments we've achieved for our clients do the talking:
Featuring TikTok's most well-known beauty influencer, Edward Zo, we achieved more than 35,600 clicks for Ren Skincare to raise brand awareness and drive conversions for Ren's Evercalm Rescue Mask.

We worked with 49 content creators to get more than 1,162,400 story impressions for BenQ to promote their portable projector GS2.

We discovered six TikTok creators based in the US with a cumulative reach of 42.8 million followers. Each of them crafted a unique TikTok video, incorporating the hashtag #VisitKoreaFromHome. This campaign resulted in a remarkable total of over 42,826,500 TikTok followers among them.
Ready to get started? Click here to get in touch with our dedicated team at The Influencer Marketing Factory and see how we can assist your business's exposure and success today!
Headquarters:

Miami, FL 

Founded:

2018

Email Address:

[email protected]

 

Phone Number:

+1

(800) 469-9753

Address:

66 West Flagler Street, Suite 900 – #1178, Miami, FL 33130, USA

Specialization:

Global

Influencer Marketing, ROI-Oriented Campaigns, Paid Advertising 

Clients:

Envato, Ablo, Warner Music Group, Gismart, FinTron Invest
2. iAnalyst

iAnalyst employs a three-pronged methodology for influencer marketing, focusing on identification, creative management, and distribution. They handle everything, from concept creation to rate negotiation, ensuring maximum reach within budget constraints. Their team studies various metrics, including performance data and follower analytics, to ensure a harmonious match between the trendsetter and the enterprise. 
When it comes to content dissemination, iAnalyst has a detailed plan that creators are required to follow. For instance, it specifies the exact timing for posts, determined after insightful analysis. They monitor the entire process to make sure each initiative meets set objectives, thereby assuring a high ROI.
Headquarters:

Miami, FL

Founded:

2007

Email Address: [email protected]
Website:

https://ianalyst.com

Phone Number:

+1 (800) 270-1656

Address:

117 NE 1st Ave, Unit 4-118, Miami, FL 33132, USA

Specialization:

Blockchain Marketing, Internet Marketing, PPC Management, AdWords Management, Website Development, Influencer Marketing

Clients:

ACA International, Brightstar, PlayStation, PurseBlog
3. 1 MEDIA STUDIO
Next on the list is 1 MEDIA STUDIO, a firm that employs a cadre of social media consultants skilled in both organic and paid advertising solutions. The agency's approach to influencer marketing is a harmonious blend of old and new, taking the essence of celebrity endorsements and infusing it with modern, content-focused promotional techniques. 
Furthermore, since its inception in 2013, 1 MEDIA STUDIO has connected internet celebrities with high-profile names like HTC, Coca-Cola, and Nivea. The firm has garnered multiple accolades for its work and even extends the perk of complimentary SEO analysis for those contemplating utilizing its suite of services.
Headquarters:

Miami, FL

Founded:

2013

Email Address: [email protected]
Website:

https://1mediastudio.com

Phone Number:

+1 (561) 216-3342

Address:

14 NE 1st Ave #807, Miami, FL 33132, USA

Specialization:

Social Media Ads, SEO, Influencer Marketing

Clients:

Old Spice, Coca-Cola, Microsoft, HTC
4. YOUSEEMEMIAMI 
YOUSEEMEMIAMI is situated in Miami Beach, Florida, and specializes in proximity marketing. One of their key areas of focus is connecting businesses with influential figures. These individuals range from new voices in the industry to well-established personalities, all of whom share products or services with their followers on platforms like Instagram and Facebook.
The firm utilizes a blend of strategies in conjunction with its influencer campaigns, such as:
Link building

Press release distribution

Search engine optimization

Analysis of competing keywords
In addition to online activities, YOUSEEMEMIAMI has a strong presence at trade shows and events. They aim to generate buzz and maximize exposure for customers, targeting niche communities and establishing trust through celebrity endorsements.
Headquarters:

Miami Beach, FL

Founded:

2010

Email Address: [email protected]
Website:

https://youseememiami.com

Phone Number:

+1 (786) 262-0440

Address:

1515 Euclid Ave #206, Miami Beach, FL 33139, USA

Specialization:

Graphic Design, Web Design, SEO, Influencer Marketing, Photography, Video Production

Clients:

Hitachi, American Express, McDonald's, Bloomingdale's, Luxottica
5. Prufe
As a company that has worked on over 500 influencer marketing campaigns, Prufe distinguishes itself through a rigorous influencer selection process, scrutinizing metrics from follower count to engagement rates and credibility. Unlike automated systems, their team conducts this auditing manually, ensuring a level of accuracy that software applications cannot match. 
Regarding campaign management, Prufe employs sophisticated analytical tools to assess the efficacy of its initiatives. Key performance indicators (KPIs) such as public awareness and conversion statistics are closely monitored. Moreover, transparency is another focus area of their operation, as they openly share reports with their partners for mutual growth.
Headquarters:

Miami, FL

Founded:

2018

Email Address: [email protected]
Website:

https://prufe.com

Phone Number:

N/A

Address:

N/A

Specialization:

Full-Service Influencer Marketing Agency

Clients:

Undisclosed
6. Get Hyped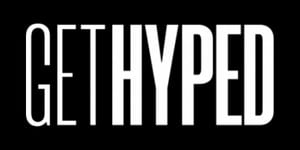 Get Hyped Media is known for its specialized promotional endeavors, particularly in lifestyle sectors like consumer electronics and culinary ventures. This agency doesn't confine its partnerships to a set roster of trendsetters. Instead, it scours multiple avenues, such as social media, blogs, and forums, to pinpoint the most fitting collaborators for each project, thus broadening the spectrum of choices. 
The company's influencer marketing solutions are multifaceted, covering a variety of formats, including sponsored posts, how-to videos, and product assessments. Additionally, Get Hyped Media takes quality control seriously. They have an internal team that scrutinizes and refines every piece of content before its public release. 
Headquarters:

Hartford, CT (serving Miami)

Founded:

2016

Email Address: [email protected]
Website:

https://gethypedmedia.com 

Phone Number:

+1 (860) 272-6644

Address:

100 Pearl Street, Floor 14 #1409, Hartford, CT 06103, USA

Specialization:

Social Media Advertising, Web Development, Content Creation, Influencer Marketing

Clients:

TP-Link, Trend Micro, Voyager, Cannalle
7. Hiller Agency
Up next, we have Hiller Agency, an award-winning multilingual public relations (PR) and advertising firm with offices in Miami and Los Angeles. Even though they are based in the US, the majority of their clientele is scattered across the globe. Additionally, they have served a variety of industries like record labels, fashion shops, technology, and the emerging fields of NFTs and cryptocurrencies. 
Moreover, Hiller Agency maintains an educational blog aimed at enlightening both fledgling ventures and well-established enterprises on how influencers can help elevate sales and other strategies for social media engagement.
Headquarters:

Aventura, FL (serving Miami)

Founded:

2020

Email Address: [email protected]
Website:

https://hilleragency.com

Phone Number:

+1 (310) 349-6170

Address:

17501 Biscayne Blvd, Aventura, FL 33160, USA

Specialization:

Content Marketing, PR, Influencer Marketing 

Clients:

Catch+Release, JetStream Federal Credit Union, NoFace Records, AnchorFree
8. Peersway
Established in 2017, Peersway focuses on forming alliances with nano-influencers. They collaborate with anyone who has a business account on Instagram and have garnered at least 1,000 followers. Upon joining, these individuals gain the opportunity to partner with a multitude of brands, primarily in the United States and Canada. In return for their contributions, the agency furnishes them with complimentary products and aids in their development as content producers. 
For enterprises, Peersway oversees the full spectrum of activities, from aligning companies with suitable creators to delivering monthly assessments of campaign efficacy. They present a tiered pricing structure, ranging from $1,750 to $12,500. These packages vary based on the number of trendsetters involved and the volume of posts to be disseminated.
Headquarters:

Oakville, ON (serving Miami)

Founded:

2017

Email Address: [email protected]
Website:

https://peersway.com

Phone Number:

+1 (647) 539-0605

Address:

61 Glenashton Drive, Oakville, ON L6H 7A1, Canada

Specialization:

Nano-Influencer Marketing

Clients:

Shoppers Drug Mart, Reko Pizzelle Strawberry, Duracell Optimum
9. Talent Resources
Talent Resources, a full-stack advertising firm, has over 16 years of experience in brand strategy and communications, as well as social media management and celebrity procurement. 
This company excels in creating immersive consumer experiences and compelling story-based content, leveraging unique insights into current digital trends. By partnering with culturally significant personalities, they enhance engagement and raise brand awareness to new heights.
Talent Resources also employs a core team with skills spanning marketing, digital media, and the entertainment sector, ensuring a well-rounded approach to each project. Plus, they provide in-depth analytics to measure the success of your campaigns and help you make data-driven decisions for future strategies.
Headquarters:

New York City, NY (serving Miami) 

Founded:

2007

Email Address: [email protected]
Website:

https://talentresources.com

Phone Number:

N/A

Address:

29 East 10th Street, 1st Floor, New York City, NY 10003, USA

Specialization:

PR, Brand Strategy, Social Media Management, Celebrity Procurement

Clients:

Dunkin' Donuts, The Children's Place, Weedmaps, Gymboree
10. Influency
Lastly, we have Influency, a global influencer agency that has a rich database of trendsetters spanning multiple sectors, such as healthcare, technology, and culinary arts. The agency excels in pinpointing individuals with significant reach and audience engagement.
Moreover, they manage every facet of the influencer marketing assignments, including:
Discovery of suitable partners

Designing the campaign

Execution of organic initiatives

Allocation of financial incentives

Continuous monitoring of partner activities
Influency also employs specialized customer relationship management (CRM) tools to keep tabs on each project's progress. This ensures a trajectory of consistent growth and encourages collaboration among all stakeholders.
Headquarters:

Fully Remote Company (serving Miami)

Founded:

N/A

Email Address:

N/A

Website:

https://influency.agency 

Phone Number:

N/A

Address:

N/A

Specialization:

Influencer Marketing, Performance Marketing, Paid Media, Content Marketing

Clients:

GNC, L'Oréal, TikTok, Motorola
Conclusion
So, there it is – a definitive e-guide highlighting the top influencer marketing agencies that Miami presents. Each of these holds its own prowess and has the potential to transform your brand into a phenomenon across social media. So go ahead, make that call. Your future viral campaign is just a conversation away!