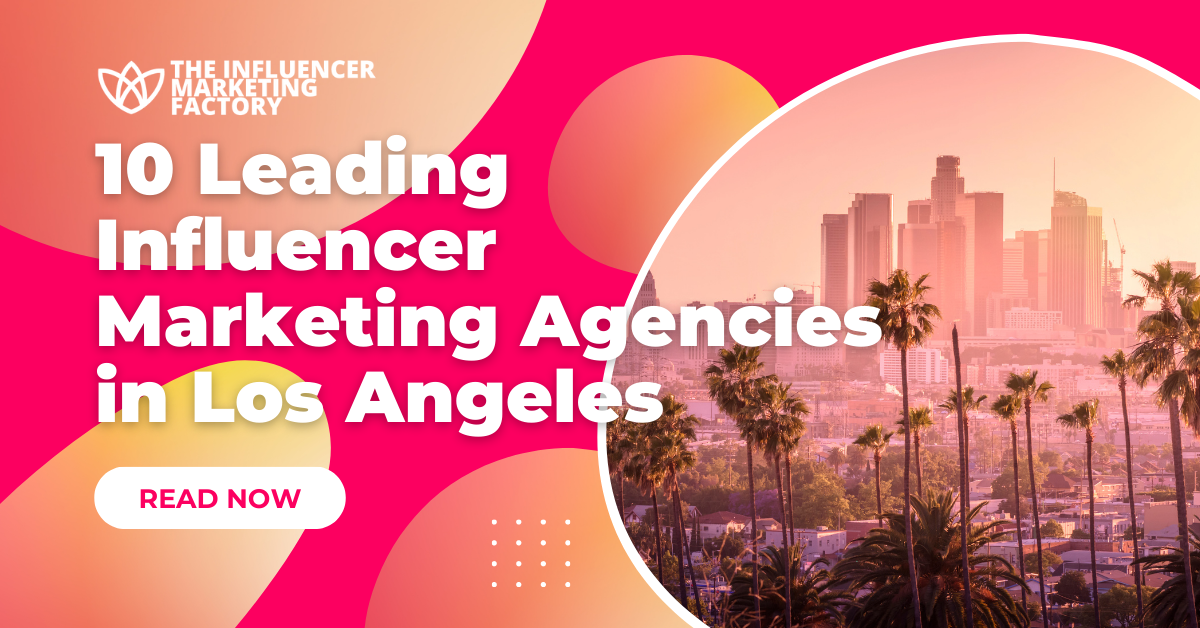 22 Aug

10 Leading Influencer Marketing Agencies in Los Angeles

In the dynamic world of social media, influencer marketing has emerged as a powerful tool for brands to connect with their audience. Los Angeles, a city synonymous with entertainment and innovation, stands at the forefront of this trend. Home to a plethora of talent, creativity, and cutting-edge strategies, it's no surprise that LA hosts some of the leading influencer marketing agencies in 2023. 

Notably, data suggests that 87% of consumers make a purchase after an influencer's endorsement. Hence, as influencer marketing continues to dominate the digital landscape, finding the right company in LA can make all the difference between a successful campaign and a missed opportunity. In this listicle, we've handpicked the top 10 influencer marketing firms that are making a significant impact in the industry. 
1. The Influencer Marketing Factory
Welcome to The Influencer Marketing Factory! In the dynamic realm of digital advertising, we stand out as a guiding light for brands eager to make a genuine mark. With a far-reaching global presence, we masterfully design scalable, authentic, and return on investment-driven (ROI) campaigns on platforms like TikTok, Instagram, and YouTube. Our approach is thorough: we start by deeply understanding a company's vision, mission, and objectives. We then zero in on the target audience, ensuring our campaigns genuinely connect with the intended demographics. 
Moreover, we handle all legal aspects seamlessly, with each influencer entering into a transparent agreement. But our efforts don't stop at reach; we emphasize content that truly engages the audience. And, importantly, we provide meticulous tracking for every campaign, granting clear insights into its efficacy.
But what makes The Influencer Marketing Factory unique from the competition? We meld all the white-glove services of an influencer marketing agency with a data-controlled approach to ROI, metrics, conversions, and KPIs (key performance indicators). 
Still in doubt? Let the accomplishments we've achieved for our clients do the talking:
Featuring TikTok's most well-known beauty influencer, Edward Zo, we achieved more than 35,600 clicks for Ren Skincare to raise brand awareness and drive conversions for Ren's Evercalm Rescue Mask.

We worked with 49 content creators to get more than 1,162,400 story impressions for BenQ to promote their portable projector GS2.

We discovered six TikTok creators based in the US with a cumulative reach of 42.8 million followers. Each of them crafted a unique TikTok video, incorporating the hashtag #VisitKoreaFromHome. This campaign resulted in a remarkable total of over 42,826,500 TikTok followers among them.
Ready to get started? Click here to get in touch with our dedicated team at The Influencer Marketing Factory and see how we can assist your business's exposure and success today!
Headquarters:

Miami, FL (serving LA)

Founded:

2018

Email Address:

[email protected]

 

Phone Number:

(800) 469-9753

Address:

66 West Flagler Street, Suite 900 – #1178, Miami, FL 33130, USA

Specialization:

Global

Influencer Marketing, ROI-Oriented Campaigns, Paid Advertising 

Clients:

Envato, Ablo, Warner Music Group, Gismart, FinTron Invest
2. PopShorts
PopShorts aims to evolve brand strategies for success in the social media age. The company's foundation is built on creating significant social media experiences that connect brands with consumers. Over the years, PopShorts has expanded its reach, working with some of the world's leading companies, agencies, and studios. Their methodology combines data with creativity to develop tactics targeting specific audiences. PopShort's services encompass various aspects of social media marketing (SMM), from strategy formulation to in-depth reporting and analysis. They have received recognition in the form of numerous awards and rankings for their contributions to the industry.
Headquarters:

Newport Beach, CA (serving LA)

Founded:

2013

Email Address: [email protected]
Website:

https://popshorts.com/

Phone Number:

N/A

Address:

3115 Villa Way, Newport Beach, CA 92663-3823, USA

Specialization:

Crafting Meaningful Social Media Experiences

Clients:

Lionsgate, Ford, Colorado Crisis Services
3. MoreInfluence
The following agency on our roster, MoreInfluence, is a skilled organization that links brands with the contemporary digital audience. Specifically, they match the target audience with relevant influencers, giving clients access to influencers' target demographics to find the perfect match for their campaigns. They also provide extensive reporting, analytics, and metrics, including tracking visits, clicks, and custom promo-code usage, to calculate the ROI of the campaign. Founded in 2021 by three strategic experts, they revitalized a nine-year-old veteran agency, giving it a fresh identity. With a team that includes diverse expertise, MoreInfluence promises creativity, accuracy, and comprehensiveness in every project.
Headquarters:

Eatontown, NJ (with offices in LA)

Founded:

2021

Email Address:

N/A

Website:

https://moreinfluence.com/

Phone Number:

213-474-1595

Address:

N/A

Specialization:

Blend of Traditional Marketing and Modern Influencer Tactics for Millennial and GenZ Audiences

Clients:

Undisclosed
4. HireInfluence 
Since its inception in 2011, award-winning agency HireInfluence has been managing Fortune 500 marketing objectives. Their primary service offering revolves around delivering growth by combining intelligence with 360 capabilities. Their team, distributed across the US and Canada, brings together over 150 years of total integrated advertising experience. This vast knowledge base is illustrated in the breadth of HireInfluence's client base, which includes sectors from airlines to coffee brands and footwear retailers. Among its offerings are paid media management solutions, creative talent sourcing and placement, and strategic content amplification.
Headquarters:

Houston, TX (with offices in LA)

Founded:

2011

Email Address: [email protected]
Website:

https://hireinfluence.com/

Phone Number:

(800) 535-4732

Address:

3415 South Sepulveda, Suite 1100, Los Angeles, CA 90034, USA

Specialization:

Strategic Influencer Marketing Campaigns for Diverse Industries

Clients:

Ricola, Gold Toe, Community Coffee
5. MOSTLY SUNNY

MOSTLY SUNNY, based in Hollywood, operates as an agency that bridges the gap between brands and the right personalities, aiming to reach a broad spectrum of consumers. The firm's core belief is in the authenticity of real individuals sharing brand narratives, all of which are supported by verifiable data. They provide a suite of services to companies, encompassing immersive storytelling, expanding audience reach, and crafting impactful digital campaigns. Furthermore, they produce an array of visual content types, ensuring businesses achieve visibility across diverse platforms. MOSTLY SUNNY's overarching mission is to humanize brands in the modern landscape, consistently delivering creative solutions firmly rooted in data.
Headquarters:

Los Angeles, CA

Founded:

2015

Email Address: [email protected]
Website:

https://mostlysunny.co/

Phone Number:

(888) 786-6978

Address:

6121 Sunset Blvd, Hollywood, CA 90028, USA

Specialization:

Bridging Brands With Influencers for Data-Supported Storytelling

Clients:

Hollywood Bowl, American Express, RVCA
6. C/C/G
C/C/G emphasizes a combination of strategic focus and creative drive to provide digital marketing solutions. Their services encompass a broad spectrum, from aiding consumer packaged goods brands in expanding their reach to designing virtual social experiences aimed at engaging consumers. Additionally, C/C/G assists clients in establishing a distinct voice and visual identity for their company. One of their notable areas of expertise is content creation, where they manage the entire process from conceptualization to execution, ensuring that the content is suitable for various platforms.
Headquarters:

Los Angeles, CA

Founded:

2007

Email Address: [email protected]
Website:

https://ccg.la/

Phone Number:

(310) 800-2631

Address:

10000 Washington Blvd, Los Angeles, CA 90232, USA

Specialization:

Digital Marketing With an Emphasis on Social Media Marketing and Content Creation

Clients:

Johnny Doodle, La Brea Bakery, Ty Beanie Babies
7. Alkimiads
Navigating the digital realm, Alkimiads offers a platform for brands to establish genuine virtual connections. With operations across the US, Latin America, and Europe, they emphasize the importance of authentic content. Their methodical approach has facilitated collaborations with well-known names such as Colgate, P&G, and Pepsi. With a history spanning over a decade, they have refined their methodologies, adopting strategies that align with current market needs. Moreover, Alkimiads' extensive network comprises over 400 influencers across 30 market niches. As official TikTok creative partners, they leverage the platform's young and engaged audience to benefit their clients.
Headquarters:

Miami, FL (serving LA)

Founded:

N/A

Email Address: [email protected]
Website:

https://alkimiads.com/

Phone Number:

(786) 614-1727

Address:

2100 Coral Way, PH 704, Miami, Florida 33145, USA

Specialization:

Facilitating Authentic Brand-Audience Connections Through Influencer Collaborations

Clients:

PlayStation, Ford
8. Runway Influence
Runway Influence is located in the vibrant heart of LA, offering a range of services, including talent booking, content development, competitor targeting, and project management. They focus on booking the most relevant and prominent model influencers to promote top destinations, luxury venues, and high-end brands and products. Their mission is to amplify a brand's message and produce visually stunning content that engages with their audience. To this end, they offer video and photo shoot production for e-commerce, social media, and print. Over the years, Runway Influence has collaborated with several companies, significant names among them being Adidas, McLaren Automotive, and VIVAIA. 
Headquarters:

Los Angeles, CA

Founded:

N/A

Email Address: [email protected]
Website:

https://runwayinfluence.com/

Phone Number:

(800) 510-4564

Address:

6600 Sunset Blvd., Los Angeles, CA 90028, USA

Specialization:

Comprehensive Social Media Campaigns and Brand Activations

Clients:

Heineken, Lexus, Gatorade
9. Be Social
Be Social is a virtual communications group with an established presence in the industry. Their primary emphasis is all about creating connections and getting people talking. They focus on garnering digital awareness through influencers, media, collaborations, and experiences. They also provide a platform for digital talents looking to strategize and monetize their presence. Their methodical approach ensures that campaigns, whether influencer-based or media-driven, are carried out with attention to detail. Along with strategy and influencer casting, they also analyze data to ensure the effectiveness of their experiential campaigns. 
Headquarters:

Los Angeles, CA

Founded:

2012

Email Address: [email protected]
Website:

https://besocialpr.com/

Phone Number:

(213) 293-9144

Address:

1840 Century Park E, Floor 2, Los Angeles, CA 90067, USA

Specialization:

Digital Communications With an Emphasis on Influencer Outreach and Collaboration

Clients:

Tone It Up, H&M
10. inCast
Navigating the influencer marketing landscape, inCast offers a range of services for brands seeking to collaborate with global public figures. They emphasize the development of global campaigns that aim for a balanced ROI. Their scope of work includes managing various campaigns, content, and establishing relationships with a spectrum of creators, from micro-influencers to well-known celebrities. A notable feature they provide is the self-serve inCast Performance Tracker, which measures conversions and ROI. Additionally, their partnership with TikTok indicates their adaptability and relevance in the current evolving digital age.
Headquarters:

Los Angeles, CA

Founded:

2015

Email Address: [email protected]
Website:

https://incast.me/

Phone Number:

(310) 498-4030

Address:

145 South Fairfax Avenue, Office 350, Los Angeles, CA 90036, USA

Specialization:

Development of Global Influencer Marketing Campaigns Aiming for ROI Balance

Clients:

Visa, Uber, Rappi
Final Thoughts
In the dynamic world of ever-evolving social media trends, Los Angeles stands as a hub of innovation, creativity, and unparalleled expertise. As brands increasingly recognize the power of these collaborations, the city's influencer marketing agencies rise to the challenge, offering tailored solutions that resonate with diverse audiences. These firms, with their finger on the pulse of transforming trends, are adept at crafting campaigns that not only engage but also deliver measurable results. Hence, for brands aiming to make a mark in the online realm, partnering with an LA-based influencer marketing agency can be the key to unlocking unprecedented growth and visibility.