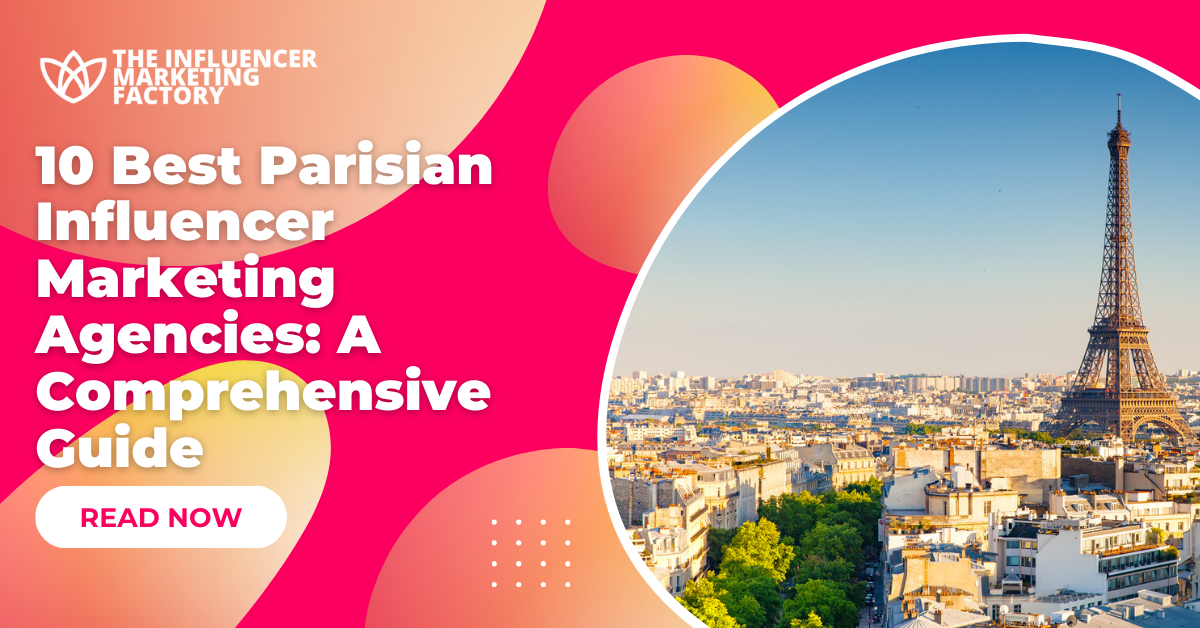 01 Sep

10 Best Parisian Influencer Marketing Agencies: A Comprehensive Guide

Paris, known for its rich culture and innovation, is also home to some of the leading firms specializing in influencer marketing. These companies play a crucial role in bridging the gap between businesses and their target demographics. This article provides an in-depth look into these Paris-based agencies' strategies and success stories without focusing on buzzwords or marketing jargon. 
1. The Influencer Marketing Factory

Welcome to The Influencer Marketing Factory! In the dynamic realm of digital advertising, we stand out as a guiding light for brands eager to make a genuine mark. With a far-reaching global presence, we masterfully design scalable, authentic, and return-on-investment-driven (ROI) campaigns on platforms like TikTok, Instagram, and YouTube. Our approach is thorough: we start by deeply understanding a company's vision, mission, and objectives. We then zero in on the target audience, ensuring our campaigns genuinely connect with the intended demographics. 
Moreover, we handle all legal aspects seamlessly, with each influencer entering into a transparent agreement. But our efforts don't stop at reach; we emphasize content that truly engages the audience. And, importantly, we provide meticulous tracking for every campaign, granting clear insights into its efficacy.
But what makes The Influencer Marketing Factory unique from the competition? We meld all the white-glove services of an influencer marketing agency with a data-controlled approach to ROI, metrics, conversions, and KPIs (key performance indicators). 
Still in doubt? Let the accomplishments we've achieved for our clients do the talking:
Featuring TikTok's most well-known beauty influencer, Edward Zo, we achieved more than 35,600 clicks for Ren Skincare to raise brand awareness and drive conversions for Ren's Evercalm Rescue Mask.

We worked with 49 content creators to get more than 1,162,400 story impressions for BenQ to promote their portable projector GS2.

We discovered six TikTok creators based in the US with a cumulative reach of 42.8 million followers. Each of them crafted a unique TikTok video, incorporating the hashtag #VisitKoreaFromHome. This campaign resulted in a remarkable total of over 42,826,500 TikTok followers among them.
Ready to get started? Click here to get in touch with our dedicated team at The Influencer Marketing Factory and see how we can assist your business's exposure and success today!
Headquarters:

Miami, FL, USA (serving Paris)

Founded:

2018

Email Address:

[email protected]

 

Phone Number:

+1 (

800) 469-9753

Address:

66 West Flagler Street, Suite 900 – #1178, Miami, FL 33130, USA

Specialization:

Global

Influencer Marketing, ROI-Oriented Campaigns, Paid Advertising 

Clients:

Envato, Ablo, Warner Music Group, Gismart, FinTron Invest
2. Reech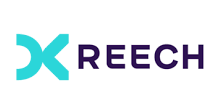 With a team of 60 employees, Reech is a company specializing in influencer marketing solutions. Their Influence Cloud system adapts to each business's needs. It enables brands and agencies to benchmark against competitors, identify suitable trendsetters, establish partnership frameworks, assess ROIs, and boost the best content. 
Reech Amplify™ is another feature developed by Reech that focuses on optimizing content. It is designed to enhance visibility by incorporating media buys into the media produced by influencers, especially on platforms such as Facebook and Instagram. Amplify™ allows agencies to target precise audiences and manage intellectual property rights.
Headquarters:

Paris, France

Founded:

2015

Email Address: [email protected]
Website:

https://reech.com/en/

Phone Number:

+33 01 84 20 24 89

Address:

76 Rue du Faubourg Saint Denis, 75010 Paris, France

Specialization:

Influence Marketing

Clients:

Unilever, Deezer, Square Enix
3. TANKE
TANKE focuses on producing media with engaging storytelling to make brands stand out. Their approach includes working with content creators to build authentic and intuitive initiatives that align with the target audience's preferences and the latest social network trends.
TANKE provides a range of support, including:
Consulting & Strategy

: Custom-made activation plans are developed closely with clients and shaped by market insights.

Campaign Management

: From ideation to final implementation and reporting, TANKE manages the entire process, identifying the best people for each brand.
Additionally, TANKE's proprietary technology enables them to scale from macro-influencer programs to micro-trendsetter promotions.
Headquarters

: Paris, France

Founded

: 2014

Email Address

:

[email protected]
Website

: https://tanke.fr/en/

Phone Number

: +33 01 84 25 06 01

Address

: 110 Rue du Faubourg Poissonnière, 75010 Paris, France

Specialization

: Influencer Strategies, Including Creative Approach, Consulting, Campaign Management, and Data & Analysis

Clients

: GUCCI, Niantic, Kia
4. WOÔ
Founded in Paris in 2015, WOÔ (With Our Originality) has expanded to Shanghai and London and acquired other companies to enrich its offerings. WOÔ has a diverse clientele, ranging from large corporations to small businesses, totaling over 800 firms.
WOÔ's approach towards influencer marketing includes various platforms, such as TikTok, Twitch, and Instagram, and they adjust their strategies based on the specific challenges presented. They employ tools like brand content, social ads, and events to ensure maximum visibility, engagement, and website traffic. They also emphasize ethical campaign management. 
Headquarters:

Paris, France

Founded:

2015

Email Address: [email protected]
Website:

https://woo.paris

Phone Number:

+33 01 86 64 00 06

Address:

11 Ave Parmentier, 75011 Paris, France

Specialization:

Influencer Marketing, Social Media Management, Brand Content Creation, Ethical Practices, Technology Utilization, Strategic & Training Services

Clients:

Citeo, Lancaster, Panasonic
5. TRENDS paris
TRENDS paris has a robust network of several thousand influencers across diverse fields such as fashion, lifestyle, beauty, urban culture, and food. They work with personalities of all sizes, recognizing the unique strengths of different demographics and ensuring that none are overlooked.
The agency's approach includes understanding the target and selecting suitable profiles based on their identity and the brand's requirements. TRENDS paris works closely with their clients to find a strategy that resonates with their communities. Another area they focus on is guerilla marketing. This method involves micro-influencers, individuals who boast a highly engaged audience across various social platforms despite having a smaller following.
Headquarters:

Paris, France

Founded:

2016

Email Address: [email protected]
Website:

https://trends.paris/en/

Phone Number:

+33 01 73 70 43 01

Address:

44 Rue La Fayette, 75009 Paris, France

Specialization:

Comprehensive Communications, Press Relations, Content & Strategy

Clients:

PUMA France, Hoka,

Dräger
6. Follow
Follow is a Paris-based company founded in 2016 by four friends. Within seven years, Follow has grown to support hundreds of clients in diverse industries, such as Zalando and Samsung. Their core focus is on the following: 
Strategic Guidance

: Follow helps partners devise influencer-centric digital communication strategies, ensuring optimal engagement and reach.

Content Production

: With a studio and an artistic team, they help influencers produce material tailored to their unique voice and audience.
In one notable case study, they helped Maybelline launch their "Press Play" digital campaign by crafting an initiative that embraced life's vivid moments and showcased the quality of the brand's offerings. 
Headquarters

: Paris, France

Founded

: 2016

Email Address: [email protected]
Website

: https://foll-ow.com

Phone Number

: +3

3 01 75 43 43 44

Address

:

5 Rue Saulnier, 75009 Paris, France

Specialization

: Talent Management, Influencer Marketing

Clients

: PUMA, Garnier, Samsung
7. InfluenZZZ
InfluenZZZ has developed a considered approach to building strong brands around active communities. Their expertise extends to both B2C and B2B sectors, integrating strategies that combine different aspects of online engagement.
With a focus on platforms like YouTube, TikTok, and Instagram, they help businesses grow through influencer marketing. For instance, on YouTube, InfluenZZZ identifies various media types, from vloggers sharing their daily lives to gamers offering insights into the latest video games and connecting them with brands who want to target their audience demographic. An example of how they've helped companies is when the agency assisted Soleil des îles in establishing an ambassadorship with a personality to advance a new range of sun protection products.
Headquarters

: Paris, France

Founded

: 2015

Email Address

:

[email protected]
Website

: https://influenzzz.fr/ 

Phone Number

: +33 09 72 55 11 60

Address

: 133 bis Rue de l'Université, 75007 Paris, France

Specialization

: Strategic Influence Planning, Content Development, Social Media Management

Clients

: Carrefour, Tomorrowland, Canon France
8. HotMango
Assisting partners in enhancing their image, promoting products, or introducing new brands through platforms such as Instagram, Facebook, and TikTok is the main focus of HotMango. One of the key aspects of HotMango's approach is using various media types to stimulate engagement. They employ a self-proclaimed "fruity" communication style, aiming to captivate the minds of their target audience.
HotMango's support includes helping clients become more visible in their digital space and interact with highly engaged online personalities. They also help companies launch new products, services, or labels. 
Headquarters:

Paris, France

Founded:

N/A

Email Address:

N/A

Website:

https://hotmango.fr/   

Phone Number:

+33 01 76 39 10 20

Address

: 42 Rue de Maubeuge, 75009 Paris, France

Specialization:

Influencer Marketing on TikTok, Facebook, and Instagram

Clients:

L'Oréal

Paris, Rakuten, Philips
9. Findly
Findly is a firm that focuses on the development and execution of tailored influencer strategies. Their services include a creative package customized to meet the specific goals of brands, ensuring a harmonized approach to marketing. The company ensures the selection of reliable influencers, providing access to performance statistics for each profile. Their real-time tracking system allows clients to monitor the progress of their projects, with regular analysis and reporting by Findly's expert team.
They also offer a marketplace for trendsetters, allowing clients to create and distribute campaigns. The platform guides customers through the process, from creation to receiving relevant applications from micro-influencers.
Headquarters:

Paris, France

Founded:

2019

Email Address: [email protected]
Website:

https://findly.co/

Phone Number:

+33 01 84 60 18 46

Address:

21 Rue du Faubourg du Temple, 75010 Paris, France

Specialization:

Tailored Influencer Strategies

Clients:

Decathlon, Dott, Sodebo
10. Clark Influence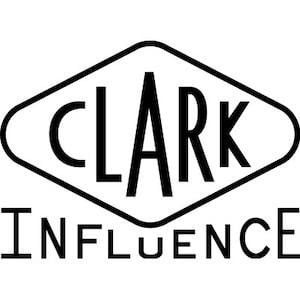 With a team of 49 experts, Clark Influence specializes in various areas of influencer marketing, such as strategy, storytelling, talent sourcing, concept development, design, editorial and production, social media management, experiential and event promotion, and brand amplification. The firm operates in diverse sectors, including food and drinks, sports, animal welfare, travel and tourism, art and culture, and more. One of the notable projects undertaken by Clark Influence was a collaboration with Air France, aimed at associating the airline with gastronomy, culinary art, and tableware. Their campaign generated over 500,000 impressions, a radio presence on Rythme FM, 5,203 contest entries, and more than 17,000 engagements.
Headquarters:

Montreal, Canada (with an office in Paris)

Founded:

2017

Email Address: [email protected]
Website:

https://clarkinfluence.com/en

Phone Number:

+33 07 67 51 90 38

Address:

33 Rue La Fayette, 75009 Paris, France

Specialization:

Strategy, Social Media Management, Event Marketing

Clients:

Belvedere Vodka, NBA, Air France
Final Thoughts
The landscape of online outreach in Paris is both diverse and dynamic. With many agencies offering unique approaches to engagement, the city stands as a hub for innovation in this field. As the digital world continues to evolve, so will the strategies employed by these Parisian firms, ensuring they remain at the forefront of connecting businesses with their desired demographics.