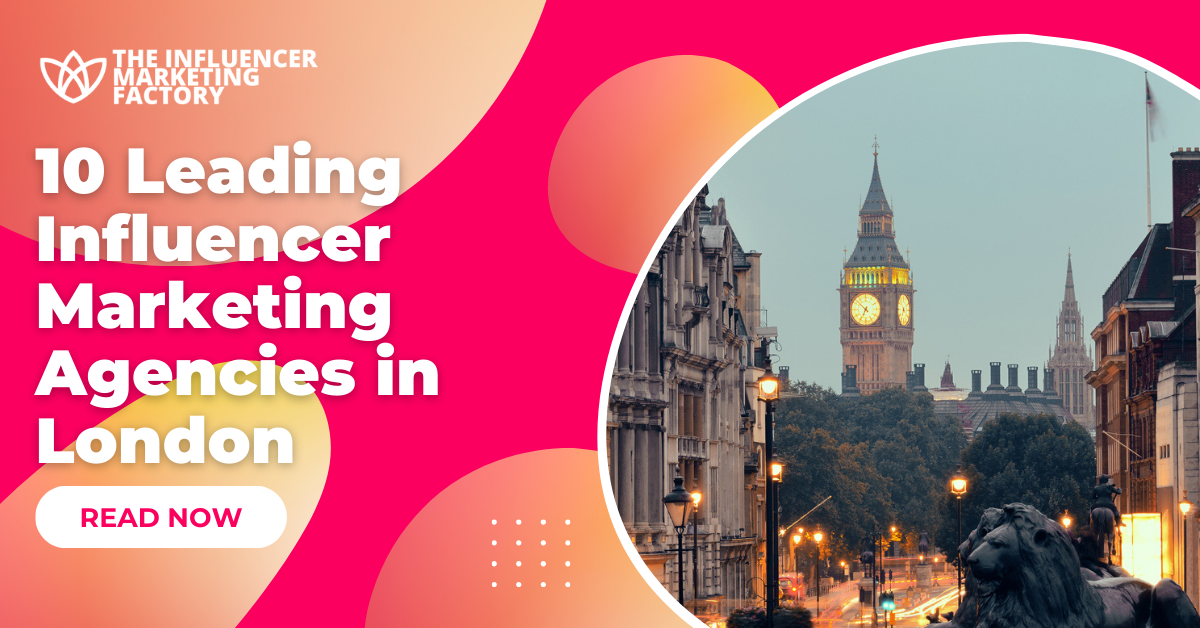 01 Sep

10 Leading Influencer Marketing Agencies in London

London, a global hub for creativity and innovation, is home to some of the world's most renowned influencer marketing agencies. But with so many options, how do you discern the truly exceptional from the merely good? Our meticulously curated list shines a spotlight on the ones that have consistently delivered outstanding results, bridging brands with influential voices. Let's explore the LDN agencies that are not just shaping conversations but defining the future of influencer marketing.
1. The Influencer Marketing Factory

Welcome to The Influencer Marketing Factory! In the dynamic realm of digital advertising, we stand out as a guiding light for brands eager to make a genuine mark. With a far-reaching global presence, we masterfully design scalable, authentic, and return on investment-driven (ROI) campaigns on platforms like TikTok, Instagram, and YouTube. Our approach is thorough: we start by deeply understanding a company's vision, mission, and objectives. We then zero in on the target audience, ensuring our campaigns genuinely connect with the intended demographics. 
Moreover, we handle all legal aspects seamlessly, with each influencer entering into a transparent agreement. But our efforts don't stop at reach; we emphasize content that truly engages the audience. And, importantly, we provide meticulous tracking for every campaign, granting clear insights into its efficacy.
But what makes The Influencer Marketing Factory unique from the competition? We meld all the white-glove services of an influencer marketing agency with a data-controlled approach to ROI, metrics, conversions, and KPIs (key performance indicators). 
Still in doubt? Let the accomplishments we've achieved for our clients do the talking:
Featuring TikTok's most well-known beauty influencer, Edward Zo, we achieved more than 35,600 clicks for Ren Skincare to raise brand awareness and drive conversions for Ren's Evercalm Rescue Mask.

We worked with 49 content creators to get more than 1,162,400 story impressions for BenQ to promote their portable projector GS2.

We discovered six TikTok creators based in the US with a cumulative reach of 42.8 million followers. Each of them crafted a unique TikTok video, incorporating the hashtag #VisitKoreaFromHome. This campaign resulted in a remarkable total of over 42,826,500 TikTok followers among them.
Ready to get started? Click here to get in touch with our dedicated team at The Influencer Marketing Factory and see how we can assist your business's exposure and success today!
Headquarters:

Miami, FL, USA (serving London)

Founded:

2018

Email Address:

[email protected]

 

Phone Number:

+1

(800) 469-9753

Address:

66 West Flagler Street, Suite 900 – #1178, Miami, FL 33130, USA

Specialization:

Global

Influencer Marketing, ROI-Oriented Campaigns, Paid Advertising 

Clients:

Envato, Ablo, Warner Music Group, Gismart, FinTron Invest
2. TAKUMI

TAKUMI's platform provides a fully managed service, aiming to bridge the gap between brands and public figures on a global scale. One of the core services offered by Takumi is the activation of creators to implement influencer marketing campaigns. They also emphasize the rapid production of in-market content, positioning themselves as an alternative to traditional production avenues. Furthermore, TAKUMI integrates creator content and audience data to enhance the efficacy of paid social campaigns. TAKUMI's technological infrastructure reflects the changing dynamics of consumer decision-making, indicating a shift towards influencer-led content in the contemporary advertising landscape.
Headquarters:

London, UK

Founded:

2015

Email Address: [email protected]
Website:

https://takumi.com/

Phone Number:

N/A

Address:

86-90 Paul Street, 3rd Floor, London, EC2A 4NE, UK

Specialization:

Global Activation of Creators For Influencer Marketing Campaigns

Clients:

Bud Light, Uber, Mercedes-Benz
3. Disrupt Marketing
Our next pick, Disrupt Marketing, emphasizes the transformative power of performance-driven influencer marketing. They believe in more than just product placements and endorsements; they prioritize genuine human connections and peer-to-peer recommendations. Their services encompass a wide range, from producing large-scale, creative campaigns with influencers that lead to both conversations and conversions, to planning and managing targeted paid social campaigns across various platforms. They also reinforce the importance of storytelling, crafting multi-channel native content that captures attention. Additionally, Disrupt Marketing optimizes a brand's social media presence, turning mere followers into dedicated fans. Their team is described as creative disruptors, knowledgeable about various platforms, including Instagram, Twitch, and YouTube.
Headquarters:

London, UK

Founded:

2010

Email Address: [email protected]
Website:

https://disruptmarketing.co/

Phone Number:

+44

084 5004 6012

Address:

Tomorrow Clubhouse, 22 Charterhouse Square, London, EC1M 6DX, UK

Specialization:

Performance-Driven Influencer Campaigns With a Focus On Authentic Connections

Clients:

gofrendly, Vinted, Admiral
4. REDPILL
REDPILL's services focus on performance-driven influencer marketing. Their approach diverges from traditional management and content creation, aiming instead to meet specific business objectives and acquisition goals. The firm has been recognized as the 'Influencer Marketing Agency of the Year' for two consecutive years. REDPILL's methodology involves partnering with influencers who meet rigorous data criteria concerning brand safety, engagement, and follower authenticity. They collaborate with them to develop concepts that aim to be genuine for both the client and the audience. Additionally, they utilize tools like RED_BOOST™ and RED_TECH™ to measure and enhance ROI.
Headquarters:

London, UK

Founded:

2009

Email Address:

N/A

 

Website:

https://redpill.co/

Phone Number:

N/A

Address:

Unit 4.01, The Tea Building, 56 Shoreditch High Street, London, E1 6JJ, UK

Specialization:

Performance-Driven Influencer Partnerships With an Emphasis on Authentic Content and ROI Measurement

Clients:

Bacardi, Coca-Cola, Volvo Cars
5. Make Honey
Headquartered in London, Make Honey is adept at identifying and engaging digital superstars to amplify word-of-mouth buzz for companies. Recognizing the shift from traditional celebrities to today's social media influencers, they harness the power of these digital personalities for impactful promotion. Their services encompass actively nurturing influencer relations, deeply comprehending brand values, and categorizing influencer identification based on brand relevance and follower count. Make Honey emphasizes real-time monitoring across platforms, meticulous campaign management, and offers consultancy services for those keen on better understanding the landscape. 
Headquarters:

London, UK

Founded:

2018

Email Address: [email protected]
Website:

https://makehoney.com/

Phone Number:

+44 020 3488 4253

Address:

Rivington House, 82 Great Eastern Street, London, EC2A 3JF, UK

Specialization:

Holistic Influencer Engagement With a Focus on Brand Value Understanding and Real-Time Campaign Monitoring

Clients:

ZHIYUN
6. CEEK Marketing
CEEK Marketing views influencer marketing as the digital counterpart to word-of-mouth. With a robust network of industry-specific figures, CEEK meticulously manages online reputations for a diverse clientele. Their comprehensive services include detailed ROI analysis, strategy formulation, content creation, and campaign execution. A standout feature of their methodology is influencer relationship management (IRM). This concerns continuous, meaningful engagement with celebrities across various scales, from local to macro. Additionally, CEEK underscores the importance of amplifying content produced by influencers, considering it a cornerstone in today's advertising world.
Headquarters:

London, UK

Founded:

2016

Email Address: [email protected]
Website:

https://ceek.co.uk/

Phone Number:

+44 020 8610 7070

Address:

4th Floor, 120 Charing Cross Road, London, WC2H 0JR, UK

Specialization:

Emphasis on IRM Within Influencer Marketing

Clients:

Twisted London, Oatopia, Carte Noire
7. VERB Brands
Operating within the influencer marketing sector, VERB Brands places a distinct focus on the luxury market. They engage closely with various stakeholders, aiming to align business objectives with influencer partnerships. Their systematic approach involves the careful selection of public figures, ensuring a match with business values and objectives. With established relationships within this domain, VERB Brands offers guidance on effective brand-influencer collaborations. The company's comprehensive oversight of marketing campaigns encompasses stages such as initial mapping, co-creation, partnerships, tracking, and performance measurement, ensuring a cohesive and effective campaign execution.
Headquarters:

London, UK

Founded:

2013

Email Address: [email protected]
Website:

https://verbbrands.com/

Phone Number:

+44 020 8977 2994

Address:

The Bard, 20 Curtain Road, London, EC2A 3NF, UK

Specialization:

Comprehensive Oversight of Luxury Influencer Marketing Campaigns

Clients:

Aston Martin, The Ritz London, Roja Parfums
8. iNeedSocial

iNeedSocial offers a comprehensive suite of services to bridge brands with influential content creators. Their expertise spans roughly a decade, having successfully delivered over 3,000 projects for a diverse clientele. Their approach is holistic: from identifying the perfect influencer that aligns with a brand's targets to crafting impactful content, managing campaigns, and providing real-time monitoring for optimization. Post-campaign, they delve deep into metrics, moving beyond superficial numbers to truly understand their work's results. iNeedSocial's platform also facilitates seamless collaboration between companies and a vast network of over 18,000 creators, ensuring tailored solutions for every project need.
Headquarters:

London, UK

Founded:

2014

Email Address: [email protected]
Website:

https://ineedsocial.co.uk/

Phone Number:

+44 020 3811 6605

Address:

15 Bishopsgate, London, EC2N 3AR, UK

Specialization:

Bridging Brands With Influential Content Creators for Impactful Campaigns

Clients:

Virgin Media, Seef Dental, Blakewells
9. IMA
With a history spanning a decade, IMA has experience across many industries. One of the agency's distinguishing features is its influencer matchmaking process, which aims to align public figures with a company's specific goals. They offer a full range of services, from strategy development to campaign execution, supported by detailed reporting. IMA's in-house team includes specialists in various fields, such as strategy, production, and digital marketing analysis. Additionally, the agency maintains a database of over 19 million influencers across thousands of niches and hundreds of markets, providing demographic insights to assist brands in making informed decisions.
Headquarters:

Amsterdam, The Netherlands (with offices in London)

Founded:

2013

Email Address: [email protected]
Website:

https://imagency.com/

Phone Number:

+44 020 7440 3580

Address:

42 St John St Clerkenwell, London, EC1M 4DL, UK

Specialization:

Influencer Matchmaking With a 19 Million+ Influencer Database

Clients:

HelloFresh, Paramount Pictures, Diesel
10. Moburst
Moburst is a company that specializes in influencer partnerships, placing a strong emphasis on performance-based results such as sales and installs. The firm diverges from traditional metrics like brand awareness, aiming for more tangible outcomes. They handle various aspects of influencer campaigns, from developing briefs and key messages to repurposing content for multiple uses. This approach is designed to streamline the creative process and make it more cost-efficient. Moburst employs a data-driven method for selecting public figures, ensuring an optimal fit with a brand's objectives. They also provide comprehensive reporting services, featuring weekly and monthly updates based on pre-established KPIs.
Headquarters:

New York, NY, USA (with offices in London)

Founded:

2013

Email Address: [email protected]
Website:

https://moburst.com/

Phone Number:

+1 (408) 412-3472

Address:

7 Bell Yard, London, WC2A 2JR, UK

Specialization:

Emphasis on Performance-Based Results in Influencer Partnerships

Clients:

Reddit, Abide, Samsung
Final Thoughts
In the realm of influencer marketing, London emerges as a beacon of innovation and expertise. The city's agencies, with their finger on the pulse of contemporary trends, are redefining the boundaries of digital outreach. Their adeptness in weaving narratives and forging genuine connections positions them at the forefront of this dynamic industry. For brands seeking to make a mark in the digital sphere, the capital offers a blend of creativity and strategic insight that's hard to match. As the influencer landscape continues to evolve, LDN's agencies stand ready to guide brands through the ever-shifting terrain with finesse and vision.