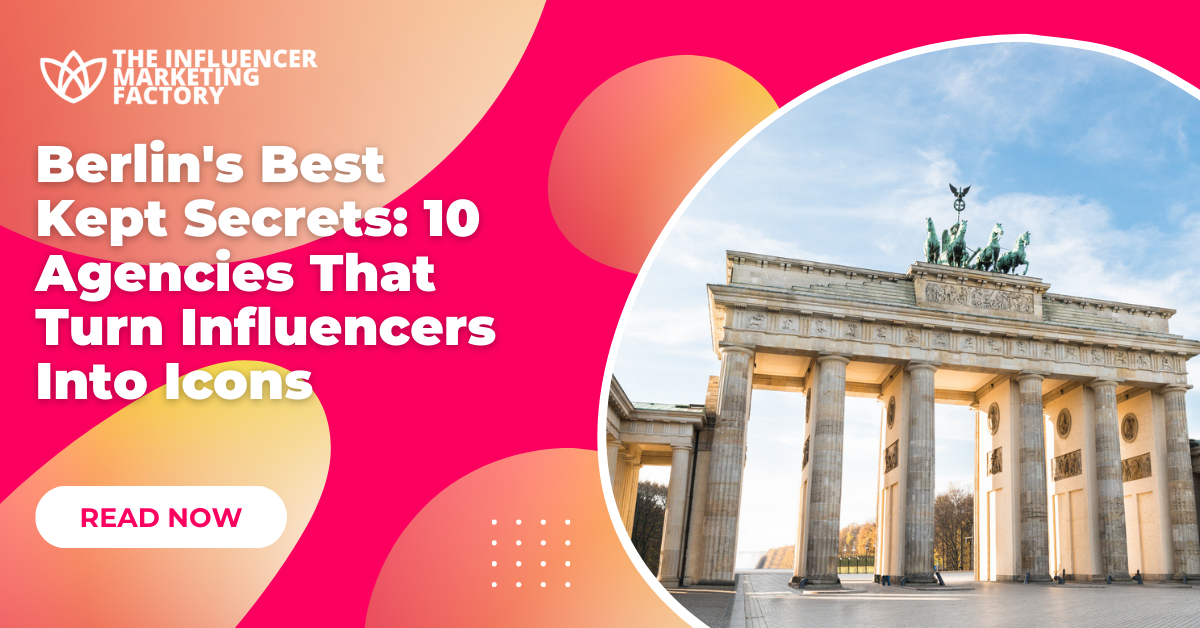 01 Sep

Berlin's Best Kept Secrets: 10 Agencies That Turn Influencers Into Icons

Berlin, a city known for its rich history and vibrant culture, is now also at the core of a digital renaissance. But we're not talking about just any form of online marketing; we're talking about the kind that turns everyday people into online sensations. Curious? Intrigued? You should be. Buckle up as we unveil the top 10 Berlin influencer marketing agencies that are the puppet masters of this digital theater.
1. The Influencer Marketing Factory

Welcome to The Influencer Marketing Factory! In the dynamic realm of digital advertising, we stand out as a guiding light for brands eager to make a genuine mark. With a far-reaching global presence, we masterfully design scalable, authentic, and return-on-investment-driven (ROI) campaigns on platforms like TikTok, Instagram, and YouTube. Our approach is thorough: we start by deeply understanding a company's vision, mission, and objectives. We then zero in on the target audience, ensuring our campaigns genuinely connect with the intended demographics. 
Moreover, we handle all legal aspects seamlessly, with each influencer entering into a transparent agreement. But our efforts don't stop at reach; we emphasize content that truly engages the audience. And, importantly, we provide meticulous tracking for every campaign, granting clear insights into its efficacy.
But what makes The Influencer Marketing Factory unique from the competition? We meld all the white-glove services of an influencer marketing agency with a data-controlled approach to ROI, metrics, conversions, and KPIs (key performance indicators). 
Still in doubt? Let the accomplishments we've achieved for our clients do the talking:
Featuring TikTok's most well-known beauty influencer, Edward Zo, we achieved more than 35,600 clicks for Ren Skincare to raise brand awareness and drive conversions for Ren's Evercalm Rescue Mask.

We worked with 49 content creators to get more than 1,162,400 story impressions for BenQ to promote their portable projector GS2.

We discovered six TikTok creators based in the US with a cumulative reach of 42.8 million followers. Each of them crafted a unique TikTok video, incorporating the hashtag #VisitKoreaFromHome. This campaign resulted in a remarkable total of over 42,826,500 TikTok followers among them.
Ready to get started? Click here to get in touch with our dedicated team at The Influencer Marketing Factory and see how we can assist your business's exposure and success today!
Headquarters:

Miami, FL, USA (serving Berlin)

Founded:

2018

Email Address:

[email protected]

 

Phone Number:

+1

(800) 469-9753

Address:

66 West Flagler Street, Suite 900 – #1178, Miami, FL 33130, USA

Specialization:

Global

Influencer Marketing, ROI-Oriented Campaigns, Paid Advertising 

Clients:

Envato, Ablo, Warner Music Group, Gismart, FinTron Invest
2. Schach zu Dritt
Operating specialized digital services through its dedicated division — SZ3.Digital — Schach zu Dritt offers targeted influencer marketing, planning, and storytelling. In addition, it specializes in website development, where it incorporates emerging technologies like virtual reality (VR) and augmented reality (AR) to create immersive user experiences.
Driven by a commitment to long-term success, Schach zu Dritt focuses on establishing sustained positive momentum across all client projects. Composed of a dynamic team of creative directors and project managers, the agency cultivates a synergistic relationship between consumers, clients, and itself to achieve outstanding outcomes.
Headquarters:

Berlin, Germany

Founded:

2016

Email Address: [email protected]
Website:

https://schachzudritt.de

Phone Number:

+49 3026 585050

Address:

Schinkestraße 9, 12047 Berlin, Germany

Specialization:

Influencer Marketing, Branding, Social Media, Events, Content Creation, Web Design

Clients

: TikTok, Red Bull, Sony, Google Cloud
3. HAPPYGANG
With a team of over 70 professionals, HAPPYGANG operates in various sectors, including influencer and performance marketing, social media, and design. The firm's online metrics include three million followers, 120 million monthly video views, and a monthly reach of 300 million. These statistics are supported by the completion of over 500 successful campaigns.
In addition to its marketing expertise, HAPPYGANG has a network consisting of more than 500 influencers, creators, TikTokers, YouTubers, reality stars, and other talents. The company employs a systematic approach that integrates data-driven analytics, with an emphasis on achieving concrete results.
Headquarters:

Berlin, Germany

Founded:

2020

Email Address

: N/A

Website:

https://happygang.org 

Phone Number:

+49 3067 950716

Address:

Reichenbergerstrasse 36, 10999 Berlin, Germany

Specialization:

Influencer Marketing, Social Media Marketing, Branding, PPC, Content Creation

Clients:

Sony Music, Emmi Deutschland, lekker Strom
4. Mashup Communications

Operating primarily in the fields of owned and earned media, Mashup Communications aims to garner visibility across digital platforms through strategic communication methods. They employ audience-focused storytelling techniques to create narratives that have a measurable impact.
Mashup Communications employs a comprehensive strategy. The agency selects suitable influencers from a variety of platforms to effectively target potential customers. Moreover, they provide guidance on which social media channels are most effective for content sharing based on demographic data. In addition to their online activities, the agency offers event planning services and manages all facets of campaigns, including legal agreements, monitoring, and reporting.
Headquarters:

Berlin, Germany

Founded:

2009

Email Address: [email protected]
Website:

https://mashup-communications.de

Phone Number:

+49 3083 211975

Address:

Schönhauser Allee 6-7, 710405 Berlin, Germany 

Specialization:

Influencer Marketing, PR, Content Creation, Branding

Clients:

ToolTime, freelancermap, Gympass, Planday
5. HotDot Communications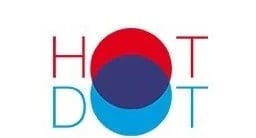 Specializing in media relations and tailored communication strategies, HotDot Communications operates under the guidance of a team of senior consultants. These consultants manage projects from start to finish, ensuring that each client's unique needs are met, especially in the fast-changing digital sector.
In the field of influencer relations, HotDot maintains a network with various media representatives, spanning print, television, radio, and digital platforms. The agency also works with subject-matter experts, bloggers, and online personalities to craft campaigns that are mutually beneficial. Additionally, to increase visibility and establish the client's authority in their field, HotDot provides a speakers bureau service, where they place business figures as speakers at industry-relevant forums.
Headquarters:

Berlin, Germany

Founded:

N/A

Email Address: [email protected]
Website:

https://hot-dot.com

Phone Number:

+49 3084 7121180

Address:

Wichertstrasse 16-17, 10439 Berlin, Germany

Specialization:

Influencer Marketing, PR, Content Creation, Social Media Marketing

Clients:

Pinterest, Deliveroo, Trainline, Vimeo
6. Das Kartell
Specializing in brand communication, Das Kartell focuses on facilitating partnerships between influencers with significant online reach and commercial entities. Adopting an informal approach to business, the agency emphasizes open, level communication during discussions. This ethos extends to their range of services, which are modular in nature, allowing clients the flexibility to engage them for immediate project support or more comprehensive, long-term strategies. 
Notably, Das Kartell has executed fan activation initiatives for Warner Music Group Germany and has been involved in identity development activities for food startup joice. These form part of a broader portfolio that also encompasses branding campaigns, event planning, and interior design.
Headquarters:

Berlin, Germany

Founded:

2015

Email Address: [email protected]
Website:

https://das-kartell.net/

Phone Number:

+49 3054 627488

Address:

Kottbusser Damm 70, 10967 Berlin, Germany

Specialization:

Influencer Marketing, Branding, PR, Content Creation

Clients:

Womanizer, Budweiser Budvar, Warner Music Group Germany
7. HY.AM STUDIOS
HY.AM STUDIOS works with a diverse range of clients, including more than 100 startups and international entities. They focus on four areas: e-commerce, identity development, social media, and digital experiences. In e-commerce, they specialize in crafting platforms that are engaging and effective in conversion, offering search engine optimization (SEO) consulting and conversion rate optimization (CRO).
For identity development, HY.AM STUDIOS employs an approach involving cultural research and a structured framework for brand building. They also offer influencer marketing as part of their social media strategies, including community management and paid advertising. Additionally, they are proficient in creating concepts that incorporate cutting-edge technologies like AR/VR. Their work primarily caters to industries such as fashion, technology, and the arts.
Headquarters:

Berlin, Germany

Founded:

2017

Email Address: [email protected]
Website:

https://hyam.de

Phone Number:

+49 3050 930523

Address:

Schönhauser Allee 149, 10435 Berlin, Germany

Specialization:

Influencer Marketing, Branding, Social Media Marketing

Clients:

Hugo Boss, Nike, Squarespace
8. 1000heads
With a 20-year history, 1000heads is a global agency that specializes in helping brands adapt to the ever-changing landscapes of media, culture, and technology. They gained early prominence in data and analytics by developing one of the first social listening tools. Nowadays, their offering in this domain ranges from data aggregation to advanced analytics.
1000heads also excels in creating "Digital Neighborhoods", where they build advocate networks and initiate conversations among new communities. Additionally, they offer a Social Transformation™ service that is designed to bring a more human and authentic touch to brand communications.
Headquarters:

Berlin, Germany

Founded:

2000

Email Address: i[email protected]
Website:

https://1000heads.com

Phone Number:

+49 3055 205460

Address:

Sophienstraße 8, 10178 Berlin, Germany

Specialization:

Influencer Marketing, Data Analytics, Design, Content Creation

Clients:

Google, Netflix, Diageo
9. JIN
With 120 employees in offices in Paris, Lyon, London, and Berlin, JIN has received industry recognition for its work, including the EMEA Digital Agency of the Year for 2023 award by PRovoke Media. These achievements underscore its capabilities in establishing effective relationships with social media personalities based on data-driven insights. 
Beyond its European bases, the firm expands its reach through a network of partners in Europe and the United States. This allows JIN to apply its specialized methodology to influencer partnerships on a global scale. Proficient in understanding digital ecosystems, JIN selects influencers appropriate for specific corporate objectives, fostering meaningful connections between corporations and target demographics.
Headquarters:

Paris, France (with offices in Berlin)

Founded:

2012

Email Address: [email protected]
Website:

https://jin.eu/   

Phone Number:

+49 3044 047800

Address:

Linienstrasse 157, 10115 Berlin, Germany

Specialization:

Influencer Marketing, Social Media, Media Relations

Clients:

BÉABA, Philips Hue, Jollibee
10.  Leadnow
Leadnow specializes in automating the intricate process of forming partnerships between brands and social media influencers. Utilizing artificial intelligence (AI), the platform matches creators with businesses across more than 1,000 categories. It streamlines traditionally manual tasks, offering features like automated post reminders and direct booking through its dashboard. 
Additionally, Leadnow provides pre-designed campaign packages and digital kits containing relevant influencer insights. The platform also includes robust post-tracking analytics, allowing brands to measure key performance metrics. Payment processing is automated, supporting both fixed and variable compensation models while simplifying international transactions.
Headquarters:

Freudenstadt, Germany (serving Berlin)

Founded:

2020

Email Address: [email protected]
Website:

https://leadnow.io

Phone Number:

+49 1765 5660983

Address:

Muggengärtlestraße 32, 72250 Freudenstadt, Germany

Specialization:

Influencer Marketing, Content Creation, Affiliate Marketing

Clients:

LG, nextbike, HERBLIZ, toucanBox
Conclusion
Berlin is the epicenter of a digital revolution in advertising. The agencies listed above are not just service providers; they are visionaries in their own right. Each offers a unique blend of expertise, innovation, and proven success. So, if you're looking to elevate your brand through influencer partnerships, these top-tier agencies should be at the top of your list.