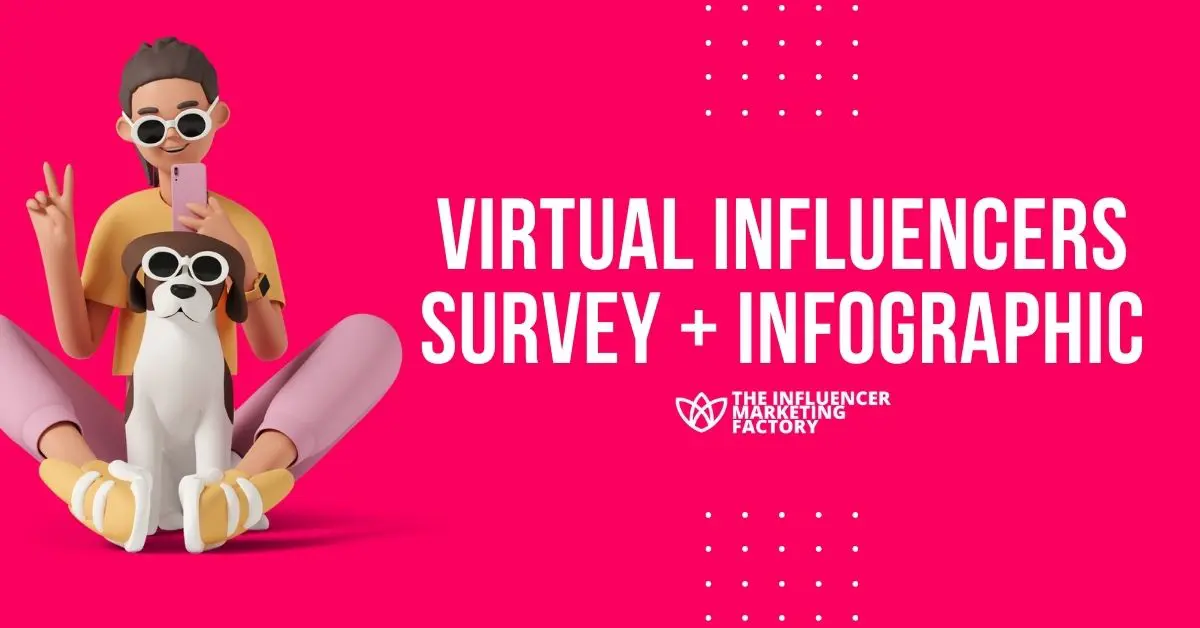 29 Mar

Virtual Influencers Survey + INFOGRAPHIC
What are Virtual Influencers?
Virtual influencers are digital computer-generated characters and are created using graphic software. These characters have then been made social media accounts and garnered large followings on many different platforms. The characters, much like fictional story characters, are made to be 'human-like' and have their own personalities, interests, and unique features. This allows for users and followers to connect with their 'human' persona and thus can sway their purchasing decisions.
Virtual influencers have been trending and we see more brands partnering with these characters for marketing campaigns, brand deals, and ambassadorships. Thus making virtual influencers a large player in the influencer marketing industry.
Virtual Influencer Industry
Influencer marketing has continued to grow and is now a necessity for the majority of brands. Although we don't expect virtual influencers to surpass human influencers anytime soon we do expect that along with this growth virtual influencer marketing will continue growing as well. According to the Bold Creators Club, "The virtual influencer market size was about 4.6 billion dollars in 2018. It is projected to register a compound annual growth rate (CAGR) exceeding 26% from 2019-2025."
On Instagram, they have already verified 35 virtual influencers on their platform. Additionally, "Virtual Influencers have almost three times more engagement than real influencers. That means that followers are more engaged with virtual influencers' content." (HypeAuditor).
Our Virtual Influencer Survey
We ran an exclusive online survey in March 2022. The findings and data presented in this infographic were collected from 1,044+ American responders ages 18 years or older.
Our goal was to understand more about US users' experiences and opinions on these virtual faces we are seeing more and more on social media.
Virtual Influencers Survey Main Findings:
58% follow at least 1 virtual influencer
24% of users not following virtual influencers didn't even know they existed
27% of users follow virtual influencers for their content, 19% for the storytelling and 15% because they inspire them
35-44 year old users are the cluster of people who are the most trusting (6.5/10) and find virtual influencers relatable (6.2/10), compared to other age groups
Only 35% of responders said they have ever bought a product or service promoted by a virtual influencer

Virtual Influencers Findings
While many may say that there's no way a computer-generated person is able to influence consumers, our survey indicated this isn't true. Our infographic highlights the following key findings:
How many people follow at least one virtual influencer?
We asked users if they follow at least one virtual influencer, we found that on average 58% of users do follow at least one on a social media platform. When differentiated by different age groups, we see that from ages 18 to 44 years old do follow at least one virtual influencer with an approximate average of 70%. While age groups 45+ years old we see a drastic change in the trend, decreasing from the 70% average to 51% "Yes" for 45-54-year-olds, down to 26% "Yes" for the 55+-year-old group.
Of those that are not following virtual influencers, we asked why they did not and found 24.1% of them did not even know that they existed. While 24.5% said they prefer real influencers (i.e. human beings) compared to computer-generated influencers. The last 51.4% reported that they were not interested.
Why do people follow virtual influencers?
When those following virtual influencers are asked why they do so the majority (26.6%) said they follow them for their content, secondly was for their storytelling (18.6%), tied third place was because they inspire them (15.5%) and music (15.5%), avatar aesthetic (12.1%), and the interaction (11.8%).
Where do people follow virtual influencers?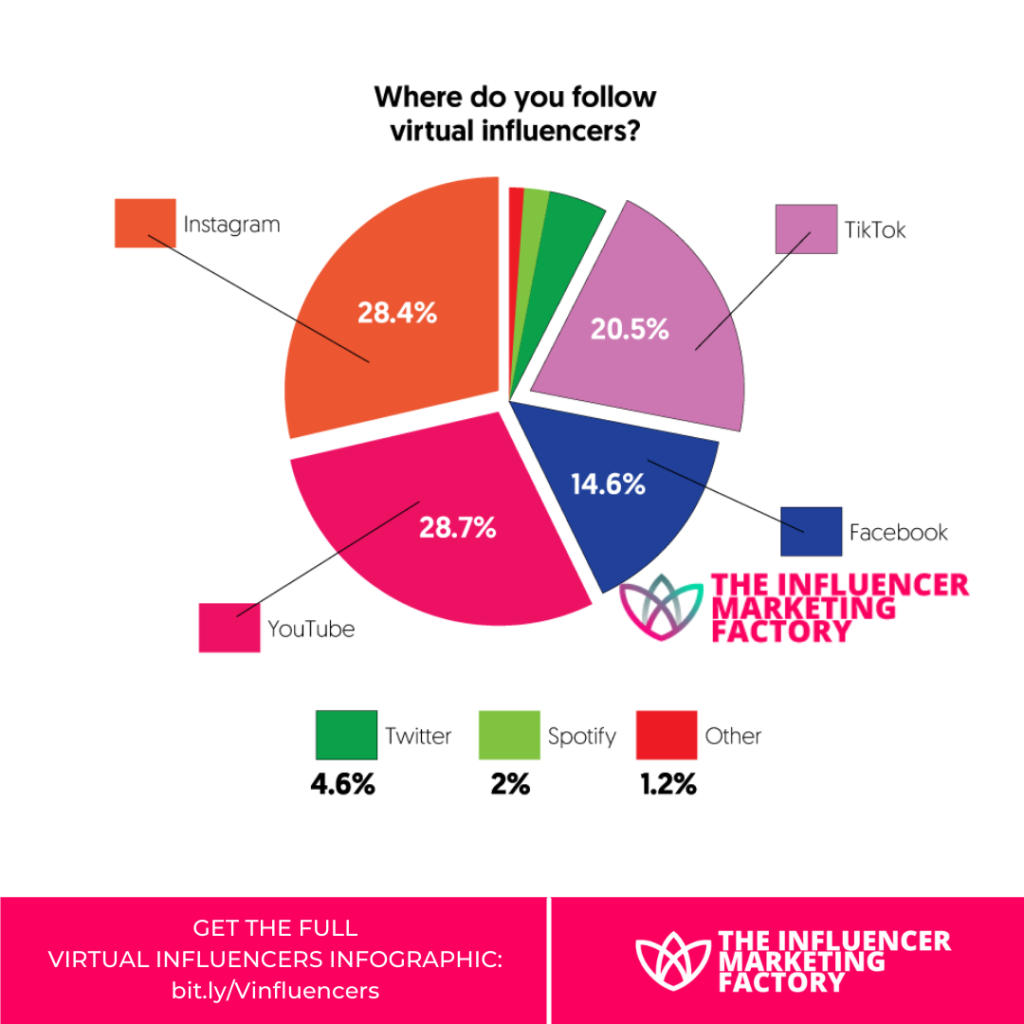 We also asked those who do follow virtual influencers, where they do so and found that first place went to YouTube (28.7%), second place to Instagram (28.4%), third place to TikTok (20.5%), Facebook (14.6%), Twitter (4.6%), Spotify (2%), and other (1.2%)
When asked "How likely are you to trust a product advertised by a virtual influencer (on a scale of 1 to 10)?", we saw that 35-44-year-old users are the cluster of people who are the most trusting (6.5/10) and find virtual influencers relatable (6.2/10) when compared to other age groups. Followed by the 25-34-year-old age group who are trusting at a 5.8/10 level and find them relatable at a 5.7/10 level. In third place, 18-24-year-olds are trusting on average 5.2/10, and relate to virtual influencers on average 5.6/10.
Although virtual influencers may not be as effective as their human counterparts yet, we find that 35% of responders on average said they have already bought a product or service promoted by a virtual influencer.
When we asked users how mainstream they thought virtual influencers will be in the next 12 months on a scale from 1 to 10, we saw a large spread of answers but a largely left-skewed trend toward "Very mainstream".
Sources: